Disney Just Posted A Fascinating Watch List To Prep For Obi-Wan Kenobi
Disney's latest foray into the world of "Star Wars" isn't looking so far, far away anymore. With the "Obi-Wan Kenobi" series set to debut on Friday, May 27, people have only a few short days to prepare for the newest chapter in the titular Jedi's storied life. Finally, fans will know for certain exactly what happened to Obi-Wan Kenobi (Ewan McGregor) in the years between "Episode III: Revenge of the Sith" and "Episode IV: A New Hope."
To understand that, however, fans will need to know what happened to Obi-Wan before the fall of the Galactic Republic. Thankfully, Disney has the fanbase's backs in this instance. To make sure that people don't miss out on these important extras, Disney has posted a fascinating watch list. The list, of course, begins with the first two prequel films ("Episode I: The Phantom Menace" and "Episode II: Attack of the Clones"), and ends with the final prequel, "Episode III: Revenge of the Sith." 
However, there is much more to Obi-Wan than just the main movies. In addition to the prequels, Disney is also prepping fans with a crash course in some of Obi-Wan's antics during the events of the "Clone Wars" TV series.
Disney suggests some of the most Obi-Wan-centric episodes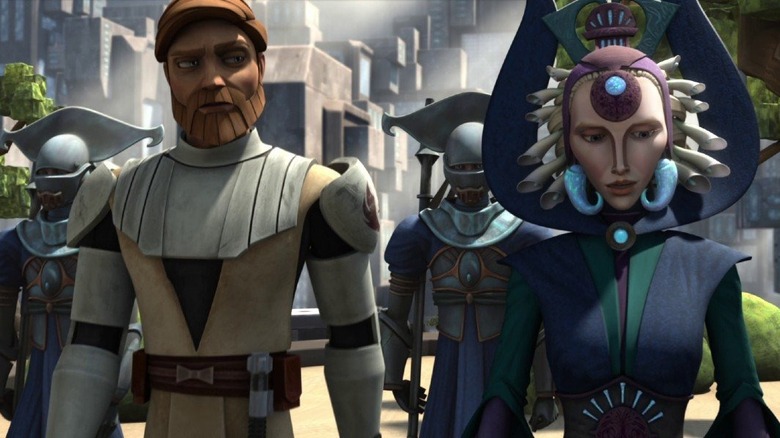 Lucasfilm/Disney+
In a post made on May 20, the Disney+ UK Twitter account revealed the company's official watch list for the week leading up to the "Obi-Wan Kenobi" premiere. As we mentioned previously, the list starts and ends with the prequels. In between those entries, however, Disney suggested segments of the animated "Clone Wars" TV series. This starts with the original "Clone Wars" movie, which follows Obi-Wan (voice by James Arnold Taylor), Anakin Skywalker (Matt Lanter), and Ahsoka Tano (Ashley Eckstein) as they rescue Jabba the Hutt's son from the Separatists.
Disney then recommends episodes of the "Clone Wars" TV series, all of which follow Obi-Wan on some of his most personal journeys. Season 2, Episode 12 ("The Mandalore Plot") through Season 2, Episode 16 ("Cat and Mouse") show Obi-Wan on a mission to prevent war on Mandalore. Here, we meet Obi-Wan's star-crossed love, the Duchess Satine. We also see Padme uncover a murder plot in the Senate, and watch Obi-Wan and Anakin face off with a dangerous Separatist general.
The next round of episodes, Season 4, Episode 15 ("Deception") through Season 4, Episode 18 ("Crisis on Naboo"), follow Obi-Wan after he fakes his own death for an undercover mission. These episodes mark a big falling out between Obi-Wan and Anakin, who isn't too pleased to learn that Obi-Wan's death was a lie. Finally, Disney recommends Season 5, Episode 14 ("Eminence") through Season 5, Episode 16 ("The Lawless"), chapters that follow a cabal of Obi-Wan's greatest enemies (Darth Maul included) as they team up to finally kill the Jedi, threatening Satine in the process. 
Once fans have watched these episodes and the cinematic entries in the franchise, they should have everything they need to enjoy "Obi-Wan Kenobi" to its fullest.