The Underrated Miley Cyrus Drama You Should Be Watching On Disney+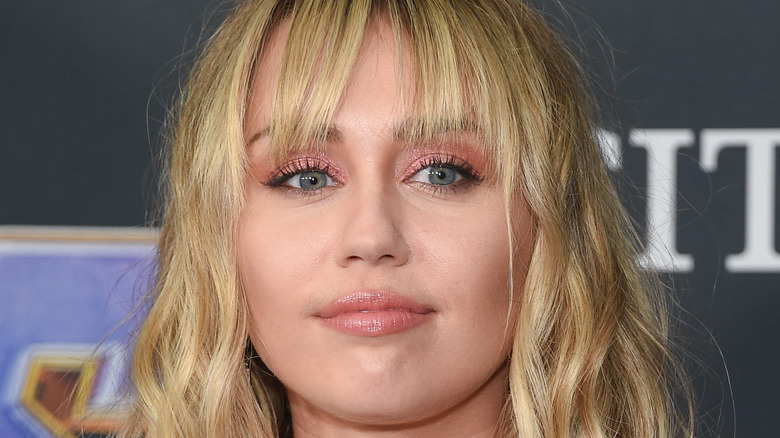 DFree/Shutterstock
If her Instagram profile, which is bursting at the seams with new updates, is anything to go by, Miley Cyrus is dedicated to being a hit-making singer these days. Given her renewed focus on her music career, it's sometimes easy to forget that she got her start on Disney Channel's light-hearted family comedy "Hannah Montana." Cyrus' role as a regular middle schooler by day and a pop superstar by night revealed she is a double threat as a musician and an actress. She may have pulled doubled duty on "Hannah Montana," but her IMDb profile reminds us she also has credits on series like "Black Mirror" and "Two and a Half Men," and movies like "LOL" and "The Night Before." Acting may not be her main priority these days, but she has several projects from the past worth revisiting for fans looking to appreciate her other talents. 
The November 2019 launch of Disney+ has made it possible for fans of the brand's original content from the 1990s and 2000s to bask in the nostalgia of their youth by streaming their favorites whenever they want. For fans of Cyrus, this means that not only can you watch old episodes of "Hannah Montana" and the popular series' spin-off film, but they can also revisit another feature-length film starring the "Wrecking Ball" singer and her real-life ex-husband. It may not be an award-winning piece of cinema, but it's a captivating drama that will scratch the itch if you're looking to watch a romantic film. 
Miley Cyrus falls in love and finds her voice in The Last Song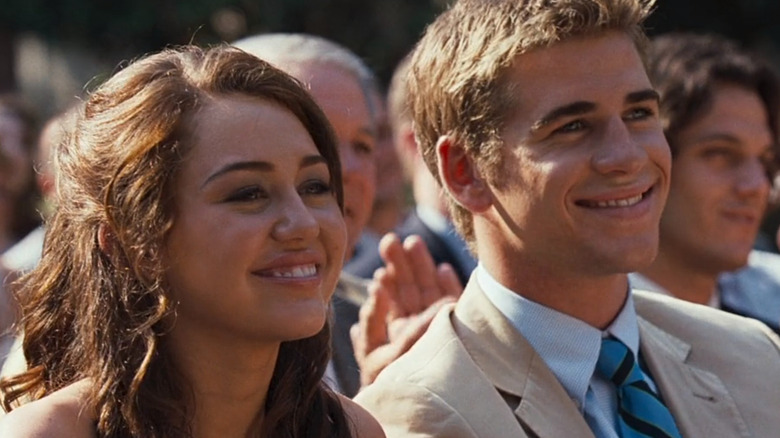 Walt Disney Studios Motion Pictures
Back in 2010, Miley Cyrus starred in the film adaptation of Nicholas Sparks' novel "The Last Song." In the movie, she plays Ronnie Miller, an angsty teen who wants nothing to do with anyone and has become something of a troublemaker. Ronnie and her younger brother (Bobby Coleman) move to coastal Georgia for summer in an attempt to reconnect with their dad, Steve (Greg Kinnear). Although she and Steve but heads, they do find one thing they have in common: a love of music. Meanwhile, Ronnie bumps into the resident cutie, the uber-popular Will (Liam Hemsworth). After a night spent bonding over sea turtles, the pair embark on a whirlwind summer romance. 
"The Last Song" is classic Sparks, with a somewhat melodramatic plot unfolding over the course of an hour and a half, peppers with very light-hearted moments, plenty of aesthetic shots of beach settings, and romantic sunsets to get you in the mood for a vacation. It's a coming-of-age drama that may not be loved by critics on Rotten Tomatoes, whose combined ratings put it at 20% approval, but audiences loved it, giving it a 65% score.
"The Last Song" may not have been the best film ever, but it did well in the box office, grossing $90 million worldwide (via Box Office Mojo). Cyrus' star-power as a child actor turned A-list celebrity probably helped get people to the theater. It's an interesting film to watch Cyrus transition from "Hannah Montana" to a more serious role that's a little more grown-up. It's even more interesting to watch the film knowing that it's where Cyrus and Hemsworth began their whirlwind romance, falling in love on set and taking up a long relationship and later, a short-lived marriage (via Cosmopolitan).