Why We Have Attack On Titan To Thank For Men's Jaw-Dropping Finale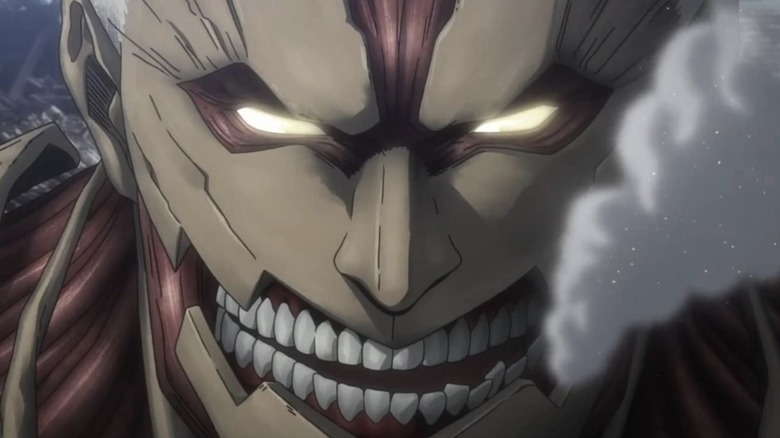 MBS/NHK G/Adult Swim (Toonami)
This article contains mild spoilers for "Men."
With movies like "Annihilation" included in his oeuvre, it's safe to say that Alex Garland knows how to create complex and compelling horror fare. However, his new film, "Men," is arguably the director's scariest work to date. The A24 chiller centers around Harper (Jessie Buckley), a recently widowed woman who rents a house in the English countryside so that she can heal and overcome the tragedy. However, her idyllic getaway becomes a living nightmare after she crosses paths with some mysterious men who seemingly loom over her every move from the surrounding woods. The less said about what happens next, the better.
"Men" is yet another slice of ambiguous terror from a filmmaker who is hailed as a visionary by many fans and critics. However, Garland has been open about some of the influences that informed his latest feature, one of which was none other than the beloved anime "Attack on Titan." Of course, considering that "Attack on Titan" is full of shocking moments in its own right, this connection makes sense. But how exactly did the anime series inspire the director?
Attack on Titan made Alex Garland up his game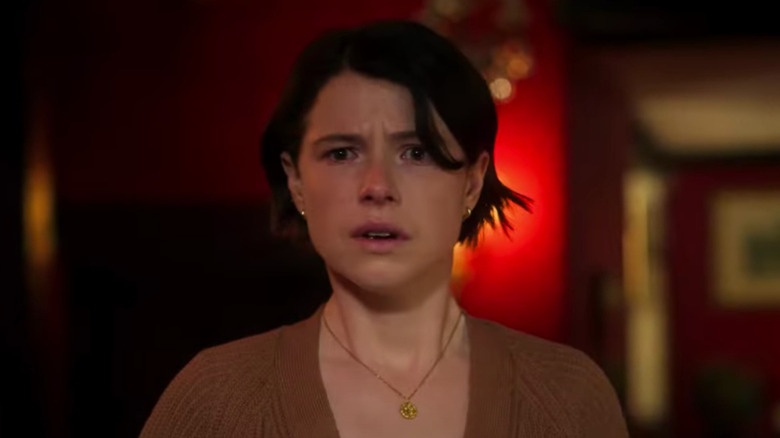 A24
"Men" culminates with a horrific finale that involves Rory Kinnear, some other men, and a grotesque body horror sequence. It isn't the type of scene that one should watch while they're eating, but it will no doubt go down as one of this year's most memorable cinematic moments. That said, it took Garland a while to come up an idea that lived up to his artistic vision.
While speaking at a recent Q&A that was live-streamed to members of the press (per Nerdist), Garland revealed that the script didn't go into too much detail about how the mutation scenes would play out on the screen. At first, the director intended to mine inspiration from John Carpenter's "The Thing" and hope for the best. However, every horror filmmaker who's created a mutation sequence has borrowed ideas from Carpenter's classic, and Garland didn't want to be "lazy." 
According to Garland, the inspiration for "Men's" finale came to him while he was chilling on the couch with his daughter. "I was watching "Attack on Titan" and I was like, 'God, this is so good.' And I thought I really need to get my act together, and it led to what you did, Rory [Kinnear]."