The Boys Fans Are Still Impressed By This Big Reveal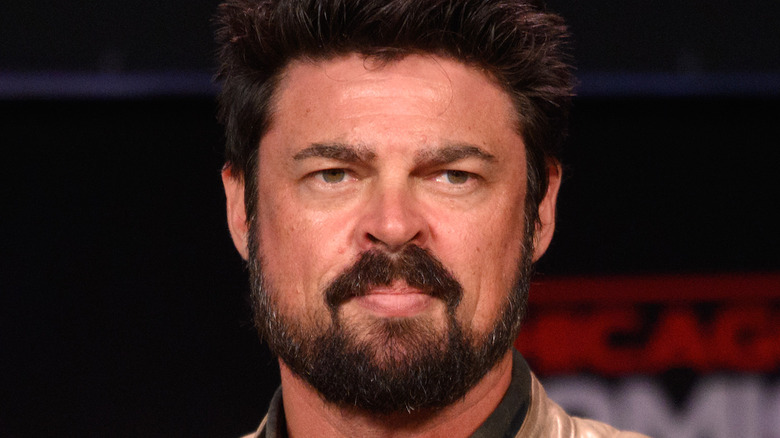 Daniel Boczarski/Getty Images
Season 3 of "The Boys," a subversive take on the superhero genre from "Supernatural" creator Eric Kripke, promises to be "Supe"ersized thanks to several new characters, including Soldier Boy, played by "Supernatural' heartthrob Jensen Ackles. In the comics, the Captain America parody is the leader of Payback, Vought's pre-Seven incarnation of Marvel's Avengers. According to TheWrap, the upcoming season will see Soldier Boy reunite with his former cohorts, including Gunpowder (Sean Patrick Flanery), Blue Hawk (Nick Wechsler), and the Crimson Countess (Laurie Holden).
The new additions spell trouble for the members of the Seven, who are tenuously bound together in the aftermath of the events of Season 2, most notably the chaos caused by Aya Cash's Stormfront, a former second-tier superhero whose efforts to ignite a race war are thwarted by the Boys. Season 2 of "The Boys" is filled with unexpected plot twists, including the accidental death of Billy Butcher's (Karl Urban) beloved wife Becca (Shantel VanSanten), the introduction of head-popping politician Victoria Neuman (Claudia Doumit), and the takedown of the emotionally-impenetrable Black Noir (Nathan Mitchell) by an Almond Joy. 
Amidst all of the jaw-dropping revelations, one, in particular, continues to resonate among fans.
Stormfront's Nazi past left a lasting impression on fans of The Boys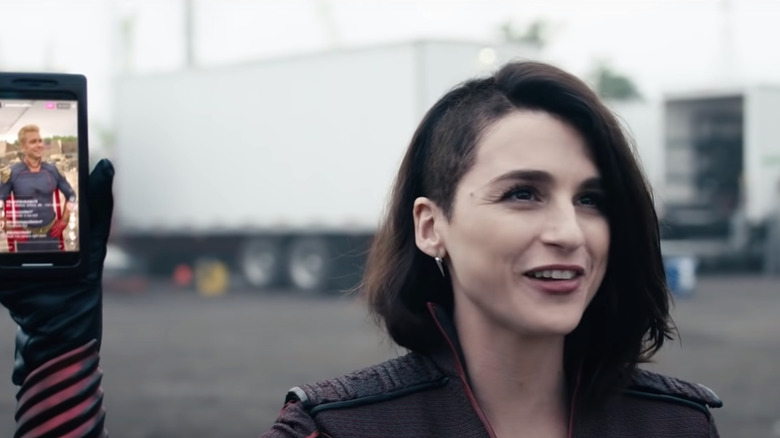 Amazon Studios
In Season 2 of "The Boys," Stormfront's shocking conversation with Homelander (Antony Starr) about her Nazi past and her plot to recruit Supes to commit mass genocide left a lasting impression on fans. Stormfront isn't a goose-stepping caricature of a Nazi but rather a deceptively progressive character — played by a likable actress — who embraces a disturbing idealogy. One viewer praised Cash's performance on the r/TheBoys subreddit. "I keep thinking that, Nazi subject matter aside, the scene where Stormfront tells her history to Homelander is incredibly powerful," u/Chris2222000 commented. "Aya Cash does an amazing job in general, but that scene was particularly well-acted," 
Initially, the brash feminist is a breath of fresh air who uses her social media following to undermine Vought International's business practices. However, in Season 2, Episode 3 ("Over the Hill With the Swords of a Thousand Men"), viewers learn that Stormfront isn't exactly America's sweetheart after she murders dozens of residents of a low-income apartment complex and uses a racial slur before killing Kenji Miyashiro (Abraham Lim), the brother of Kimiko (Karen Fukuhara).
In a 2020 interview with TheWrap, showrunner Eric Kripke addressed the false first impression viewers get of Stormfront. "We sort of intentionally misdirected that in the beginning [of Season 2] for the frankly disturbing reason that, if you look at a lot of nationalism and white supremacy these days, it's online." Kripke went on to say that the people "peddling" these ideologies have figured out how to present them in "attractive" ways.
Stormfront's story arc is a 'commentary on Trump culture'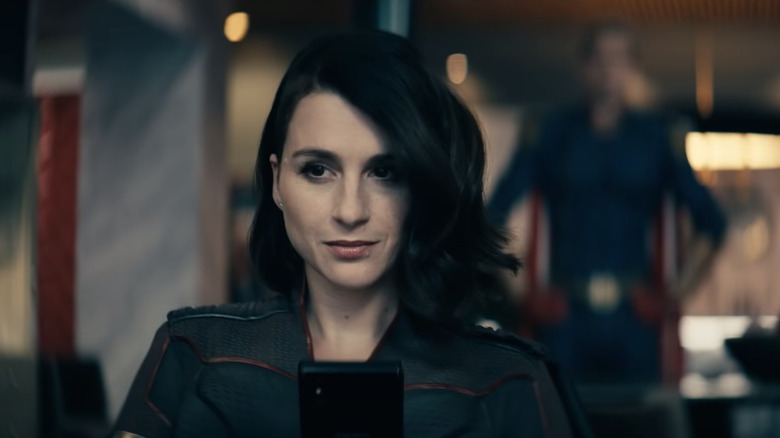 Amazon Studios
In "The Boys," Season 2, Episode 6 ("The Bloody Doors Off") the audience learns that Stormfront, the wife of the late Frederick Vought, is a full-fledged Nazi who rubbed elbows with Heinrich Luitpold Himmler and Joseph Goebbels. One Redditor on r/TheBoys confirmed Kripke's belief that social media amplifies the pervasiveness of racism. "Her [Aya Cash] character as a whole is so well written for the show. The whole social-media-aware knows when to be [a] nice bigot is way too accurate to people I meet IRL," wrote u/psychodeli_sandwich.
Cash discussed fans' reactions regarding Stormfront's origin story during an appearance on "Collider Ladies Night": "I definitely had moments where I felt terrible that people might have been hurt by this character and seeing this character," Cash said (via Collider). "So a lot of feelings were coming up and I wanted to be like, 'Don't worry! She's gonna get hers. There's no way that this is okay!'"
Some viewers immediately picked up on the thinly-veiled parallels between Stormfront's story arc and the current social and political climate. "You would have to [be] pretty oblivious to walk from Season 2 not seeing the commentary on Trump culture," stated u/Chris2222000. Indeed, others noted that some of the material felt ripped from the headlines. "The whole character makes my skin crawl because of its familiarity. There are Stormfronts everywhere," wrote u/Porkrind710. "The whole thing was so fabulously on point ..." agreed u/Saith_Cassus. In Season 2 of "The Boys," when truth and fiction collide, it's not just strange; it's scary.