MAD Spoofs Stranger Things In New Magazine Cover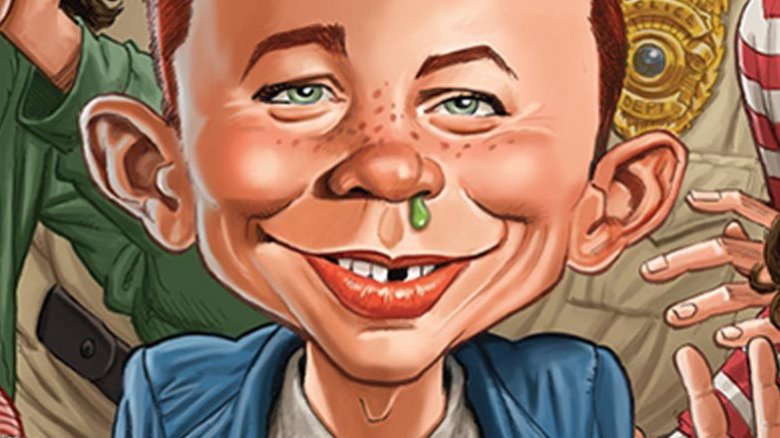 MAD/Entertainment Weekly
The Stranger Things cast has gone totally MAD. 
In the latest issue of MAD magazine, the critically acclaimed, hyper-popular Netflix series gets the spoof treatment. The cover features the publication's fictitious mascot and cover boy Alfred E. Neuman taking center stage as Millie Bobby Brown's Eleven, surrounded by caricatured versions of Caleb McLaughlin's Lucas Sinclair, Winona Ryder's Joyce Byers, David Harbour's Chief Jim Hopper, Finn Wolfhard's Mike Wheeler, and Gaten Matarazzo's Dustin Henderson. 
Things get fittingly even stranger when you take a look inside the new edition. Writer and illustrator duo Desmond Devlin and Tom Richmond go all-out in their designs and descriptions of each Hawkins, Indiana resident to create the magazine's "binge-mock" Strangely Thin.
"It's a story about a boy who goes missing until he gets found," the description of Strangely Things reads. "The first suspects you see are the ones who did it. Both of the love stories go nowhere. And the one character who can stop the monster takes her sweet time getting around to it, because if she did her badass routine in the first episode, it also would've been the last episode. The mystery is: where's the mystery?"
The characters all get new names—Jim Hopper becomes "Dim Copper," Joyce Byers becomes "Joyless Spiders," Shannon Purser's Barb Holland simply becomes "Carb," and Joe Keery's bad boy Steve Harrington becomes "Skeeve Hairsrealtall"—and there's even a cartoon version of director Steven Spielberg and E.T. tucked in the corner. Spielberg is shown holding a checklist of his classic films, including Jaws, Close Encounters of the Third Kind, E.T., Poltergeist, Gremlins, and The Goonies, that Stranger Things takes inspiration from. 
Take a look at the new Stranger Things-themed MAD cover and the interior content (courtesy of Entertainment Weekly) at the bottom of this article. 
The upcoming issue of MAD will be available digitally on Friday, September 29, with a physical version arriving on newsstands on Tuesday, October 10. Stranger Things is set to return to Netflix for its second season on October 27. Until then, check out what we think could happen in the new season.