The Office Character Only Hardcore Fans Know The Big Bang Theory's Melissa Rauch Played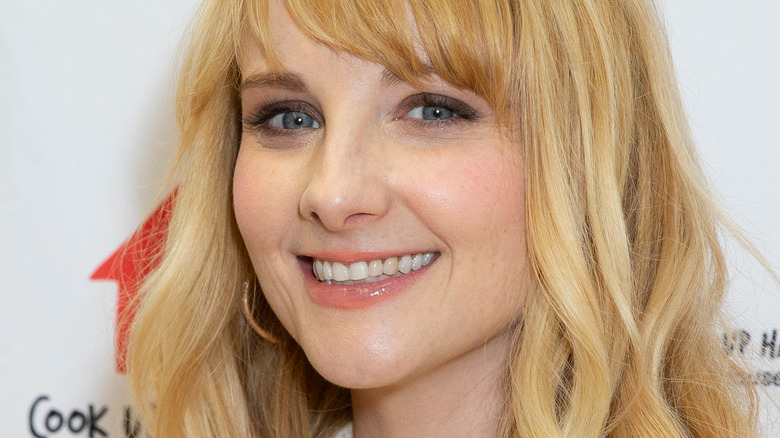 lev radin/Shutterstock
With her deadpan delivery — in that distinct high-pitched tone — Melissa Rauch made the brilliant Bernadette Wolowitz stand out among the many quirky characters of "The Big Bang Theory." It was a role that put her on the map as one of TV's funniest actors, and she wasn't even supposed to continue on the show after her guest appearance in the 2009 episode "The Candy Coating Corollary." Not only did she win over Simon Helberg's Howard Wolowitz on a blind date, she also charmed the show's decision-makers, who pulled her in as a recurring character. Soon she was a solid member of the main cast, along with Johnny Galecki (Leonard Hofstadter), Jim Parsons (Sheldon Cooper), Kaley Cuoco (Penny Hofstadter), Kunal Nayyar (Raj Koothrappali), and Mayim Bialik (Amy Farrah Fowler), who joined just after Rauch did.
As her career ramped up, however, Rauch didn't let go of other opportunities that came her way. In her first year as Bernadette, she appeared in other roles even her biggest fans may not remember, including a guest spot on Netflix's most-streamed show of 2020, "The Office."
She's all about the comedy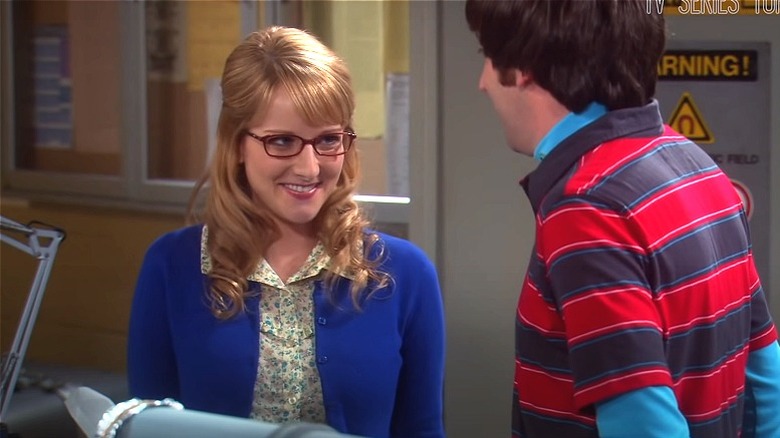 CBS/YouTube
Bernadette was a role Melissa Rauch could really sink her teeth into. "I would describe Bernadette as a nice mix of sweet and salty," she told Today, adding, "She's got a bit of a temper. But she only uses it when absolutely necessary. And she's smart and loves her family very much and doesn't take B.S. from anyone."
As satisfying as the "TBBT" role was, however, Rauch was on board when she got the offer to play a very different kind of character on "The Office" in 2010. It wasn't a big part. She didn't have many lines and, like her role on "The Big Bang Theory" had been, it was supposed to be a one-off.
So what motivated Rauch to say yes? It might have been the chance to be on an incredibly popular show. But maybe this comedian just couldn't say no to setting up one of the episode's funniest plot lines in "The Delivery: Part 2."
In a small role, she made a big impact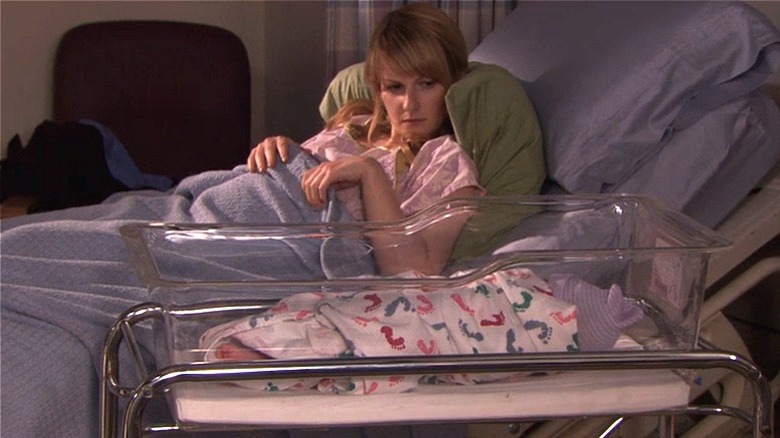 NBC
By the time Rauch shows up on "The Office," Pam (Jenna Fischer) and Jim's (John Krasinski) on-again, off-again romance is locked down. They're already married and in Season 6, Episode 17, "The Delivery: Part 1," Pam goes into labor with their baby, Cece. It's such a major event for the series, the storyline stretched to two episodes, with Pam still in the hospital after giving birth.
In part 2, Pam is trying to figure out breastfeeding when Rauch is wheeled in as her new roommate, Cathy. Both are new moms with similarly swaddled babies, and Pam is definitely sleep-deprived and struggling. That's when it happens: She finds success with breastfeeding only to discover she's holding Cathy's baby and not her own.
It's the kind of zany mix-up that one hopes only happens on sitcoms. All turns out fine in the end for the show's power couple, and we can presume, for Cathy, too. In any case, things certainly went well for Rauch. After making an impact on "The Office," she not only continued in her role on "The Big Bang Theory," but she also kept appearing on other shows and made her own opportunities too, including writing and starring in the 2015 film "The Bronze."