The Essential Jedi Skill Ewan McGregor Had To Re-Learn For Obi-Wan Kenobi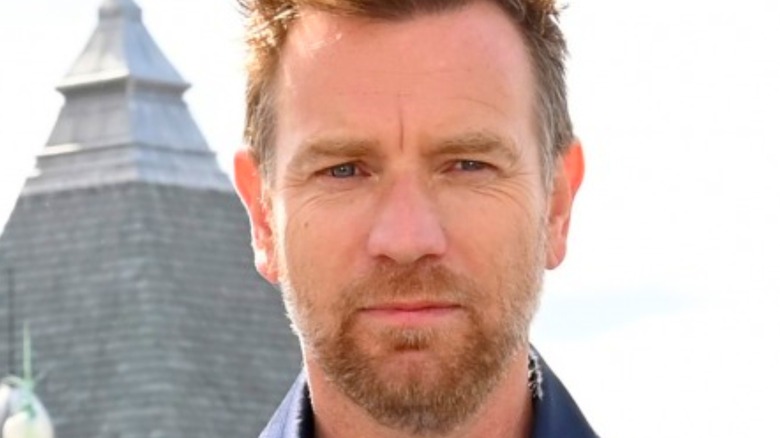 Dave J Hogan/Getty
In a lot of ways, "Obi-Wan Kenobi" has arguably been the most momentous and eagerly awaited production of the Disney+ pipeline of "Star Wars" content. First, of course, it will be the first live-action "Star Wars" property in a long time to revisit the general timeline of George Lucas' prequel trilogy, which has only grown in fan estimation and nostalgic appeal in the years since its release (via USA Today). 
Secondly, and perhaps even more enticingly, fans are looking forward to this series because it's bringing Ewan McGregor back to the role of the legendary Jedi Master a whole 17 years after his last appearance in "Revenge of the Sith." Ever since the actor's return to the franchise was made official, "Star Wars" fans have been deep in speculation about what the beloved Scottish actor, who's also serving as an executive producer on the project, will bring to the role of an older, more grizzled, and disillusioned Kenobi. Of course, this news series will see McGregor portray a version of the character closer to the "strange old hermit" described by Luke Skywalker (Mark Hamill) at the beginning of "A New Hope." 
Greater still is excitement about the narrative focus on Obi-Wan's own trials as a Jedi. Notably, aside from his relationship with the two Skywalkers, viewers haven't seen much of Kenobi's own personal growth as a Jedi. And then, of course, there's the part of every fan that's just itching to see McGregor wield a lightsaber again — and, as recently revealed by the actor, that element of the character demanded particular dedication from him.
Ewan McGregor had to work on dusting off his lightsaber skills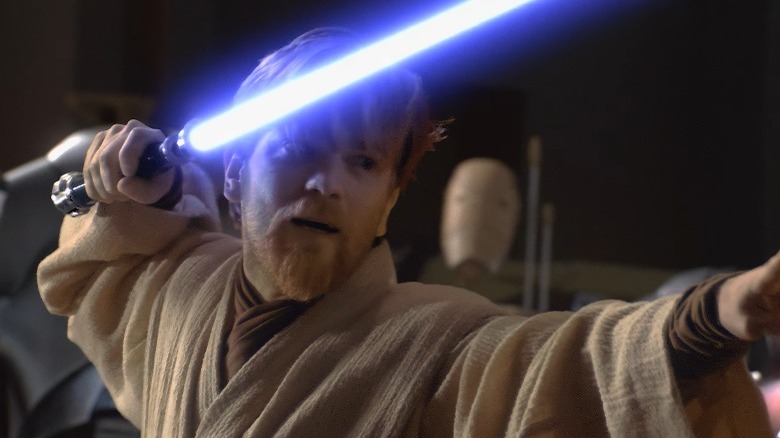 20th Century Fox/Lucasfilm
As a character, Obi-Wan Kenobi is known for his abilities as a fighter. Indeed, the character has been at the center of some of the most iconic lightsaber duels in the entire "Star Wars" canon. Whether we are talking about Alec Guinness facing down Darth Vader in "A New Hope" or Ewan McGregor standing off against Anakin Skywalker (Hayden Christensen) in "Revenge of the Sith," audiences have learned that whenever Obi-Wan picks up a lightsaber, some good stuff is about to go down.
Naturally, if the new Disney+ series is going to be as successful as fans hope, this is an important thing to nail down. During a Lucasfilm press event attended by Looper, Ewan McGregor was asked if his lightsaber training came back to him quickly, and how preparing for the series compared to preparing for the prequels in a broad sense. In his answer, McGregor said, "Yeah, we did a lot of lightsaber drills with Jojo ["Obi-Wan Kenobi" stunt coordinator Jonathan Eusebio] and his team, and yeah, it's something that you have to work on. It's not there right away." 
The actor spoke quite glowingly of Eusebio's work as a whole, noting his commitment to even studying past fights from the franchise with his stunt crew to get the duels in "Obi-Wan Kenobi" just right. "It was very thoughtful, it's not just random," McGregor said. "He's really a thinking fight arranger, which was cool to work on."
However, McGregor also noted an additional difficulty he faced when approaching the new series.
Obi-Wan's voice also posed a challenge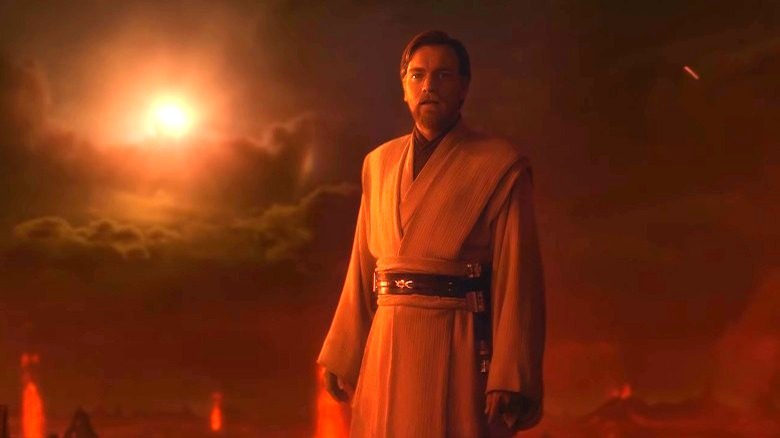 20th Century Fox/Lucasfilm
In fact, proper lightsaber swordsmanship wasn't the only challenge that lay in store for Ewan McGregor in returning to the character. After explaining how he physically prepared for the role, he delved into the difficulties he faced with a rather important part of Obi-Wan's character.
"There's two things, I think, I had to work on: That and his voice," McGregor revealed. According to the actor, he first stepped back into the "Star Wars" universe on the same soundstage where "The Mandalorian" is shot. After donning an "Obi-Wan-ish suit" to conduct a screen test with a number of other actors during the casting process, McGregor walked onto the set, prompting quite a bit of excitement from "Star Wars" fans on the crew.
"There was a sort of buzz about Obi-Wan walking back on stage," McGregor said. However, the actor also admitted that he quickly realized something seemed off. "I was doing a sort of vague English accent," McGregor said, laughing, "and it wasn't really Obi-Wan's voice at all."
Luckily, the actor had quite a bit of time to find the famous Jedi's voice before shooting actually began. According to McGregor, in the months before production, he spent time studying Alec Guinness' work in the original trilogy, as he had done while preparing for the prequels. "Those, I think were the two things," McGregor said. "Playing him felt totally like he'd always been there ready to come out any minute, but just his voice needed a bit of work."