Jack Black Suggested The Title For Jumanji: Welcome To The Jungle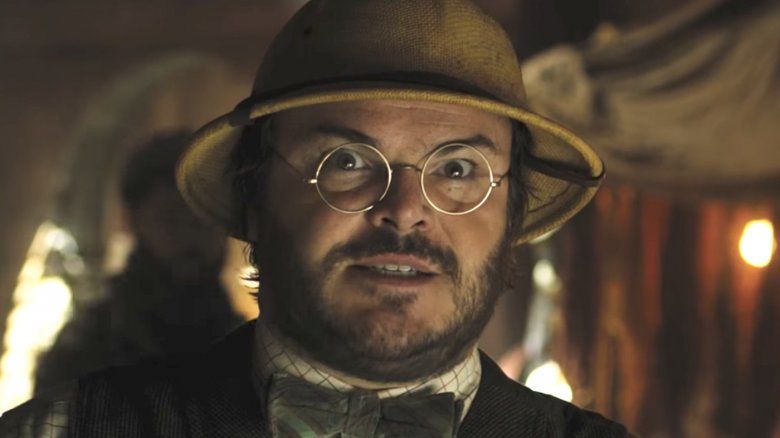 If the title of Jumanji: Welcome to the Jungle sounds perfect to you, thank Jack Black.
In a recent interview with USA Today, director Jake Kasdan revealed that the idea for the name came directly from Black, who stars as Professor Shelly Oberon, the unfortunate avatar of a popular high school girl who is sucked into a Jumanji video game.
While filming on location in the Hawaiian rain forests, Black would often sing the Guns N' Roses classic "Welcome to the Jungle" from 1987's Appetite for Destruction. Then it just clicked. "Jack said to me one day, 'You know, we really should call this Jumanji: Welcome to the Jungle,'" Kasdan said. The director took the suggestion and ran with it. The song basically became the theme for the movie, and you can hear it throughout the latest trailer. 
Of course, it's not all that surprising that Black made the connection. He rose to fame as half of Tenacious D, the comedy rock duo with an unabashed love of heavy metal. He then took his love of music to similarly obsessed characters in High Fidelity and School of Rock, and voiced the lead character in the 2009 video game Brütal Legend,a metal-themed fantasy game that also features the voices of Ozzy Osbourne, Rob Halford of Judas Priest, and the late Lemmy Kilmister of Motörhead. 
Jumanji: Welcome to the Jungle also stars Dwayne Johnson as the rugged avatar or a nerdy kid, Kevin Hart as the diminutive avatar of a high school jock, and Karen Gillan as the adventurous avatar of a shy girl.
The movie will roar into theaters on Dec. 20. Until then, check out an explanation of Karen Gillan's skimpy outfit.