How Bones Fans Really Felt About The Hitchcock Tribute Episode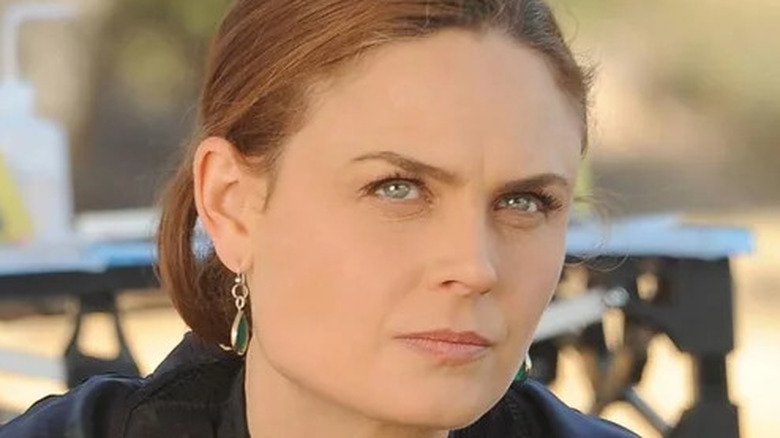 Fox
Nearly every episode of the Fox procedural "Bones" follows Special Agent Seeley Booth (David Boreanaz) as he solves crimes with the help of his wife, Dr. Temperance "Bones" Brennan (Emily Deschanel), and her team of forensic anthropologists at the Jeffersonian Institute's Forensic Division. However, in the 10th season, the audience was treated to an episode that deviated from that blueprint. 
The 200th episode of "Bones," titled "The 200th in the 10th," took inspiration from Alfred Hitchcock films. The episode focuses on Brennan, a suspended detective, trying to prove her worth in a male-dominated profession during the 1950s. She joins forces with Booth, a veteran-turned-thief, to bring down a killer. By the end of the episode, the murderer, Camille (Tamara Taylor), falls out of an unpiloted plane that Booth manages to land. During a behind-the-scenes video for the Hitchcock tribute, one of the show's writers, Stephen Nathan, shared that he came up with the idea for the episode after he realized that Brennan and Booth had a similar dynamic to Grace Kelly and Cary Grant. "It just evolved from there and it was more fun than I could have possibly imagined," shared the television writer. 
Whenever a popular series takes a risk, viewers will be vocal about their opinions. Here is how "Bones" fans felt about the show's Hitchcock-themed episode.
Fans shared their thoughts about the episode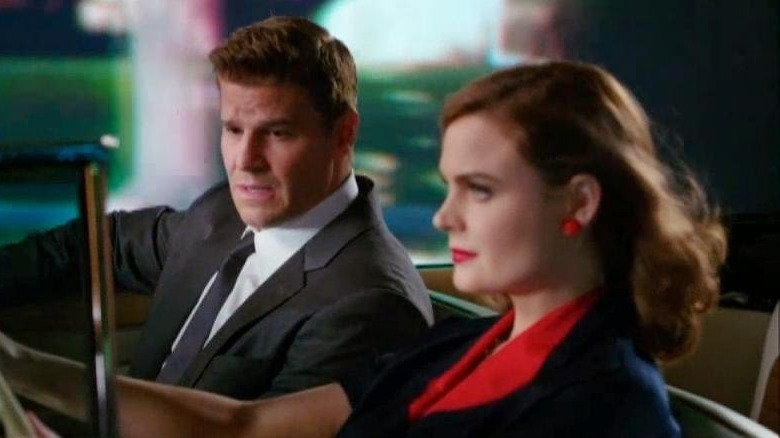 Fox
In 2020, Reddit user u/WordGirl1229 took to the "Bones" subreddit to share that they enjoyed the episode, writing, "I'm loving 10/10 (Hitchcock throwback episode)!" The commenter also implored other fans to share their opinions about "The 200th in the 10th." Several Reddit users revealed that they appreciated the show's 200th episode, with u/scarletspeedster985 writing, "One of my favorite episodes."  u/OscarWildeisbae also wrote that they believed "It was such an awesome episode!!"
"Everything about it, especially how they worked all the different people into the 50s storyline (and did so ironically for a lot of them) was so great. One of the top ones I rewatch whenever I'm binging [sic] the show," the Redditor continued. However, a few commenters shared that they were not fans of the Hitchcock tribute. "It was awful," shared u/AsheyKi. Another Reddit user shared similar sentiments, commenting, "Yeah I hate this episode."
While "The 200th in the 10th" may have mixed reviews from fans, the show's cast seemed to enjoy making the Hitchcock tribute. For instance, while filming the behind-the-scenes video, Michaela Conlin, who played Angela Montenegro-Hodgins, shared that she was impressed by many aspects of the episode. "It was refreshing for all of us to see something so different, yet true to the voice of the show and the character," said the actress.
T. J. Thyne, who portrayed Dr. Jack Hodgins, also shared that David Boreanaz directed "The 200th in the 10th" and ensured that his co-stars had the appropriate tone for a 1950s thriller.