The Rick And Morty Spin-Off We Should Have Seen Coming Is Now Official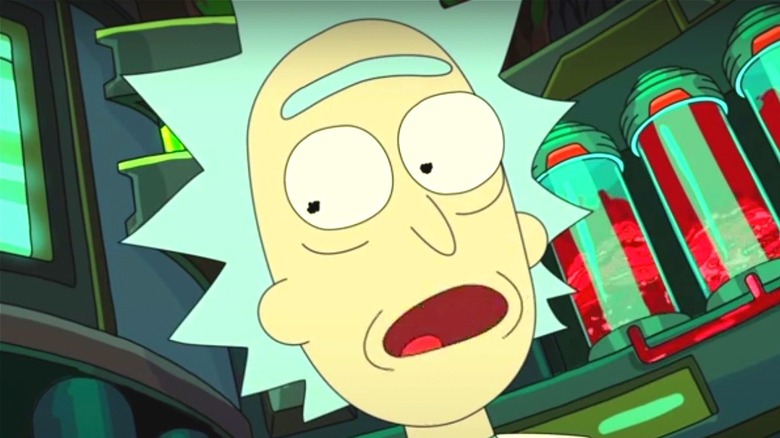 Adult Swim/Hulu
"Rick and Morty" has been all sorts of things during its five-season existence. The titular stars (both voiced by co-creator Justin Roiland) visit — and, more often than not, utterly wreck — alien planets, strange dimensions and alternate universes on a regular basis, to the point that the only predictable thing about the Adult Swim animation is its sheer unpredictability. 
Because the show has become a bit of a multimedia franchise, and has even managed to influence real world with the Season 3 McDonald's Szechuan sauce incident (via CNBC), it's not the greatest surprise in history that the show is getting a spin-off. As it happens, this particular revelation is the one "Rick and Morty" thing that fans probably should have guessed in advance. Let's take a look at the "Rick and Morty" spin-off that, frankly, we should have seen coming — and that just so happens to be officially in works. 
Rick and Morty: The Anime is coming
Remember "Summer Meets God (Rick Meets Evil)" and "Rick and Morty vs. Genocider," the fun "Rick and Morty" meets anime mini episodes that Adult Swim released between seasons in 2020? Well, those are now getting their own spin-off, which is very appropriately called "Rick and Morty: The Anime" (via The Hollywood Reporter). The 10-episode project is helmed by "Tower of God" director Takashi Sano — who was also in charge of the two "Rick and Morty" anime shorts we've already seen, so if you enjoyed them, the vibe of "Rick and Morty: The Anime" should be very similar. 
"The multiverse-straddling exploits of Rick and the gang pose challenges to the family bond, but they always rise to the occasion," Sano described his project. "It's such a life affirming sight, and Jerry [voiced by Chris Parnell in the main show] is no exception. I am honored to have been given an opportunity to tell a new story about this amazing family. I hope you enjoy their adventures!"
There's no word on when "Rick and Morty: The Anime" will debut, but since the season order was just placed, 2023 seems like the most likely bet. Count on Looper to inform you about developments on this front.