10 Romantic Movies Like Empire Of Passion You Need To See Next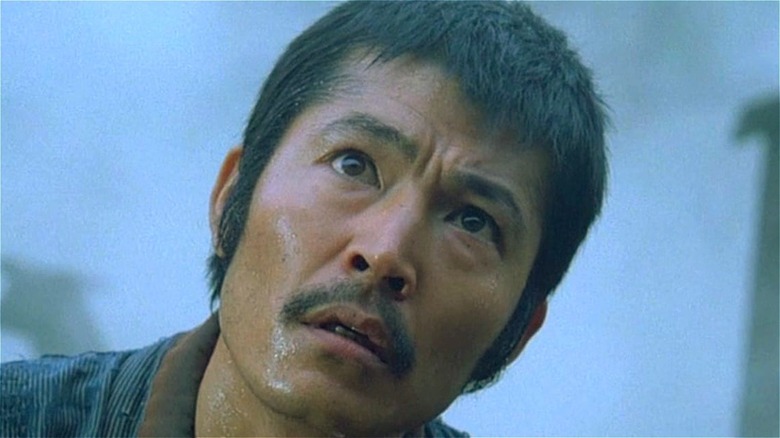 Toho Towa
Love isn't always pretty. Sometimes it's messy, or even dangerous. Amidst the passionate embraces and warm kisses, there can sometimes be lurking darkness and misfortune. In the most extreme cases, it can even test one's sanity. While there are plenty of romance movies that showcase the power of love to heal, others reveal the perils and pitfalls that come with this potent emotion.
One such film, "Empire of Passion," depicts how far one may go to be with the person they love -– and the consequences that follow. The 1978 film was written and directed by Nagisa Oshima, one of the leading filmmakers of the Japanese New Wave movement in the 1960s and 1970s. A married woman named Seki (Kazuko Yoshiyuki) begins a torrid affair with a younger man, Toyoji (Tatsuya Fuji), in a remote mountain village. The two lovers plot to murder Seki's husband so they can be together. However, when the ghost of Seki's husband begins to haunt her, she is tortured by guilt and fear of discovery.
"Empire of Passion" continues to fascinate movie-goers decades later with its rich thematic story and striking visuals. As unique as the film is, there are similar movies out there that are more than capable of filling the need for romantic angst. We've compiled a list of ten such films that fans of "Empire of Passion" will want to check out.
The Handmaiden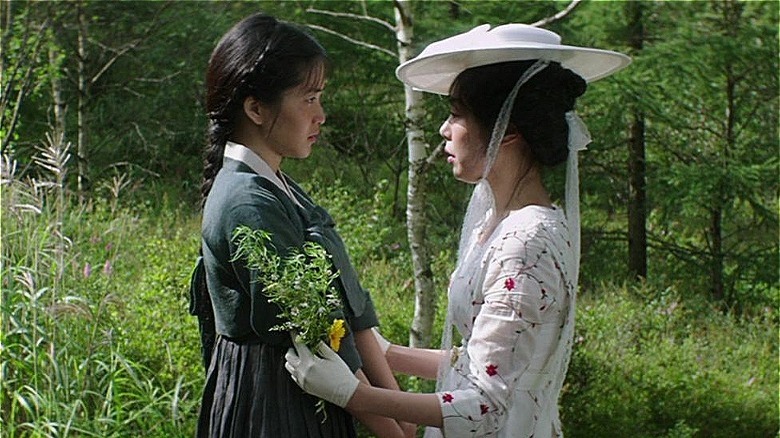 CJ Entertainment
This film from South Korean director Park Chan-wook received critical acclaim upon its 2016 release. Based on the novel "Fingersmith" by Sarah Waters, "The Handmaiden" is part romantic period drama and part psychological thriller. Set in the 1930s during the Japanese occupation of Korea, an orphaned thief named Sook-hee (Kim Tae-ri) teams up with a con man called Count Fujiwara (Ha Jung-woo) to seduce the wealthy Lady Hideko (Kim Min-hee). However, Sook-hee never expected to fall in love with Hideko herself. Danger lurks around every corner as Hideko and Sook-hee try to keep their affair a secret, and Sook-hee struggles with the knowledge of her inevitable betrayal.
"The Handmaiden" has many twists and turns that will keep the audience guessing, as well as a lush and powerful love story at its heart. Like "Empire of Passion," "The Handmaiden" has elements of forbidden romance, dark obsession, and intense drama.
Unfaithful
One of the themes of "Empire of Love" is that passion and romance can be destructive — especially when infidelity is involved. The 2002 romantic drama "Unfaithful" stars Diane Lane as Connie, a wife and mother whose routine life is interrupted when she meets a handsome French book collector named Paul (Olivier Martinez), and the two begin a sensual love affair. Connie wrestles with her love for her family and the newfound excitement she finds with Paul as guilt begins to overwhelm her. Meanwhile, her husband, Edward (Richard Gere), gets suspicious when Connie shows signs of being less than honest. He hires a private investigator to follow Connie and provide the truth about her activities. What he discovers threatens to break the foundations of their marriage and the life they've built together.
Lane received both Golden Globe and Academy Award nominations for her performance in "Unfaithful." Though given mixed reviews by critics, "Unfaithful" is a film that will satisfy anyone who is a fan of sensual eroticism and high drama.
The Postman Always Rings Twice (1981)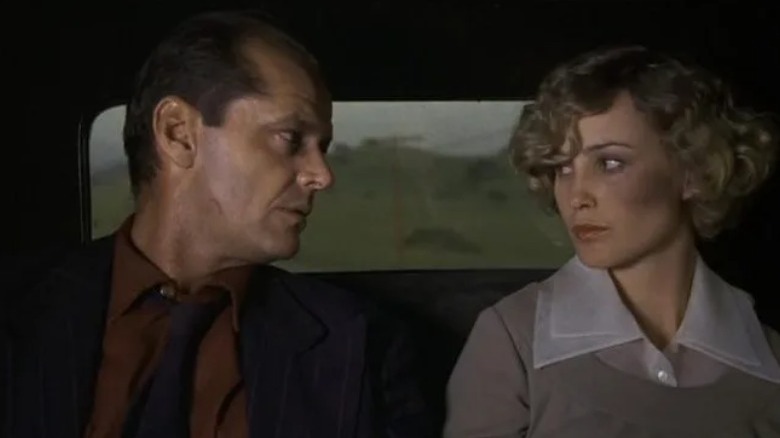 Paramount Pictures
The 1946 noir thriller "The Postman Always Rings Twice" stars Lana Turner and John Garfield as two lovers whose affair leads to a nefarious murder plot. The film was a hit for MGM studios, even while it pushed the envelope of the strict Motion Picture Production Code that was in place at the time. Nearly 40 years later, director Bob Rafelson took the risk of remaking the classic film for a modern audience with an R-rating.
In this 1981 rendition, Jack Nicholson is Frank, a drifter who finds work at a roadside diner owned by Nick Papadakis (John Colicos) and his wife, Cora (Jessica Lange). Cora is unhappy in the marriage and much younger than her husband, making it difficult to resist Frank's amorous attention. Frank tries to convince Cora to run away with him, but a life on the road without financial stability holds no appeal for her. Instead, she talks Frank into helping her get rid of her husband so that they can be free to pursue a life together. Things don't go exactly as planned, however, and the lovers are forced to come to terms with the consequences.
Frank and Cora share many similarities with the protagonists of "Empire of Passion," as their turbulent romance and subsequent murder plot catch up to them in unforeseen and troubling ways. "The Postman Always Rings Twice" is a thrilling take on an old classic that romance and noir fans alike will want to see.
In Secret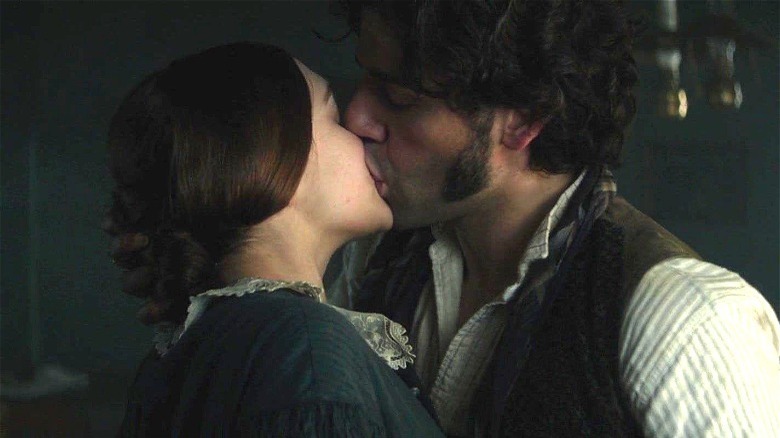 Roadside Attractions
Before they were part of the MCU, Oscar Isaac and Elizabeth Olsen starred together in the romantic period thriller "In Secret." The film -– based on a novel by Émile Zola -– takes place in 1860s France. Olsen plays Therese, a repressed young woman forced into marriage with her ailing cousin, Camille (Tom Felton), by her domineering aunt, Madame Raquin (Jessica Lange).
When the family moves to Paris, Therese is introduced to a friend of Camille's, the young and handsome artist Laurent (Isaac). The two fall in love and begin an affair, then soon set a plan in motion to do away with Camille. After the deed is done, Therese is overcome with shame, and Laurent proves to be more self-serving than he first appeared. Camille's death sets events in motion that lead to the young lovers' mutual self-destruction.
"In Secret" is a must-see for fans of the romance thriller genre. The film's suspenseful atmosphere advances like a shadow of impending doom -– not to mention that Isaac and Olsen steam up the screen in their scenes together.
In the Realm of the Senses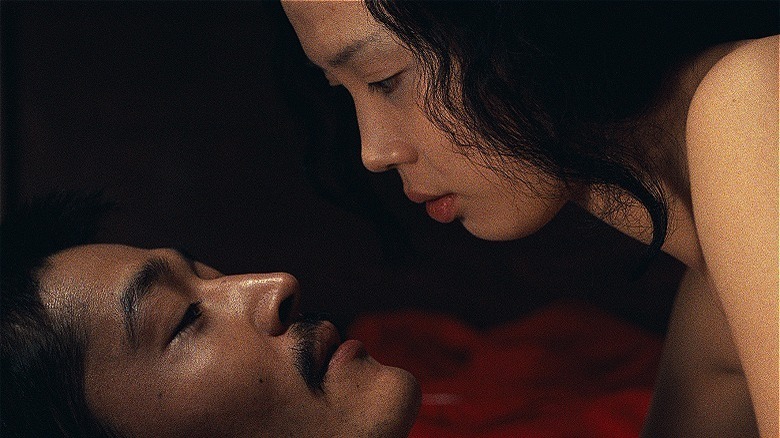 Argos Films/Toho-Towa
Full disclosure, this one is not for the faint of heart. Released in 1976, "In the Realm of the Senses" contains material so explicit that it is banned or heavily censored in some countries to this day. Written and directed by "Empire of Passion" filmmaker Nagisa Oshima, the film is one of the most controversial in cinema history for breaking many taboos, including the use of unsimulated sex scenes.
Based on a true story, "In the Realm of the Senses" is about a geisha named Sada Abe (Eiko Matsuda) who works as a maid at a hotel. There she is seduced by the owner, a married man named Kichizo Ishida (Tatsuya Fuji), and the two begin an affair. Their romance turns into a whirlwind of obsession, possessiveness, and destruction, culminating in Sada being overcome by madness and murdering her lover.
Though "In the Realm of the Senses" is well noted for its controversy, it has also been highly praised by critics. Joe Reid of Decider stated that the film "remains one of the great erotic art films, and it retains 100% of its ability to shock and scandalize audiences today, every bit as it did in 1976." For fans of high art who are also looking for something scandalous, "In the Realm of the Senses" might be your thing.
A Perfect Murder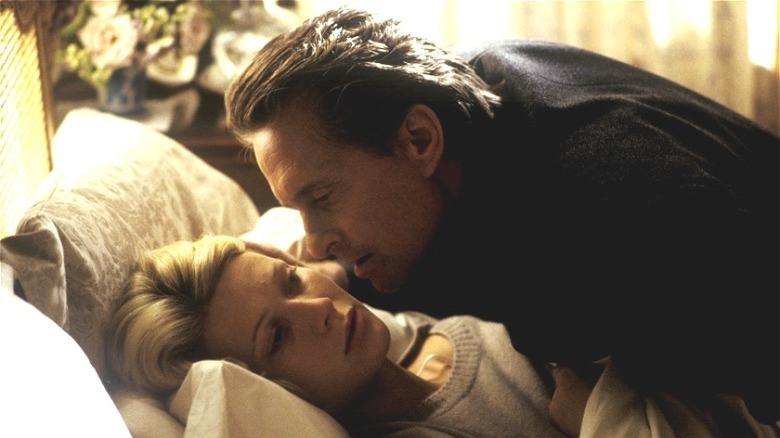 Warner Bros.
Alfred Hitchcock's 1954 crime thriller, "Dial M For Murder," received the remake treatment in 1998 with a modern-day retelling of the suspense-fueled drama in "A Perfect Murder." Directed by Andrew Davis, stars Michael Douglas and Gwyneth Paltrow took over the roles originally played by Ray Milland and Grace Kelly, respectively. Though the names of the characters and some of the plot points were changed, "A Perfect Murder" nonetheless holds onto the thrills of the original.
Paltrow is Emily, the bored trophy wife of Douglas's Steven Taylor. She is having an affair with a handsome artist, David, played by Viggo Mortensen. Steven turns the tables, however, when he discovers that David is actually a con man with a history of swindling wealthy women out of their fortunes. Steven blackmails David into killing his unfaithful wife in return for his silence and a reward of half a million dollars. 
When the murder plans go awry, Emily realizes that things are amiss, and she has to use her wiles to fight for her life. While "A Perfect Murder" has some smoldering love scenes between Paltrow and Mortensen, it's the chills that Douglas's performance doles out as the sinister Taylor that makes "A Perfect Murder" worth the watch.
The Cook, the Thief, His Wife, & Her Lover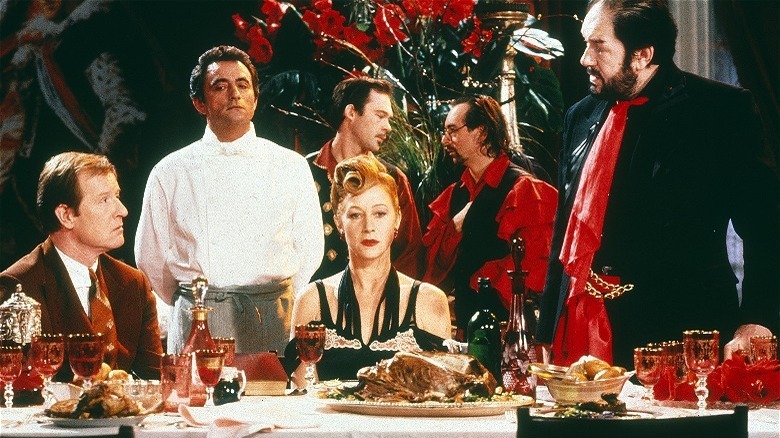 Palace Pictures
Like "In the Realm of the Senses," this 1989 British arthouse film is a tough one to swallow — literally, at times. Yet the vivid imagery and sensual delights of "The Cook, the Thief, His Wife, and Her Lover" make for an unforgettable cinematic experience. The film was written and directed by notable British filmmaker Peter Greenaway. It received high praise from critics, with one reviewer calling it "a masterpiece of British cinema" (via Cole Smithy).
The majority of the film takes place in a lavishly set high-end restaurant, which is owned by an oafish mobster named Albert Spica. Those who are fans of Michael Gambon's portrayal of the kindly wizard Dumbledore in the "Harry Potter" films may be in for a rude awakening when they see him as Spica, a despicable and sadistic villain who fancies himself a sophisticated man-of-the-world. His wife, Georgina (Helen Mirren), is desperate to escape his cruelty and begins an illicit affair with restaurant patron Michael (Alan Howard). 
With the help of the establishment's cook, Boarst (Richard Bohringer), the lovers carry out their romantic rendezvous in secret. However, Spica's barbarity knows no bounds when he discovers his wife's infidelity, resulting in a revenge plot that may turn the stomachs of sensitive viewers. "The Cook, the Thief, His Wife, and Her Lover" is not for everyone, but those with a strong love for the macabre should consider this controversial feast for the senses required viewing.
Onibaba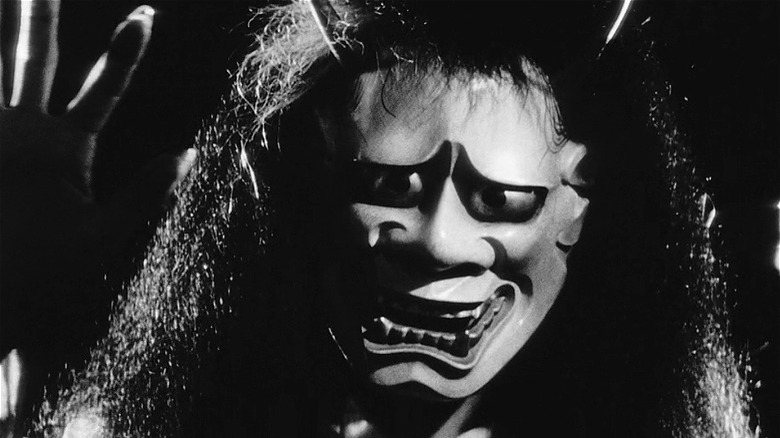 Toho
The 1964 film "Onibaba" includes cinematic visuals that were banned from American films, including nudity, sex, and graphic violence. In a war-torn feudal Japanese countryside, a woman and her daughter-in-law survive by killing lost samurai warriors and stealing their belongings. When one of their neighbors returns from the war with news of the death of the old woman's son, he sets his sights on seducing the young widow. This doesn't sit well with the older woman, who resorts to wicked means to keep the lovers apart. When the older woman meets a samurai wearing a mask, she kills him and uses the mask for her own agenda – however, she soon learns that the mask holds a horrifying curse.
While "Onibaba" does include a romance of sorts, the main emphasis is its haunting atmosphere. Like "Empire of Passion," the film shows the dark side of humanity's nature and how selfish desires will only lead to one's own ruin. It is a cautionary tale with elements of horror, symbolism, and eroticism that viewers won't soon forget.
The Housemaid (2010)
Nominated for a Palm D'or at the 2010 Cannes Film Festival, "The Housemaid" is an erotic melodrama by South Korean director Im Sang-soo and a remake of the 1960 film of the same name. A young woman named Eun-yi (Jeon Do-yeon) is hired as an au pair for a wealthy family. She is under the supervision of the head maid, Byeong-sik (Youn Yuh-jung), also called Miss Cho, who keeps a sharp eye on the goings-on of the household. The woman of the house, Hae-ra (Seo Woo), is pregnant with twins, and Eun-yi is charged with looking after her young daughter, Nami (Ahn Seo-hyun).
Everything about her new job seems perfect until Eun-yi catches the eye of Hae-ra's handsome husband, Hoon (Lee Jung-jae). After being seduced by Hoon, Eun-yi falls victim to the calculating machinations of Hae-ra and her plotting mother, who seek to destroy Eun-yi's life and her hopeful spirit. "The Housemaid" received mostly positive reviews from critics and is sure to satisfy fans of romantic thrillers with a dark twist.
Lust, Caution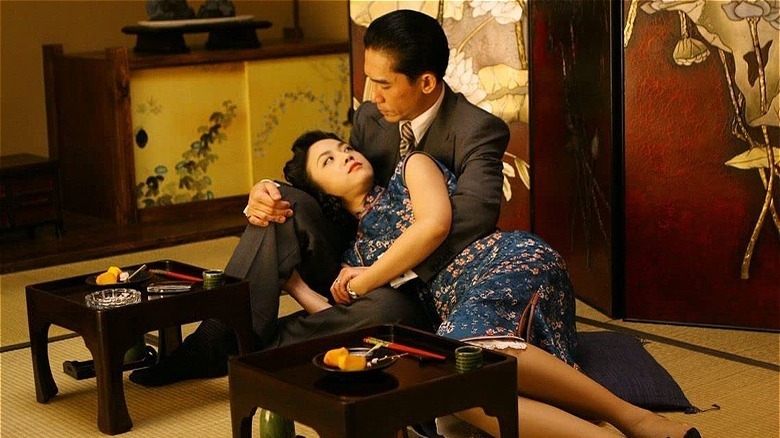 Focus Features
Director Ang Lee has made a name for himself in both the eastern and western world of cinema. Some of his best-known works — including "Sense and Sensibility," "Crouching Tiger, Hidden Dragon," and "Brokeback Mountain" — have earned several film awards and critical acclaim. However, one of his most controversial films, the 2007 romantic thriller "Lust, Caution," has often been sadly overlooked by general audiences.
"Lust, Caution" takes place in 1938 and 1942, during the tense years of Japan's placement of a puppet government in China. A group of patriotic Chinese students dabbles in espionage to assassinate a high-ranking Chinese official, Mr. Yee (Tony Leung), who works for the Japanese. The heart of their plan resides with Wong Chia Chi (Tang Wei), who goes undercover to seduce the married Mr. Yee. However, Wong finds herself in over her head when she falls in love with Yee. 
As the assassination plan draws to a climax, Wong's conflicting feelings put herself and her fellow resistance members in grave danger. Filled with romance and suspenseful drama, "Lust, Caution" is a must-see for fans who enjoyed "Empire of Passion."