Lady Gaga's Top Gun: Maverick Song Is More Important Than We Realized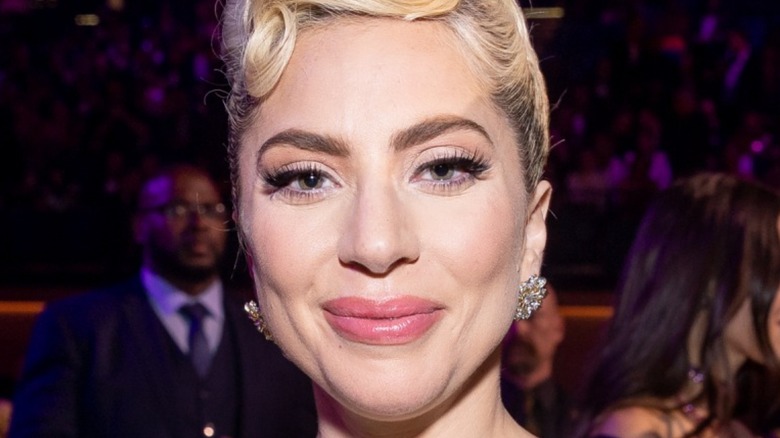 Emma Mcintyre/Getty
After a number of delays, "Top Gun: Maverick" is finally set to hit theaters. The film follows the life of Pete "Maverick" Mitchell (Tom Cruise), whom audiences rejoin decades after his triumphant assumption of the role of flight instructor at the end of 1986's "Top Gun." Maverick is still a test pilot, and now he faces a brand-new challenge: training a new generation of fliers for the TOPGUN program. Among the new recruits is the son of his late and much-lamented best friend, Goose (Anthony Edwards), Bradley "Rooster" Bradshaw (Miles Teller).
Will Maverick stop dodging the possibility of career advancement, settle down with Penny Benjamin (Jennifer Connelly), and finally end up in a staid, earthbound job? Or will he continue living for speed and keep on flying across the friendly (and dangerous) skies? Fans will have to head to theaters on May 27 to find out.
Every epic action movie deserves a soaring and memorable theme song, and "Top Gun: Maverick" is no exception to the rule. The power ballad "Hold My Hand," performed by pop songstress Lady Gaga, underscores Maverick's every move in the film. But it seems that the song is a lot more important to the film than one might think at first glance.
Tom Cruise says Hold My Hand is 'the heartbeat' of Maverick
In a red carpet interview with CinemaBlend, Tom Cruise described "Hold My Hand" as the missing piece in the film's puzzle. "Gaga came in with this song ... It became our score. It became the heartbeat of the film, what she did," Cruise said. He later called Lady Gaga and told her, "I don't think you understand. Emotionally, I was so concerned until I heard that piece. And I knew that that piece, what it does, how it married our story emotionally ... So that was a moment. That was a real moment for all of us."
That's quite a high compliment for the artist to live up to. It puts Lady Gaga's work on the same level as the songs on the original "Top Gun" soundtrack, which reached #1 on the Billboard 200 in July 1986. "Take My Breath Away," Berlin's song on the soundtrack, won an Oscar in 1987 for music (original song).
Cruise repeated his praise for Lady Gaga's work during an early May 2022 interview on "The Late Late Show with James Corden," lavishing plaudits on the multi-hyphenate's skills and confirming that Lady Gaga did indeed co-compose the film's score with Hans Zimmer. The actor added that before they heard "Hold My Hand," he and Zimmer had been struggling to find a musical direction for the film.
Lady Gaga herself said on Twitter, "I didn't even realize the multiple layers it spanned across the film's heart, my own psyche, and the nature of the world we've been living in."
Lady Gaga has made several musical contributions to movies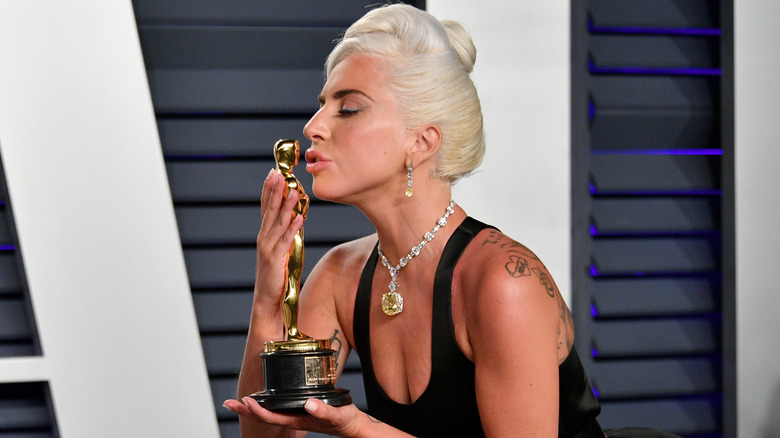 Dia Dipasupil/Getty Images
Naturally, "Top Gun: Maverick" is only one of many musical contributions that Lady Gaga has made to film soundtracks over the past decade. She produced 11, wrote 12, and performed 13 songs for 2018's "A Star Is Born," including "Shallow," for which she won an Oscar for best original song in 2019 (via The Hollywood Reporter).
Lady Gaga was also nominated for an Oscar in 2016 for co-writing the song "Til It Happens to You" with Diane Warren for the documentary "The Hunting Ground" (via Rolling Stone). "Til It Happens to You" lost to "Glory" (from the film "Selma"), which was co-written by Common and John Legend (via The Hollywood Reporter).
Otherwise, the musician's pop hits have become ubiquitous in cinema, showing up in an assortment of films from "Confessions of a Shopaholic" to 2010's "The Karate Kid" to "Sing" to "Love, Simon."