Who Plays Dot In Netflix's The Umbrella Academy?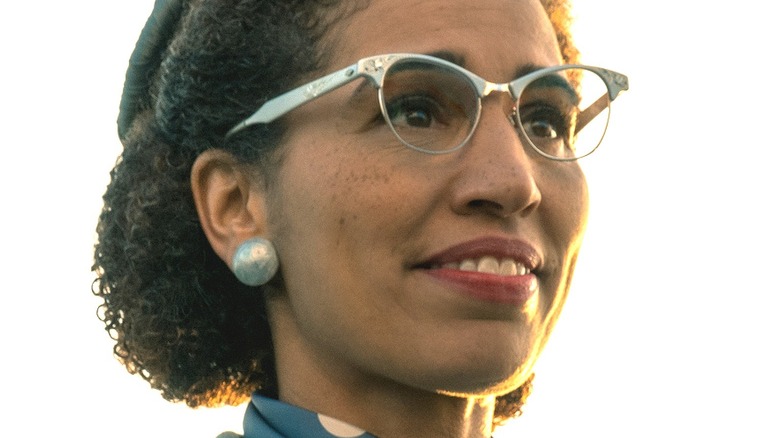 CHRISTOS KALOHORIDIS/NETFLIX
"The Umbrella Academy" is a Netflix superhero drama based on the comics of the same name written by Gerard Way (yes, the My Chemical Romance singer). The story follows seven adoptive siblings doing their darndest to tolerate each other. Also, sometimes they save the world, but that's a minor thing, really. The siblings, played by Tom Hopper, Elliot Page, David Castañeda, Emmy Raver-Lampman, Robert Sheehan, Aidan Gallagher, and Justin H. Min, cause a host of issues for the people around them, like exploding the moon and assassinating people throughout space and time.
To be fair, though, the second issue is rather clinical, as Number Five (Gallagher) joins The Commission, an agency specifically designed to train time assassins who maintain the appropriate chronological stream. Among the ranks of their pencil-pushing employees is Dot, a perky woman who eventually takes part in a bloody rebellion to make The Commission less murderous. Here's the actress behind the role, and a little bit about her career.
Patrice Goodman plays Dot, the rebellious Commission agent
Patrice Goodman is the talent behind Dot on "The Umbrella Academy." She's a Canadian actress who's been in the business since 1998, when she appeared as a dancer in "Blues Brothers 2000." Since then, she's accrued over 50 screen credits, including a starring role in "Sunnyside," a Canadian sketch comedy series, and a recurring role in "Slasher," a horror anthology series. 
In a 2022 interview with Canculture, Goodman shared her belief that performers have the same goal at every end of the spectrum, and that the only difference between projects is scale. "Everybody wants to make something that they can be proud of," she said, adding, "'The Umbrella Academy' has the money to make the most beautiful costumes and the most beautiful sets and that is really to their benefit because it is a feast for the eyes. But at the root of it is human connection." She also went on to say that constant, serious learning is all part of the job, because that's how you perfect what she believes is the key to career growth — or as she puts it, "Show up, be good, be precise, be pleasant to work with."
Goodman continued to say that when she's not jetting from project to project, she's happily teaching classes herself, which she believes helps to keep her own craft honed to perfection. 
Patrice Goodman is a part of Canadian television history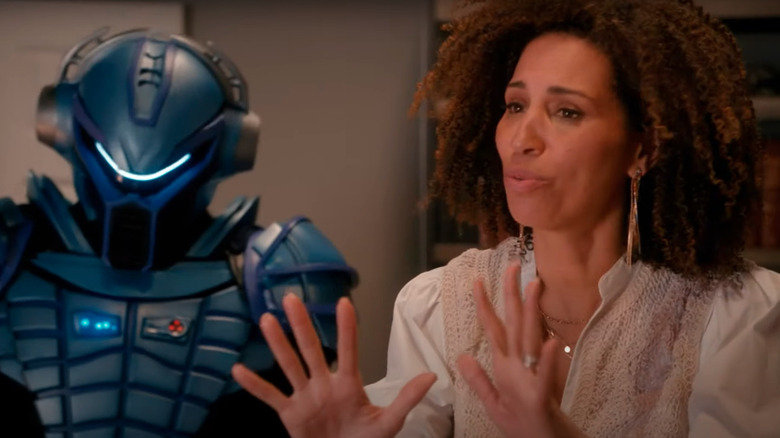 CBC Gem/YouTube
Patrice Goodman also broke ground by starring in "Overlord And The Underwoods," a sci-fi comedy on CBC that's notable for being "the second Black comedy in Canadian television history," according to ByBlacks. The first was writer Trey Anthony's "'da Kink in My Hair," a 2007 sitcom adapted from her play of the same name.
"Overlord And The Underwoods" creator and showrunner Anthony Q. Farrell told The Canadian Broadcasting Corporation (CBC), "The thing that catches people off-guard is that it is a show with a Black family but it's not rooted in anything like Black trauma or anything that you see a lot of in the news, it's just a family that's being a normal family." He also went on to clarify, "I think it's the first mainstream comedy on CBC with a Black family at the lead." ("'da Kink in My Hair" is essentially a workplace comedy.)
Outside of the historic series, Goodman told ByBlacks of her career inspiration, which was Whoopi Goldberg's oscar-nominated turn in "The Color Purple." After watching the Spielberg-directed drama, Goodman had a profound revelation about working in the performing arts. "I feel like we are an instrument of empathy and creating empathy in the world," she said, adding, "'Cause if you can see my journey and relate to it, it's not such a step to see the person who's standing or sitting across from you."