The Alternate Ending To Cobra Kai Season 4 That Could Have Changed Everything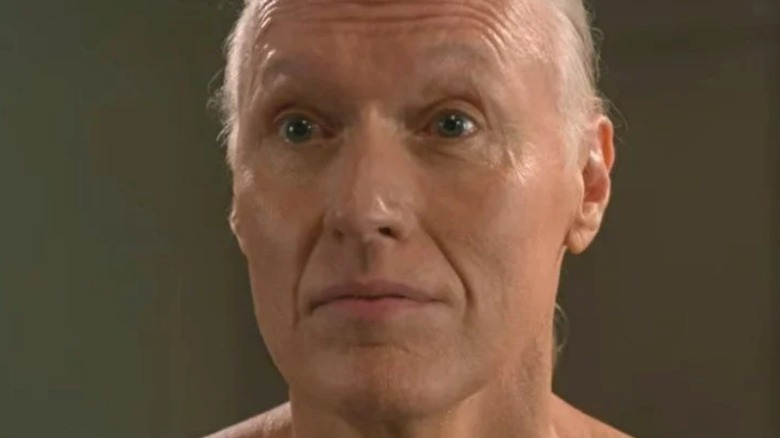 Netflix
Decades after "The Karate Kid" graced the big screen, which introduced viewers to a world of questionable martial arts, fight montages, and sage wisdom, its legacy lives on in the realm of television. Netflix's "Cobra Kai" brings the plot and characters from the late John G. Avildsen's cinematic classic into the modern-day, revealing what became of Daniel LaRusso (Ralph Macchio), Johnny Lawrence (William Zabka), John Kreese (Martin Kove), and more. At the same time, it hasn't shied away from spotlighting a new generation of Cobra Kai and Miyagi-Do students.
At the time of this writing, "Cobra Kai" has made waves on the small screen for four years and now spans four seasons. Season 5 will arrive on September 9, 2022, and given how Season 4 ended, that date can't come soon enough. Johnny and his son, Robby Keene (Tanner Buchanan), reconciled their fractured relationship, Miguel Diaz (Xolo Maridueña) has set out to reconnect with his estranged father, and Kreese has gone to jail, with Terry Silver (Thomas Ian Griffith) taking over the Cobra Kai dojo. That's a lot to process, but the story doesn't end there.
As it turns out, the fight between Tory Nichols (Peyton List) and Sam LaRusso (Mary Mouser) from the "Cobra Kai" Season 4 finale — one of the most crucial moments of the season — could've gone much different.
Sam almost got the best of Tory during their bout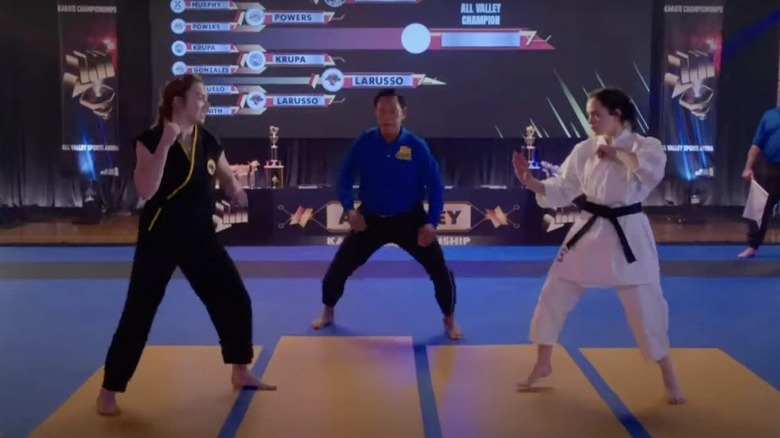 Netflix
The long-simmering rivalry between Tory Nichols of Cobra Kai and Sam LaRusso of Miyagi-Do (and technically Eagle Fang, too) came to a head at the end of "Cobra Kai" Season 4. The two martial arts prodigies clashed at the All Valley Karate tournament, with Tory ultimately picking up the win. Of course, Terry Silver fixed the bout to give her the upper hand, but this is Cobra Kai we're talking about, so they'll take victories however they can. Although their cheating ways nearly didn't pay off, as revealed by Reddit user thewalkingwhit, who posted a clip of the Sam and Tory fight, only this time around, the former walked away as the winner. 
Several commenters explained that this take exists for the sake of the extras, essentially so they didn't know how the confrontation would end before the episode premiered. Reactions to both it and the final scene were mixed overall, but as far as Sam LaRusso herself, Mary Mouser, is concerned, there's no shame in her character's loss. "I feel like she's not lost hope because of it, but it's almost like, finally taking a step back and seeing what the bigger picture was all along," she said in an interview with Collider, explaining that there's more to Sam's journey than simply winning or losing.
Had Sam LaRusso defeated Tory Nichols at the All Valley Karate tournament, it could've totally changed the complexion of "Cobra Kai" heading into Season 5. It's nice that an alternate version of the end of their fight exists, if for no other reason than to theorize how deep those changes would've gone.