The Real Reason Homer Simpson And Krusty The Clown Look So Alike
Through its 33 seasons and one film, "The Simpsons" has seen a variety of characters bless Springfield and our screens. However, with such a busy town full of wild characters, it's hard to keep track of the various designs and looks that some of the characters have. There are exceptions — Bart's school friends, the twins Sherri and Terri, have always looked alike, and so have Marge's sarcastic, chain-smoking twin sisters Patty and Selma.
While it's a requirement for these characters to be a copy-and-paste job of sorts, two long-time locals to Springfield share a remarkable likeness and have no reason to. Strip away the white face paint, red button nose, and green hair from children's entertainer Krusty the Clown, and he's a dead ringer for everyone's favorite nuclear safety inspector, Homer Simpson. But while the resemblance might be assumed as just a lazy bit of animation in the show's early days, "The Simpsons" creator Matt Groening has confirmed that these two very familiar faces were supposed to look the same for a fascinating, but ultimately unvisited reason planned for the show.
Homer and Krusty were set up to be the same person in The Simpsons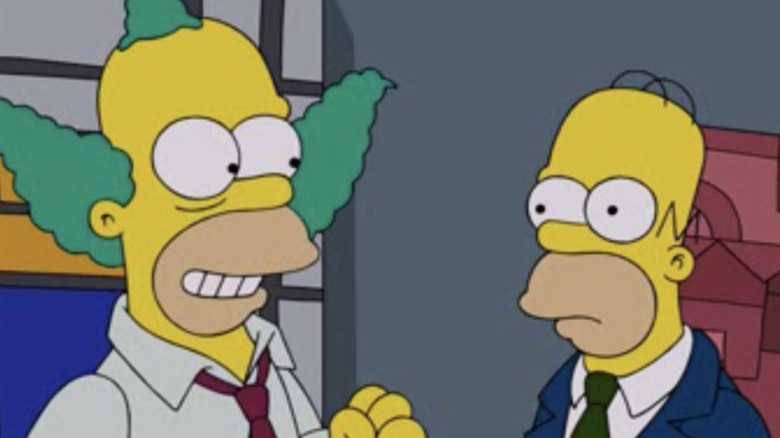 Fox
After appearing in "The Simpsons" shorts on "The Tracey Ullman Show," Krusty's debut on the animated family's fully-fledged series was in "The Telltale Head," where he had a much more substantial similarity to the head of the Simpson household. The reasoning was because initial plans were for Krusty to be Homer's secret identity, and a way for him to connect with his son, Bart. In an interview with Entertainment Weekly, Groening revealed that Homer's doppelgänger in clown shoes was, in fact, intended to be Bart's father, which sounds like it was worth a show all on its own.
"The original idea behind Krusty the Clown was that he was Homer in disguise, but Homer still couldn't get any respect from his son, who worshipped Krusty," Groening explained. It was a twist on the character that never came to pass, and in hindsight would've taken up a lot of the overall show. Nevertheless, the seed was planted but never altered as the show progressed. "If you look at Krusty, it's just Homer with extended hair and a tuft on his head. We were in such a rush in the beginning of the series that I thought, 'Oh, it's too complicated,' so we just dropped it. But when I look at Krusty, I think, 'Yeah — that's Homer."' It's undoubtedly an interesting nugget and one that Groening eventually dusted off to bring elements of the story to life in an episode further down the line.
Homie The Clown shone a spotlight on Homer and Krusty's similar appearance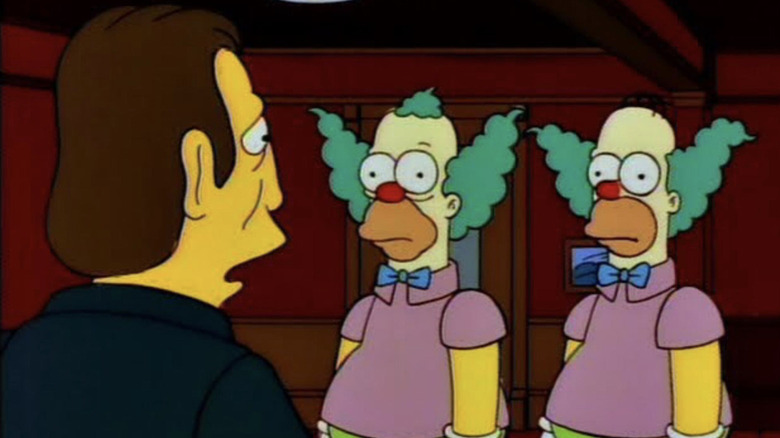 Fox
In 1995, the show's 6th season featured Homer attending Krusty's clown school in "Homie the Clown." Unfortunately, as with many things that happen in "The Simpsons," the donut-loving dolt runs into trouble, this time with the Springfield Mafia. The mobsters mistake Homer for Krusty, who is avoiding them for money. While not only being one of the show's highest-ranked episodes (via IMDb), it also highlights the very detail that was set up but never explored regarding the likeness of the two characters. The similarity of Homer and Krusty is integral to the episode, albeit with the latter being given a few alterations, namely a lower beard line and baggier eyes.
Of course, after over 700 episodes and 33 seasons, there's now a clear divide between the family man and the children's entertainer with a gambling addiction. While the planned thread would've been great to see, given the up-and-down relationship between Homer and Bart, it hasn't stopped both Homer and Krusty from being role models in their unique ways.