Maggie Won't Give Birth In The Walking Dead Season 8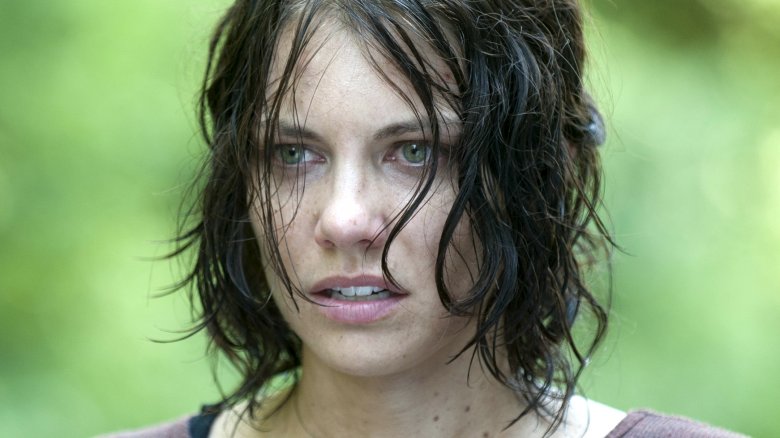 AMC
Although it seems like Maggie (Lauren Cohan) has been pregnant forever, we shouldn't expect her to go into labor in season 8 of The Walking Dead.
Showrunner Scott M. Gimple told Entertainment Weekly that Maggie won't give birth this season. Of course, he didn't say whether or not that means Maggie will lose the baby, but the character does give birth to Glenn's child in the comics.
So how is Maggie still pregnant? After all, she revealed she was with child during the first half of season 6, back in 2015. Well, it's because the timeline of the show since then hasn't actually covered much ground. Co-executive producer Denise Huth said on the season 7 Blu-ray that all of the events of season 7 took place during just 19 days, and Gimple told EW that season 8 picks up just a few days after that. "It's quite early in, as it was in the book," Gimple said of the pregnancy.
Cohan joked that she has a simple solution for audience confusion. "I always want to put a little ticker tape along the bottom of the episode saying how far into the apocalypse and into the pregnancy we are," she said. "Because I'm playing newly pregnant for a really long time. But the truth of the matter is, it's only been a matter of weeks since Negan killed Glenn."
Cohan also said that Maggie won't let her pregnancy slow her down. "She's in a mindset of doing everything she can to inspire at Hilltop and to inspire the people that she's encouraged to join the forces," she said. "The symbolism of her being with her troops is really essential. And she needs to inspire confidence not just in the Hilltoppers, but in Rick and Daryl and Ezekiel, and to be somewhat fearless and say, 'I have this group's strength on my side and that's what's going to keep me safe, and so I'm not afraid to go up to a reasonable point with you all to set this plan in motion and really fine-tune the wild bunch planning.' So she does that, and I think, honestly, she does that to instill the confidence in herself that this will work and it's pretty reasonable."
She also explained that pregnancy isn't quite as physically limiting as you might think. "There's an amazing amount that you can do," she said. "The place I work out is a testament to this. I do a pretty crazy workout, and there are women there up to the end of their third trimester doing the same thing. They say that in pregnancy you can operate on a physical level to the same that you have been. You don't want to up it once you're pregnant, but you can continue on the same pattern, and she's been living in this type of a world and this type of combat for a really long time."
Of course, there's that whole matter of a possible time jump hinted at in the season 8 trailer. But, in the comics, that time jump takes place after the war with Negan and, on TV, that war is just starting. So it's possible we could see the baby in a flash-forward, and Gimple's remarks would still remain true. 
We'll find out more when The Walking Dead returns to AMC on Oct. 22. Meanwhile, check out a few ways that the show could end.