Alicia Vikander Is Lara Croft In First Poster For Tomb Raider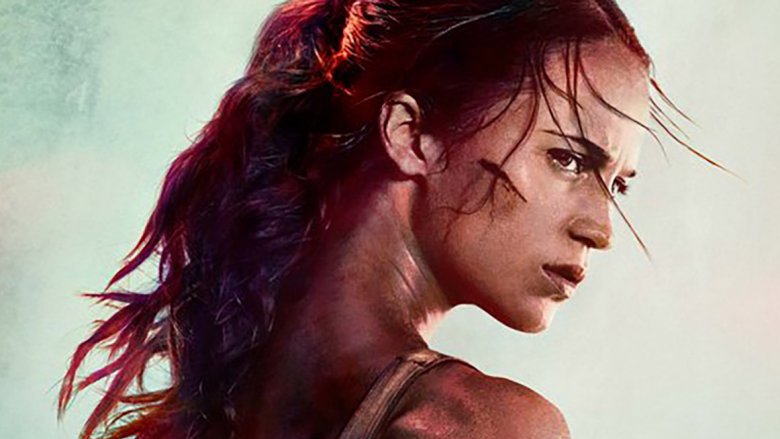 Warner Bros / MGM
Lara Croft is still alive in the first poster and short teaser for the upcoming Tomb Raider reboot.
The poster displays lead actress Alicia Vikander in the role of Lara Croft, presented in the new film as a 21-year-old bike courier in London whose directionless life gains new purpose when she goes in search of her missing father Lord Richard. An eccentric adventurer, Lara's dad is presumed dead after his last mission searching for a tomb on a mythical island off the coast of Japan. 
Taking a cue from recent installments in the game series, Tomb Raider will be something of an origin story for the archaeologically-minded and athletic heroine, following her as she forms her skills as an acrobatic explorer of forbidden ruins. It's an approach that stands in contrast to the original, Angelina Jolie-starring movies, which introduced us to a Lara already at the height of her powers, more of a secret agent-type than a hardscrabble tomb raider.
The poster conveys the survivalist tone of Lara's first trial-by-fire, showing her scratched-up and ill-equipped in the middle of a rushing river, with nothing but a mountaineering axe to keep her enemies at bay. The logo, pierced by an arrow, nods to some more long-distance weaponry she'll eventually acquire in her quest to find her father and stay alive.
Along with the first poster, Warner Bros. and MGM also dropped a brief, action-oriented teaser for the movie, showing off some of the challenges Lara will face on her first adventure, from machine-gun toting villains to a trap-infested tomb that looks just like a level in a video game—in a good way. The full trailer for the movie will follow on Tuesday, September 19.
In addition to Vikander in the lead role, Tomb Raider also stars Dominic West, Daniel Wu, Hannah John-Kamen and Walton Goggins as the story's villain. It will be directed by Norwegian filmmaker Roar Uthaug.
Tomb Raider sets off for adventure on March 16, 2018. Watch the first teaser and see the full-size poster below. For everything we know about the movie so far, check out our feature on why the Tomb Raider reboot will be better than you think.
TOMORROW – watch the trailer for #TombRaider, in theaters March 2018. pic.twitter.com/Lt5R7KVCkG

— Tomb Raider (@TombRaiderMovie) September 18, 2017