Jenna Fischer Opens Up About Keeping The Office's Biggest Secret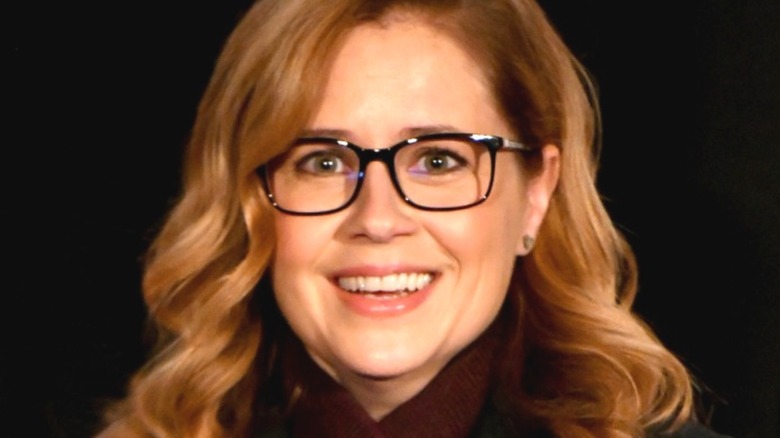 Craig Barritt/Getty
Few shows have had the enduring legacy of "The Office." Many series' popularity dwindles when they go off the air, but in the age of streaming, "The Office" has seemingly only gotten more popular. Fans can watch and rewatch the series from the very beginning, reliving their favorite moments and finding new things to laugh at with each episode. The sitcom has become the ultimate comfort watch for thousands of people, and it appears some of the cast members themselves continue to get mileage out of the series. 
Brian Baumgartner, who played Kevin Malone, has his own podcast where he discusses all things related to "The Office," and that's not the only podcast game in town. Jenna Fischer and Angela Kinsey, who played Pam and Angela, respectively, also host their own "Office" podcast called "Office Ladies." As if that wasn't enough, they also have a book where they discuss all things "The Office" titled "The Office BFFs: Tales of The Office From Two Best Friends Who Were There."
They touch upon all kinds of juicy topics in the book, including the immense difficulty of hiding the secret that Steve Carell, who played Michael Scott and exited the series in its seventh season, would return for the series finale. 
Jenna Fischer kept the secret from all of her costars
In this age of media saturation, it seems difficult for anything to truly be a surprise. However, many fans were taken aback when Michael Scott returned to "The Office" for its very last episode. That's partly because there weren't any leaks concerning the cameo appearance, and the only people who did know about it managed to stay quiet about the surprise. 
In an interview with Entertainment Weekly, Fischer was asked about keeping Steve Carell's involvement a secret, which was no easy task. She explained, "It was really hard not to tell Angela. Rainn [Wilson] was like, 'Jenna, don't you dare.' And part of me was like, 'Listen, if I tell Angela and then I didn't tell Oscar [Nunez] [and] start picking who I'm telling, then Angela has to keep it from Brian [Baumgartner] and Kate [Flannery].' I was like, 'Oh my gosh. I don't want to start something.' So I did keep the secret from Angela." She goes on to talk about how they didn't want any teases about a potential surprise appearance because they wanted the audience to be as surprised as possible. And it worked. Fischer even concludes by saying, "[Greg Daniels] wanted that moment to just shock the heck out of people. And it did. I mean, I remember the online response."
The result is one of the most impactful series finales of all time, and it was such a pleasure for fans to see Michael Scott joking around with his old coworkers once again. "The Office BFFs: Tales of The Office From Two Best Friends Who Were There" will be available starting May 17.