Charlize Theron Shares An Exciting Behind-The-Scenes Look At Her Doctor Strange 2 Role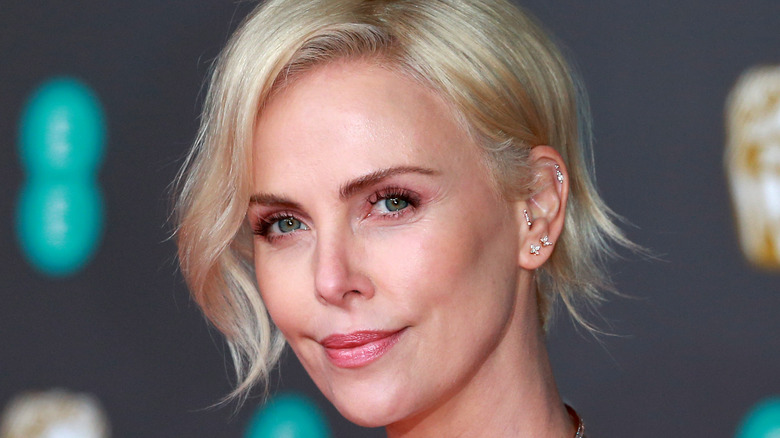 Cubankite/Shutterstock
"Doctor Strange in the Multiverse of Madness" is full of surprises. The latest Marvel Cinematic Universe film begins with an alternate universe version of Stephen Strange (Benedict Cumberbatch) fighting to protect a multiversal traveler named America Chavez (Xochitl Gomez) and it only gets weirder and more surprising from there. Indeed, while some of the "Doctor Strange" sequel's biggest surprises were heavily hinted at in the early trailers and promotional materials that were released for it, many of the film's twists and cameos were also kept under tight wraps prior to its theatrical debut.
One of those surprises doesn't come until the mid-credits scene of "Multiverse of Madness," which sees Earth-616's Stephen Strange get stopped in New York by a blonde-haired woman dressed in an all-purple costume. The mysterious character uses a magical dagger to tear open a cosmic gateway and tells Strange that she needs his help to fix a multiversal incursion that he apparently caused. After being briefly taunted by the woman, Strange agrees to go with her and the scene ends with the two characters leaping through the gateway together.
While the scene doesn't reveal much about the new character, her appearance at the end of "Multiverse of Madness" still makes a considerable impact because she is played by none other than Charlize Theron. Now, a little over a week after the film's release, Theron has revealed a behind-the-scenes look at the filming of her MCU debut.
Charlize Theron is officially a member of the MCU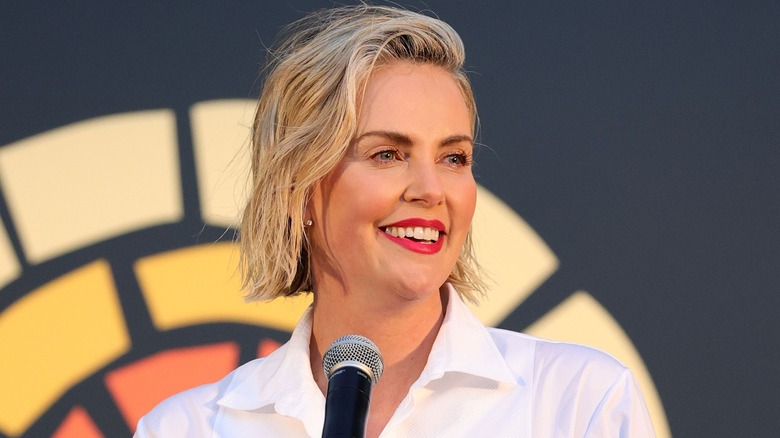 Rich Fury/Getty Images
In a recent tweet, Charlize Theron shared a 15-second compilation of clips and images that were taken during the filming of her surprise scene in "Doctor Strange in the Multiverse of Madness." Some of the clips appear to show her getting scanned in a room full of cameras while wearing her costume from the film. Other images, meanwhile, just show Theron sitting in a makeup chair. 
In other words, the clips don't reveal anything new about Theron's role in the "Doctor Strange" sequel, and Benedict Cumberbatch is noticeably absent from the compilation. Fortunately, their brief interaction in "Multiverse of Madness" does suggest that Marvel fans can likely look forward to seeing Cumberbatch and Theron reunite on-screen together in the MCU at some point in the future.
Additionally, while her character's name is never revealed in the "Multiverse of Madness" mid-credits scene, Theron did confirm on May 10 (via Twitter) that she is playing the MCU's version of Clea. In the comics (via Marvel Database), Clea is Dormammu's niece, but despite being related to one of his enemies, she gradually becomes one of Stephen Strange's most unexpected allies. The pair eventually marry each other in the comics, and Clea even takes over as the Sorcerer Supreme after Stephen dies at one point. 
Fans will, unfortunately, have to wait to see if Clea's big-screen path ends up resembling the journey she's taken in the comics, but based on her recent social media posts, it's clear that Theron is very excited about her MCU role.