The Cobra Kai Development That Made Zero Sense To Fans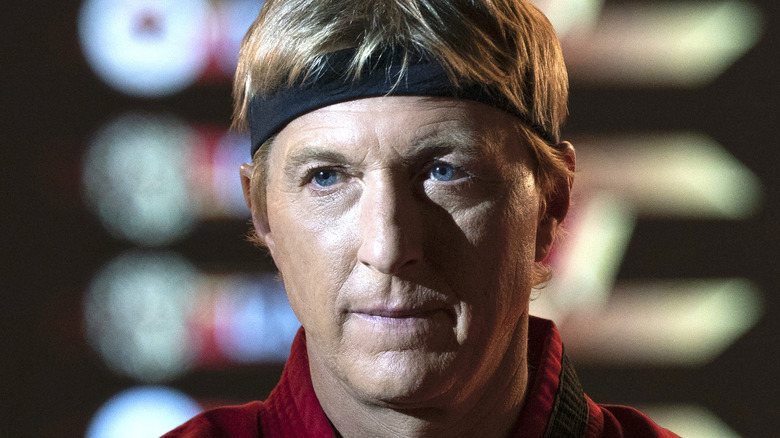 Netflix
"Cobra Kai" has garnered massive success since it first premiered on YouTube Red in 2018, arguably even more so since its big move to premium streaming network Netflix. Season 4, its latest entry, drew over 120 million viewing hours during its first week on the platform (per Variety). Season 4 sees the "Karate Kid" sequel series go in a new direction, featuring the team-up of Daniel LaRusso (Ralph Macchio) and Johnny Lawrence (William Zabka) to take on the latter's former mentor John Kreese (Martin Kove) and Terry Silver (Thomas Ian Griffith) in the All Valley Karate Tournament.
"Cobra Kai" is a show that is constantly reinventing itself, while also portraying the past films in a different light that's not so morally clear-cut. This, mixed with its embrace of nostalgia, is arguably why it has been and remains such a popular fixture of streaming television. This will likely continue when Season 5 premieres later in 2022 as well. However, there are some moments and plot points in the show that leave fans scratching their heads. In fact, there's one "Cobra Kai" scene that just flat out does not make a lot of sense.
The school's security measures made no sense
Following the school brawl at the end of Season 2 of "Cobra Kai," the administrators and school board implement stricter security measures to crack down on potential forms of violence at the school. However, as Reddit user u/Exam_United points out over on the "Cobra Kai" subreddit, this actually doesn't make any sense when it comes to stopping martial arts-related violence. While the kids in the show are shown to use various weapons, most of the combat in the series ultimately comes down to hand-to-hand fighting. A school can't perform a bag check for that.
Within the thread, u/Crunchy_Biscuit was also amused at this oversight but stated, "This is why martial arts is important. They can confiscate a weapon but they can't confiscate your skills!" Of course, others pointed out that it wasn't actually an oversight by the writers, but it's to show how ineffective schools often can be when it comes to stopping violence. However, u/MisteWolfe does point out that weapons are used during the brawl itself, so it does seem like a smart move on the school's part either way.
Despite that, even without weapons the kids in question can be quite dangerous. The security protocols implemented by the school in "Cobra Kai" feel like half-measures, at best.