Star Trek: Strange New World's First Episode Has Fans All Saying The Same Thing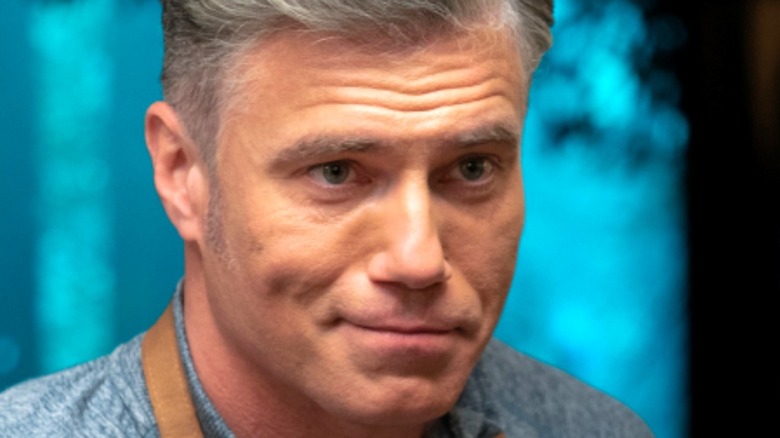 Marni Grossman/Paramount+
Space can sometimes be a daunting and lonely place, but it can also be one of hope, understanding, and exploration. Every "Star Trek" series has sought to support that sentiment and "Star Trek: Strange New Worlds," the latest installment of the "Star Trek" franchise, is definitely following through on tradition. The Paramount+ series, which debuted on Thursday, May 5, stars Anson Mount, Ethan Peck, Rebecca Romijn, Babs Olusanmokun, Jess Bush, Christina Chong, and Celia Rose Gooding. Set before the events of the original "Star Trek" series, "Strange New Worlds" follows Captain Christopher Pike (Mount) as he takes up command of the famous Federation starship the USS Enterprise.
One of the major events for a civilization to achieve is Warp technology, which is the ability to break the light barrier. Before this technological breakthrough, civilizations are considered off-limits by Federation protocol in order to avoid affecting the development of said world. The very first episode of "Strange New Worlds" (also titled "Strange New Worlds," to wit) sees the Enterprise called to a planet after a Warp signature is detected. But, instead of finding a world on the cusp of space exploration, Pike and his crew find a culture that uses the advanced technology to fashion a bomb of untold explosive magnitude. 
Pike and a select team decide to go to the planet's surface to investigate. After they are discovered, Pike reveals his origin and explains the history of Earth and the Federation in a gambit to turn this newly discovered alien civilization away from the path of self destruction. Tonally, the episode is a stark departure from other franchise spin-offs, like "Star Trek: Picard." So, what are fans saying about this new show?
Fans are in love with the first episode of Strange New Worlds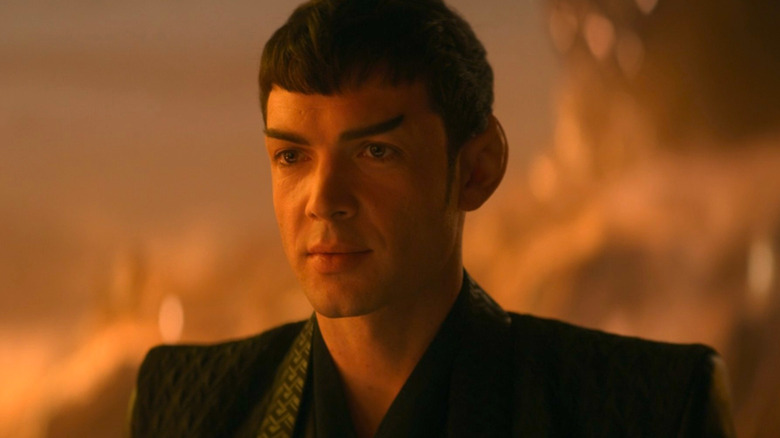 Paramount+
In a Reddit thread discussing the events of the first episode of "Star Trek: Strange New Worlds" on r/StrangeNewWorlds, several fans echoed the same opinion: The first episode is a very promising start. U/TemporalOasis said of the May 5 premiere, "This show is really good. I was skeptical about a lot going in. But everything — casting, ambience [sic], etc. — just seems to be 'right.' I was worried about it being a prequel, or how Spock would work (never watched 'Discovery' so this is my first intro), and it's all fine. They really hit their stride on this one, hope they keep it up."
Others also seemed to be thoroughly impressed with "Strange New Worlds," with Redditor u/Samwill226 saying that this is the "Star Trek" show that they wanted, while u/Appeyes loves the character portrayals of Captain Pike, Spock, and La'an(Chong). u/garlicChaser compares "Strange New Worlds" to both "Star Trek: Picard" and "Star Trek: Discovery," and stated that this new show feels true to the spirit of "Star Trek," and that watching this series feels like coming home. 
Elsewhere, u/spencerdiniz brought up the fact that Pike actually appears in "Star Trek: Discovery," and because of that, he sets the bar very high for "Strange New Worlds"; with this in mind, this new show exceeds all of their expectations. U/lukaeber added, "Thought this episode was excellent, and the season preview at the end makes me think it is going to stay this way. Excited about this one." Considering the overwhelming amount of positive comments regarding "Strange New Worlds," this may be the perfect introduction for new fans while at the same time delighting die-hard Trekkies.