Ryan Reynolds' New Mint Mobile Commercial Is Raising Eyebrows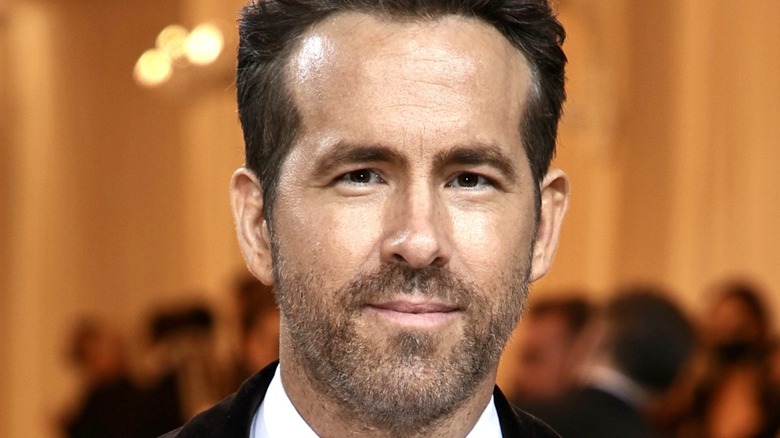 Dimitrios Kambouris/Getty
Despite a busy few years that has seen him star in "Free Guy" and "The Adam Project," Ryan Reynolds has still found time to appear in a new commercial for Mint Mobile, a company that sells wireless mobile phone plans that the "Deadpool" actor now owns (via CNET). In the commercial, Reynolds, standing in front of a green background, tells the viewer, "As owner of Mint Mobile, I always want to find ways to save you money." Reynolds then introduces a spokesperson for the new Mint family plan, who just so happens to be his own mother. 
Reynolds' mother, at first, tells Reynolds that he looks too thin and asks if he has been eating, to which Reynolds responds by whispering to her to just read the lines in the script. Mother Reynolds then explains the price of the plan before delivering the line: "Just one of the many reasons I love Ryan more than his dumb brother, Terry." Reynolds then runs off the screen giggling, clearly pleased with himself that he got his mother to drag his own brother on camera. 
Since its release a few days ago, this ad has viewers discussing it at length — here's what they think.
Reynolds' fans are loving the new commercial
The new Ryan Reynolds commercial has already led to over 600 comments on YouTube, with viewers expressing their — almost universally positive — thoughts. The top comment, by user Laksmi, reads, "Ryan remains to be the only person who has me voluntarily watching adverts" (this reply in and of itself has over 2,000 upvotes). In another top comment, user GHOSTCODCLANLED, declared, "This is why Ryan Reynolds is the best celebrity." Continuing the wave of praise, a user named Oscar wrote, "How does Ryan nail everything he does, what a legend." These comments were followed up by plenty of other various fans stating how hilarious and talented they find Reynolds to be, even in the space of a 30-second ad.
Meanwhile, another fan, Kelly NLN, commented on the funny (and no doubt loving) jokes made at the expense of Reynolds' brother Terry. They then detailed what, it seems, many fans loved so much about the commercial: "Families are families no matter who you are, lol!!" One user, The Vman, imagined the Reynolds family's reaction, writing, "I bet the whole family laughed when they saw this especially Terry!!"