History Announces Six-Part Drama Series About The Impeachment Of Bill Clinton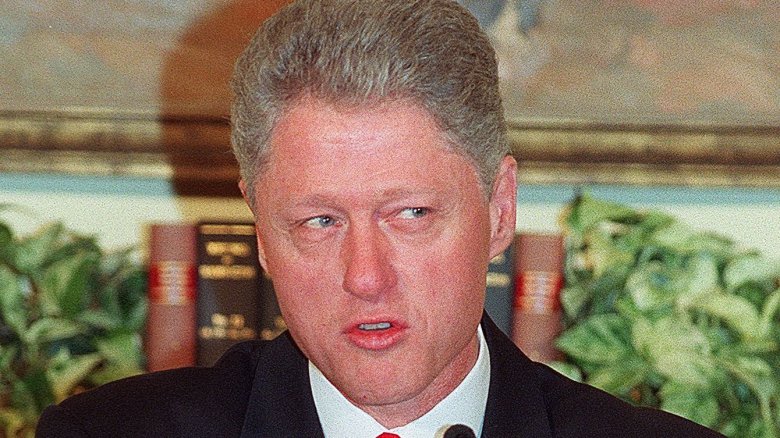 Getty Images
The story of one of America's greatest and most salacious political scandals will be told by the History network in a six-episode dramatized series, Deadline reports.
No casting or release date information has yet been announced for the series, which will be based on the book The Breach: Inside the Impeachment and Trial of William Jefferson Clinton by Peter Baker. The series itself will be called The Breach: Inside the Impeachment of Bill Clinton. It will be written by filmmaker and documentarian R.J. Cutler and David K. Israel. It will follow the revelation of the Clinton-Lewinsky relationship and the struggle for power that ensued between Democrats and Republicans as the story dominated headlines throughout 1998.
The series will also examine how the Lewinsky scandal is representative of the downfall of American government and political discourse, arriving at a time when the way the news is delivered to the masses was beginning to change dramatically.
"Set at the dawn of the cable news wars and the social media revolution, The Breach is a remarkable political story," Cutler said. "It's the origin tale of how our Government was broken and has never really healed. It's also a thrilling tale of personal and professional ambition, of enormous hubris in the name of acquiring power, and of personal foibles, all of which nearly brought down a presidency."
The narrative of The Breach "begins the day President Bill Clinton testified to the grand jury and revealed that he was indeed having a relationship with Monica Lewinsky and ends the day he is found not guilty," Cutler said.
Cutler is no stranger to political documentary or scripted fiction, making him particularly well-suited to tackling the material. Cutler's first major project was the 1993 Academy Award-nominated documentary The War Room, which focused on Clinton's presidential campaign across the United States in 1992.
"This is a moment in American history that altered the direction of this country," said Dante Di Loreto, whose company FremantleMedia North America will produce the series. "It's a deeply emotional and personal story that caused one of the biggest political storms in our history."
The Breach was originally announced as one season of a planned anthology called The Commanders, which is set to dramatize critical episodes in the lives of American presidents. It's no longer clear if The Breach will remain a part of that project, or has been spun off into something all its own.
We'll have more about the series as news comes in. If you like your presidential stories to be a little less serious, check out our feature on the most bizarre presidential moments in comic book history.