Amazon's Rings Of Power Presentation Leaves Tolkien Experts Stunned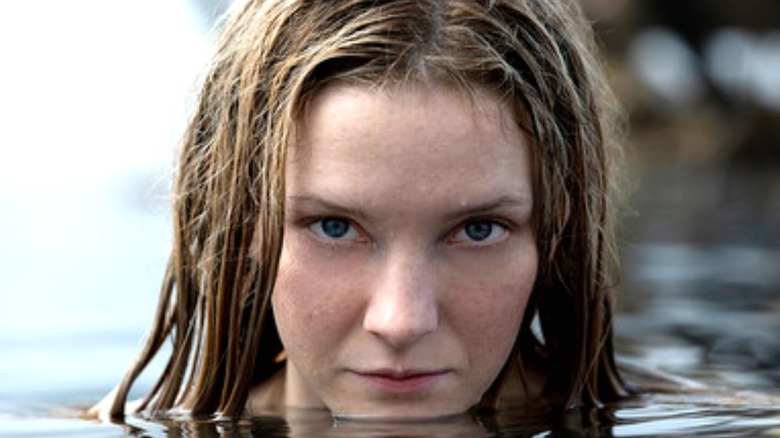 Ben Rothstein/Amazon Studios (via Vanity Fair)
Amazon Studios is taking a massive gamble with its "The Lord of the Rings: The Rings of Power" series. The studio has poured an enormous amount of money into the production of the show and is clearly angling to make a thorough and comprehensive adaptation. Even so, from the moment its marketing started picking up some momentum in early 2022, fans have had epically mixed reactions.
Truth be told, no one is mediocre about this thing. Everyone is either uber excited or absolutely dreading the series. It hasn't helped much that, in spite of its recent promotional activity, Amazon has kept its cards pretty close to the chest. So far this year, there has been some social media activity primarily revolving around character posters, a title reveal, an insider peek from Vanity Fair, and a 60-second Super Bowl trailer.
While the studio continues to keep a tight lid on any promotional material of consequence, in early May, Amazon did make its boldest move since buying two ridiculously expensive Super Bowl ad spots in February. This time around, though, it wasn't courting hundreds of millions of television viewers, no, my precious.
Instead, the company invited 30 or so high-profile Tolkien influencers to view some advance footage of the upcoming show. Where, you ask? Why, in London, of course. The group was flown in from around the globe, spent the day wandering Tolkien's old haunts around Oxford, and then settled in for what turned out (judging from their own responses) to be an eye-opening treat.
Correction: This article has been updated to properly attribute a quote and photograph to Kirsten Cairns aka greendragon of TheOneRing.net. In a previous version, these materials were erroneously attributed to "Justin" of the same fansite.
Tolkien experts are stunned by the initial Rings of Power footage
Even though Amazon flew in over two dozen individuals from around the world, when you boil it down, there wasn't much to show them. In fact, according to the influencers themselves, they were only allowed to watch around 20 minutes of footage.
However, Justin from the fansite TheOneRing.net, who was in attendance, explained that it avoided the video game look and was more in line with Peter Jackson's Oscar-laden "Lord of the Rings" trilogy than his later "Hobbit" trilogy escapades. Shaun Gunner, Chair of the Tolkien Society, expressed relief when reporting that "although the storylines are not exclusively Tolkien, the show has been created with a level of craftsmanship and attention-to-detail [sic] [that] is unparalleled, and [that] is a love letter to the [p]rofessor."
Across the board, everyone reported that the footage relieved many of their biggest fears regarding the quality of the production — which is a good thing. The first trailer certainly had its Peter Jackson-esque moments, but it also had some shaky CGI too. Hearing that the experts who spend every waking hour obsessing over this stuff saw the finished product and agreed that it held up to previous standards should be a relief for many fans who were on the fence up until now.
The experts met the showrunners too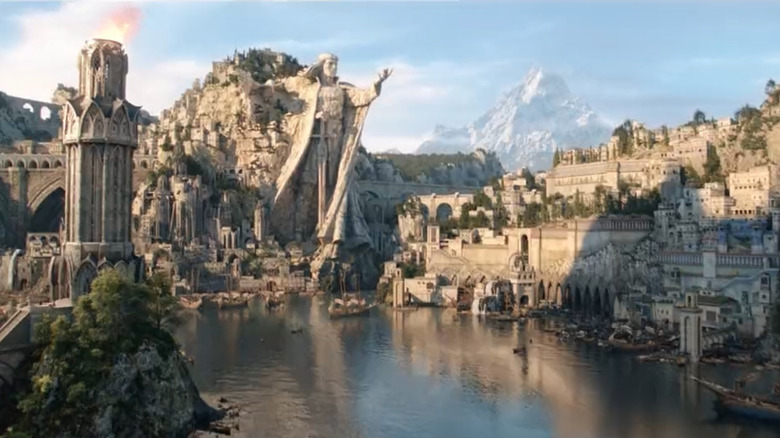 Amazon Studios
The Tolkienites were also given an opportunity to meet with the showrunners of the project, John D. Payne and Patrick McKay, who have both come under fire for their inexperience and lack of credentials. Apparently, the chance to ask questions and hear their responses has put all of the influencers at ease.
Along with praising the quality of the show itself, greendragon, also of TheOneRing.net, wrote, "Anyone who hears the showrunners speak could not doubt their respect for the writings of Tolkien, their in-depth knowledge of the legendarium, and their desire to do justice to the Middle-earth we all know and love." Tolkien professor Corey Olsen, who was also in attendance, took to Twitter to voice his own opinion, stating, "I must say: after meeting them, I feel the show is in VERY good hands."
Kaitlyn Facista, who heads the popular fan community Tea with Tolkien and was also there, said via Twitter, "The passion that these folks have for faithfully bringing the Second Age to life was really touching and was evident in the way they spoke about Middle-earth and Tolkien himself. I was actually very impressed by their knowledge of the [l]egendarium and Tolkien's letters..."
Of course, all of this has to be taken within the context that these influencers were invited by Amazon — a fact that many of them did not fail to point out. They were unabashedly open about their all-expenses-paid trip. Even so, they insisted that the unalterable elements — things like the actual quality of the show and the deep knowledge possessed by the showrunners — really did shine through the experience. This is great news for a show that has a long way to go to win over the bulk of Tolkien's fan base in the months and years ahead.