This Look At Jensen Ackles As Red Hood Is Gripping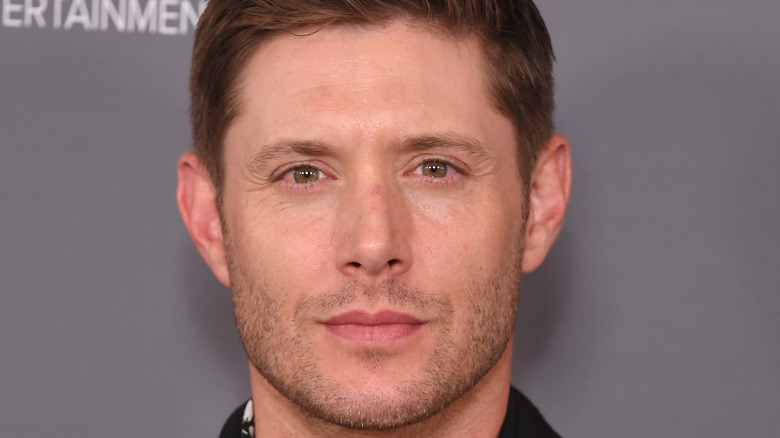 DFree/Shutterstock
In recent years, Hollywood has accrued several stars who publicly campaigned for — and then subsequently booked — famous character roles. Ryan Reynolds, for instance, aggressively pushed to play the fourth-wall-breaking antihero Deadpool not only once, but twice (via Los Angeles Times). Henry Cavill, too, vocally marketed himself to portray the monster-slaying Geralt of Rivia in Netflix's "The Witcher." Their successes have emboldened others to take to the streets and manifest their dreams. 
Some efforts, though, are less fruitful than others. That's where Jensen Ackles comes in. The star of The CW's "Supernatural" has made no secret of his long-held wish to enter the world of superheroes, and much like Reynolds and Cavill, his sights are zeroed in on a singular role. In this case, that role is Red Hood.
Jason Todd (aka the Red Hood) is a Batman character whose origin story is a bit dark, even by DC's usual standards. In brief, Todd once bore the moniker of Robin, a mantle carried by a host of young heroes eager to fight crime alongside the Dark Knight. His partnership with Batman was cut short, however, when the Joker beat him to death with a crowbar and left his body in a warehouse laced with explosives. Todd later returned to life via the Lazarus Pit, one of DC's favorite narrative shortcuts. Todd, who was understandably less chipper after dying, went through something of a homicidal-villain phase, before ultimately becoming the gun-toting antihero known as Red Hood.
He's broadly considered a more effective solution than Batman, he's got a cool leather jacket, and Ackles wants to be the zombified Robin with every fiber of his being. In a 2018 Instagram post, Ackles shared a selection of pictures in which he donned Red Hood's costume (courtesy of designer @arachnobite), and, honestly, it works. It works really well.
Fans are eager to see more of Ackles in the costume
Although it's difficult to ignore the delightful high-school-graduation-photos energy that the setting provides, the photo set shared by Jensen Ackles shows the actor rocking the brown leather jacket and the famous red helmet. In one picture, he's seen brandishing dual handguns crossed at chest level, as if he already knows what his movie posters will look like. 
Ackles' cosplay post received over 1 million likes and enough comments to fill an entire novel, if readers were comfortable reading a novel that was mostly written with fire emojis, anyway.  One such commenter, @sulis_gemini57, said, "DC you should make this a reality!! Live-action Red Hood with Jensen Ackles [insert excessive fire emoji usage here]."
Notably, although he's yet to actually portray the Red Hood in a live-action project, Ackles can be heard voicing him in the 2010 animated film, "Batman: Under The Red Hood." That being said, rumors are brewing that his luck might eventually change. In early 2022, while on Michael Rosenbaum's "Inside of You" podcast, Ackles announced that he was developing a secret DC project with Warner Brothers (via Movie Web). 
However, the actor refused to offer any substantive details beyond that, only saying, "I'm not going to talk about it because [I] don't want to jinx it." Some online sources, like The Illuminerdi, have speculated this could mean that Ackles actually stands a shot at his dream role. Should that be the case, he will be the second actor to do so, as actor Curran Walters has already donned the title in HBO Max's "Titans."
Luckily, even if Ackles never winds up portraying the Red Hood in a live-action production, he and his biggest fans will always have these great costume photos to fall back on.