The 3 Seinfeld Episodes That Earned Jason Alexander Directing Credits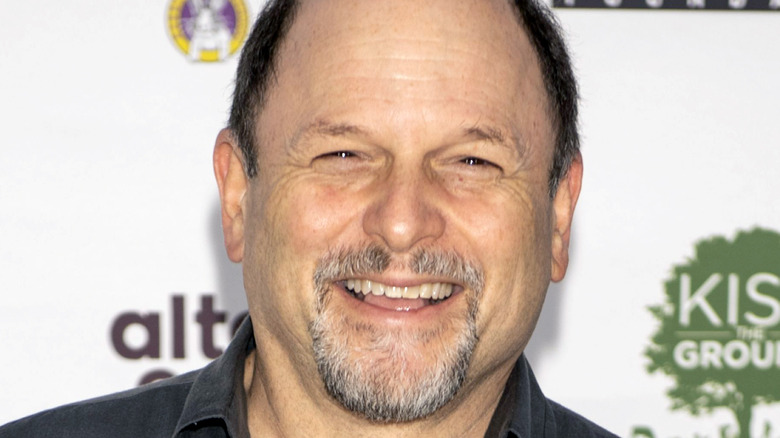 Michael Bezjian/Getty Images
Jason Alexander spent nine seasons of "Seinfeld" inhabiting one of the most iconic comedy characters of all time. Famously based on series co-creator Larry David (per The Guardian), there's no denying that Alexander's performance helped turn George Costanza into an enduring creation. And as with many other actors who star in long-running TV shows, Alexander also stepped behind the camera of the classic sitcom on three occasions, earning himself directorial credit on the show that made him a household name. In fact, "Seinfeld" was the debut of Alexander's career as a director, which has also seen him helm episodes of other shows like "Criminal Minds" and "Mike & Molly."
Even serious devotees of "Seinfeld" might not be aware that a total of three episodes were directed by Costanza, Lord of the Idiots himself. But it might be interesting to take a look at these three pieces of the larger "Seinfeld" mosaic with Alexander as their director in mind, all the better to determine if he was truly master of his domain.
Alexander directed two Seinfeld clip shows
Given the infamous laziness of the character of George Costanza, it's somewhat humorous that two out of three of Jason Alexander's directorial "Seinfeld" credits are for clip shows (we joke — there's no doubt that quite a bit of work went into making those relics of a bygone sitcom era). That being said, Alexander's first "Seinfeld" episode as a director is a bona fide classic from Season 3: "The Good Samaritan." The episode title will likely make most "Seinfeld" fans remember the show's infamous series finale and its good samaritan law that lands our heroes in jail. But actually, "The Good Samaritan" is about Jerry's attempts to help a person in need, albeit for completely selfish reasons.
"The Good Samaritan" also features George causing problems in another marriage when a well-meaning "bless you" after a sneeze incurs the wrath of a jealous husband. But it's probably the episode's Kramer plot that best demonstrates Alexander's directorial skills. The set-piece of the K-Man suffering from spasmodic seizures at the sound of the voice of "Entertainment Tonight" host Mary Hart while Jerry (Jerry Seinfeld) and Elaine (Julia Louis-Dreyfus) sit on the couch obliviously is one of the most memorable of the entire show.
Alexander got to step behind the camera twice more over the course of "Seinfeld," both for clip shows. "Highlights of a Hundred" from Season 6 celebrates the show's first 100 episodes, while "The Chronicle" from Season 9 looks back on the entire series in advance of its finale. But both have very amusing interstitial segments hosted by series star Jerry Seinfeld which were directed by Alexander.