The iZombie Character You Likely Forgot The Rookie's Melissa O'Neil Played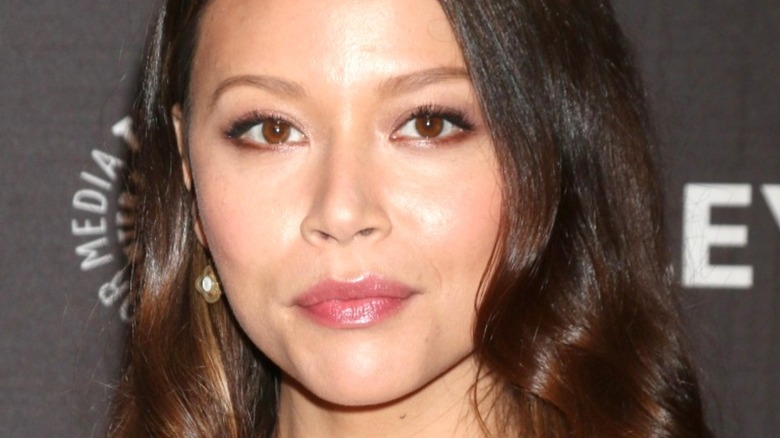 Kathy Hutchins/Shutterstock
The theme of the ABC drama "The Rookie" is that it is never too late to pursue one's dreams. Starring Nathan Fillion (who you may recognize from "Firefly"), Alyssa Diaz, Richard T. Jones, Melissa O'Neil, and Eric Winter, "The Rookie" predominately follows the exploits of John Nolan (Fillion), a recently divorced middle age man who decides he wants to be a cop. In pursuit of this goal, he becomes the oldest rookie to ever serve in the Los Angeles Police Department.
O'Neil plays Lucy Chen, who, like Nolan, is a little older than most recruits at the start of the show. She is eager to prove herself to not only her superiors, but also her parents, who do not like her decision to join the police force. This does little to dissuade Chen from her chosen profession. She also becomes very close to Nolan, however, due to police policy, their blossoming relationship is ill-advised. The two eventually break off their romantic entanglement, but remain close friends. 
Before donning the blue of a police officer and swearing a fictional oath to protect and serve, O'Neil was surrounded by the undead in "iZombie," but whom exactly did she play?
O'Neil plays a human smuggler in iZombie
The CW's "iZombie" ran for five seasons from 2015 to 2019. The horror dramedy stars Rose McIver, Malcolm Goodwin, Rahul Kohli, Robert Buckley, and David Anders. "iZombie" follows Olivia Moore (McIver), a medical student who transforms into a zombie after a party goes very wrong. Instead of becoming a stereotypical hungry zombie, however, she retains her mental capacity and sentience, and even gains a few powers along the way. The catch? She needs to keep eating brains to stay that way. This act of consumption grants Olivia access to the former brain owners' flashback memories, and even some of their personality quirks, which she uses to help local law enforcement.
O'Neil plays Suki in five episodes of "iZombie" Season 4. At this point in the story, Seattle has become a de facto sanctuary for zombies, and Olivia gains the moniker "The Renegade," because she smuggles people in and out of the city to become zombies. Being a zombie renders most victims impervious to most diseases and afflictions, which makes the prospect of becoming a zombie an almost medical necessity in some terminal cases. Suki aids people in this endeavor as well, in order to save the lives of people who have been saddled with deadly prognosis. She is also part of Olivia's operation.
Judging by both this early role and her stint on "The Rookie," it seems as if O'Neil has a penchant for playing characters saving those in need.