The Marvel Superhero You Didn't Realize Was Played By The Big Bang Theory's Melissa Rauch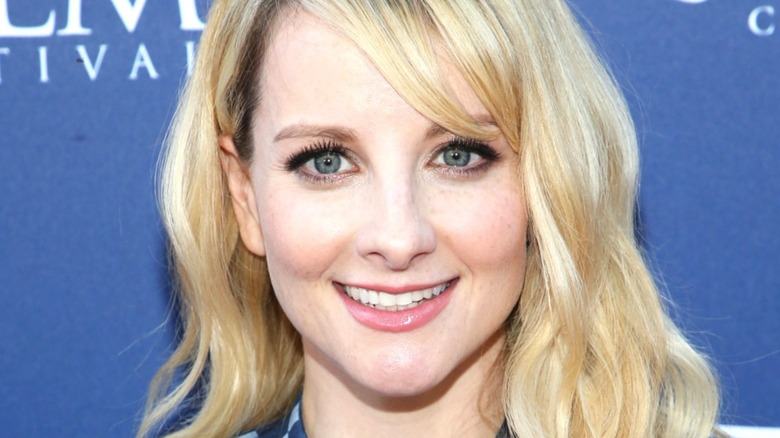 Phillip Faraone/Getty
During its decade-plus-long run on CBS, "The Big Bang Theory" became well-known among the general TV-watching public for a variety of reasons. For one, it spawned numerous memorable quotes, ranging from something as simple as "bazinga" to its breakout "Soft Kitty" song. It also became something of an award magnet as the years went on, netting several Primetime Emmys, among other notable prizes. Not to mention, it thrust so-called nerd culture into the mainstream, which arguably no sitcom before it made any effort to do. Of course, there was also its stable of characters and the unforgettable moments that came with them that drove the series for the balance of its run.
By the time "The Big Bang Theory" left the small screen in 2019, its main cast had grown to include eight names: Jim Parsons as Sheldon Cooper, Kaley Cuoco as Penny Teller, Johnny Galecki as Leonard Hofstadter, Mayim Bialik as Amy Farrah Fowler, Simon Helberg as Howard Wolowitz, Kunal Nayyar as Raj Koothrappali, Melissa Rauch as Bernadette Rostenkowski, and Kevin Sussman as Stuart Bloom. Not only was the show steady work for a long while for these performers, but they were compensated handsomely for their efforts in front of the camera to boot. Nevertheless, a well-paying job didn't stop some of it stars from exploring other creative avenues.
In the case of Melissa Rauch, she even visited the Marvel universe for a spell during her "Big Bang Theory" tenure. This is the project she starred in and who she signed on to play.
Rauch voiced the Wasp in the Ant-Man animated series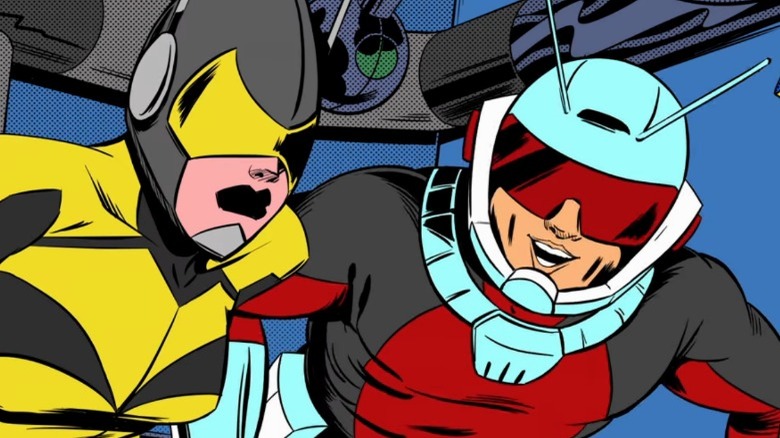 Disney XD
Two years after the character's arrival in the Marvel Cinematic Universe, in which he was portrayed by Paul Rudd, Ant-Man became the lead of his own animated series. Appropriately titled "Ant-Man," the series of shorts would see the titular shrinking hero stand toe-to-toe against a variety of villains pulled from his comic book counterpart's rogues' gallery. These include the likes of Egghead (Sam Riegel), Yellowjacket (William Salyers), and others. Josh Keaton of "Voltron: Legendary Defender" and "Hercules" fame took on the show's lead role, but, as one could imagine, his two-dimensional take on Scott Lang couldn't save the world from evil on his own.
Alongside Dee Bradley Baker's Hank Pym and Laura Bailey's Cassie Lang, none other than Bernadette Rostenkowski actor Melissa Rauch joined the fray as Hope Pym — aka the Wasp. Existing fans of the Marvel Cinematic Universe are already familiar with this character, who in "Ant-Man," "Ant-Man and the Wasp," and "Avengers: Endgame" is portrayed by Evangeline Lilly. In that movie, her character is named Hope van Dyne, bearing the surname of her mother, Janet van Dyne, who wore the Wasp suit in a previous life. Lily's take on the character, then, is in certain key ways a distinct entity from her comic book progenitor. Rauch's Wasp, meanwhile, retains the name Hope Pym from her comic book source material, thus maintaining some characteristics that fell by the wayside when the character was adapted for the MCU.
Rauch's run as The Wasp was relatively short in length
Sadly for fans of the actor and the Wasp character alike, Melissa Rauch only appeared in two of "Ant-Man" cartoon's six episodes, titled "Alien Invasion" and "Not a Date" respectively. The former episode opens with Ant-Man bragging to Wasp about a prior mission when an alarm goes off in his lab, signaling that an armada of tiny aliens is approaching. Ant-Man and Wasp then team up and promptly stop them. In the latter episode, Hank and Hope are enjoying a day out with one another, out of costume, when the villainous Whirlwind attacks. Fortunately, the two heroes are prepared for such an occasion and quickly suit up, allowing them to fight their adversary. Ant-Man and the Wasp alternately use their growth and shrinking abilities to take him down, all the while arguing about whether or not their outing constitutes a date.
In the end, Rauch's time as the Wasp amounted to a rather paltry run as the Marvel Comics mainstay. Thankfully, she ended up with a much more significant spotlight under the DC banner when she got to voice fan-favorite Harley Quinn in 2017's "Batman and Harley Quinn" animated feature. All in all, Melissa Rauch's Marvel legacy doesn't come anywhere close to that of present day MCU staple Evangeline Lilly, but at least she got to try the character out for a little while. Perhaps, someday she'll return to the world of Marvel in some form for a bit more substantial of a part.