The Underrated Ben Stiller Comedy You Should Be Watching On Disney+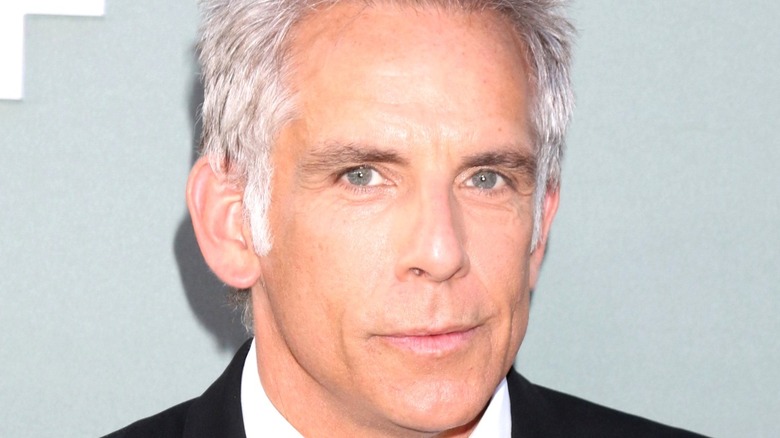 Kathy Hutchins/Shutterstock
Before he became a movie producer and director, Ben Stiller was best known for his long acting career. The son of comedy legends Jerry Stiller and Anne Meara became a bonafide superstar in the 1990s thanks to the raunchy rom-com hit, "There's Something About Mary." A decade later, he was still making films for adult audiences, such as the war comedy "Tropic Thunder."
As Stiller carved out a career focused on films for grown-ups, it's no surprise that his kids had no interest in his movies. The actor once told "Good Morning America" that despite his acting in more than 50 films, his two children didn't watch them. "They've seen one of my movies, 'Night at the Museum,'" he said. "[It's] totally their choice. You don't want to be the parent begging your kids to watch your movies."
There's no denying that Stiller didn't exactly make kid-friendly films –- that crude "There's Something About Mary" hair gel scene surely helped the movie earn its "R" rating –- but it turns out that one of the star's most underrated films actually became a Disney fan favorite — nearly 30 years after it was made.
Ben Stiller's Heavyweights has received renewed interest on Disney's streaming platform
Early in his movie career, Ben Stiller starred in Judd Apatow's 1995 summer camp comedy, "Heavyweights." The actor played Tony Perkis, the owner of a "fat camp" for kids, per IMDb. Stiller's character was an over-the-top former fitness instructor who bought the camp and made his campers' lives a living hell.
In a Reddit AMA, Stiller told fans that the studio had no idea what they were doing with "Heavyweights." "Judd Apatow wrote it and we all didn't realize it was a Disney movie," he revealed. "The tone of it was like so dark and weird that when the Disney people saw it, they immediately freaked out and were like 'what is this?'" He explained that neither he nor Apatow had experience doing children's movies, which is why they treated the project as if it was like any other film. Stiller added that he had a great time making the movie, despite the confusion over its genre.
While Stiller had a blast making the film, it wasn't a hit in theaters, so he assumed he was safe to recycle some of Tony Perkis' traits when he played the White Goodman character in the movie "Dodgeball." In 2004, he told Blackfilm, "I always thought, 'Well, nobody ever saw 'Heavyweights,' so I can do this.' But a lot of people saw 'Heavyweights' apparently."
Stiller noted that the movie became popular years later when it aired frequently on the Disney Channel. Fast forward to today, and "Heavyweights" is getting a second wind on Disney+, where it currently streams to an even wider audience.