New Avatar: The Way Of Water Trailer Is The Return To Pandora We've Been Waiting For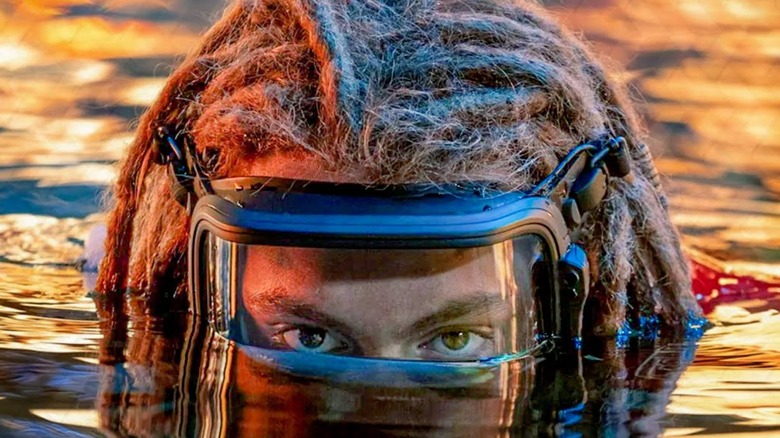 Disney
When "Avatar" released in 2009, it made giant waves at the box office and became the highest grossing film of all time — until the release of Marvel's "Avengers: Endgame" overtook it. Not be outdone by Thanos, "Avatar" reclaimed its crown after a re-release in Chinese theaters in early 2021, extending its worldwide box office take to $2.847 billion (per Deadline). With that in mind, it's been over 12 years since the original film, and writer and director James Cameron has been slow at work developing sequels for the major hit.
Now a part of Marvel Studios' parent company, Disney, thanks to the 20th Century Fox merger, "Avatar: The Way of Water" is no longer in direct competition with the MCU. In the spirit of fraternity, the James Cameron epic dropped its first trailer ahead of the theatrical release of "Doctor Strange in the Multiverse of Madness" — another sequel that was a long time coming. 
That first trailer was plenty exciting, but mostly silent. So with a December 16, 2022 theatrical release approaching — and "Black Panther: Wakanda Forever" about to hit theaters — it's time for another look. Enter: trailer two, our best gander yet at this return trip to the wild planet of Pandora.
Avatar 2 has assembled a stellar cast
"Avatar 2" is set to bring back most of the big name cast members that appeared in "Avatar" all the way back in 2009. Naturally, this includes stars Sam Worthington and Zoe Saldana as Jake Sully and Neytiri respectively. In a bit of an odd turn of events, Stephen Lang is also set to return to his role of Colonel Miles Quaritch, who seemingly died at the end of the first "Avatar." James Cameron has even confirmed that the character will be the main antagonist for the sequel films (per Empire).
Lang's character isn't the only one returning from the dead either, as Matt Gerald's Corporal Lyle Wainfleet is set to appear in "Avatar 2" as well. Sigourney Weaver is also making a comeback, though who she'll be portraying is something of a mystery. Other returning stars include CCH Pounder as Mo'at, Giovanni Ribisi as Parker Selfridge, and Dileep Rao as Dr. Max Patel. Among the newcomers is "Titanic" and "Mare of Easttown" star Kate Winslet. 
It'll be interesting to see how these characters come back into — or enter — the fold.