The Underrated Sam Waterston Thriller You Should Be Watching On Disney+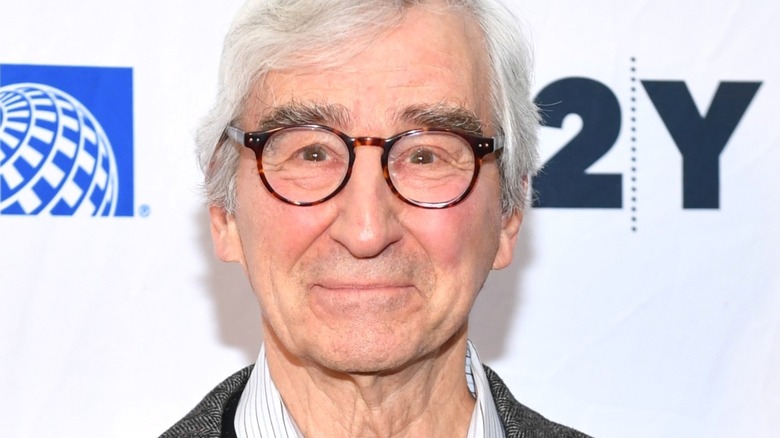 Noam Galai/Getty
Sam Waterston is one of the most legendary actors we have working today. He's seemingly done it all, with a resume that dates back to the 1960s. In fact, you can tell a lot about a person by where they recognize Waterston from. To many, he'll always be the definitive version of Nick Carraway, having starred alongside Robert Redford and Mia Farrow in 1974's "The Great Gatsby." More recently, he appeared in hundreds of episodes of "Law & Order" as Jack McCoy. And even more recently, he showed off his comedic chops by being cast as Sol Bergstein in "Grace and Frankie."
That's only a small sampling of the credits Waterston has amassed to his name over the years. There are plenty of others that are very much worth your attention, and if you have a Disney+ subscription and consider yourself a massive Waterston fan, you're in luck. There's an exceptional made-for-TV movie on the streaming service you should check out that once again proves what an immense talent the actor is.
Miracle at Midnight is a compelling dramatization
Sam Waterston reunited with his "Great Gatsby" co-star Mia Farrow for "Miracle at Midnight." Waterston plays surgeon Karl Koster, whose wife Doris (Farrow) and children live in Denmark during the German occupation of World War II. Koster, along with his family, embarks on a plan to help deport Jewish citizens to protect them from the Nazis. He keeps one family in his own home while using his hospital as a safe haven for others before sending them to Sweden.
The remarkable story earned quite a bit of praise, including from Tom Cassidy at Common Sense Media. In his review, Cassidy wrote, "A stellar cast, including Waterson and Farrow as the heads of the Koster family, bring all the necessary drama, threat, worry, and bravery to carry the movie." He went on to claim the movie could function as a great jumping-off point for anyone interested in learning more about the era and the incredible feats of bravery people performed for their fellow humans. 
The film may have come out in 1998, but it's easier than ever to watch it when you want. You can find it now on Disney+.