LOTR Fans Are Losing Their Minds Over This Look At Aragorn In Elden Ring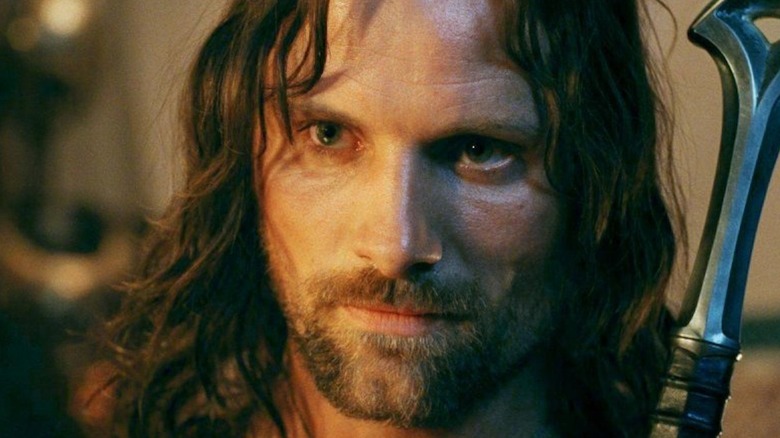 New Line Cinema
"Elden Ring" is one of the biggest video games of the year, and the game has sold over 12 million copies since releasing in February (per Forbes). Much like developer FromSoftware's previous games, "Elden Ring" is a fantasy action RPG with a big emphasis on difficult combat and boss battles. "Elden Ring" has been particularly noteworthy because it featured "A Song of Ice and Fire" author George R.R. Martin helping out with developing the world and characters in the game (per PC Gamer).
Given its popularity, "Elden Ring" has also been the subject of various memes and parody crossovers, including one hilarious "Breaking Bad" mashup. Recently, YouTuber eli_handle_b․wav created another such mashup, only this time one that features popular "Lord of the Rings" character Aragorn (Viggo Mortensen) transposed into Lands Between. The video in question features some of the character's most memorable lines of dialogue in the films as well as his humorous "battles" with various bosses in the game.
Both "Elden Ring" and "Lord of the Rings" fans alike were quick to offer their overwhelmingly positive thoughts in the video's comments section.
Fans loved how flawless the mashup looks
In the YouTube comments for the video, "Lord of the Rings" and "Elden Ring" fans were absolutely loving the craftsmanship that went into the construction of the mashup. Bernard commented on the flawlessness of the mashup, seeming to appreciate the time and effort that went into creating it. masturcheef123 mirrored this, saying, "A masterpiece, it fits so well." Real_Moisan threw some shade at the forthcoming Amazon show, "The Lord of the Rings: The Rings of Power," by comparing the two. "This is better than anything that will come out of Amazon's, 'The Rings of Power' series," they said.
Others wanted to see more "Lord of the Rings" characters in the mashup, including none other than Gimli (John Rhys-Davies) and Legolas (Orlando Bloom). "I can see Gimli and Legolas with an orange hue as Furled Fingers in the future," said Comrade Shepherd. YouTube user Roach was surprised that the video didn't go with the obvious comparison between the various Nightrider bosses of "Elden Ring" and the Ring Wraiths of "Lord of the Rings," as the two do share some similar physical traits. Overall, though, the fan reception to Aragorn's inclusion in "Elden Ring" was met with overwhelmingly positive reception from fans in the comments, with hopes that there would be more in the future.