The Two Breaking Bad Stars You Likely Missed In Castle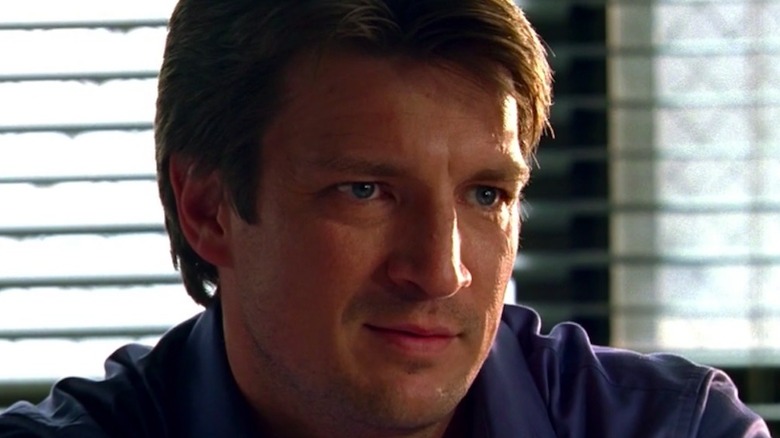 ABC
When you think of the cast of "Breaking Bad"— the highly acclaimed drama about a chemistry-teacher-turned-meth-maker created by Vince Gilligan — you likely think of Bryan Cranston and Aaron Paul, who played aforementioned teacher Walter White and his former student Jesse Pinkman, respectively. But just about every "Breaking Bad" fan out there would agree that the talent went far beyond stars Cranston and Paul, with every supporting cast member — from Anna Gunn as Walt's wife Skyler to Giancarlo Esposito as ruthless drug kingpin Gus Fring to Bob Odenkirk as Walt's shady lawyer Saul Goodman — giving compelling and stellar performances all the way through the five-season run of the popular drama.
Of course, it likely comes as no surprise that most of the "Breaking Bad" actors are no newcomers to the industry, with many of them having a long list of acting credits on IMDb. Two of these actors actually appeared on another show, the ABC crime mystery series "Castle," around the time that they were acting on "Breaking Bad." Both actors only show up for one episode of "Castle," so even the most ardent fans of either — or both — series may have missed (or forgotten about) the appearances on the former show. So, if you have forgotten or are just curious, which "Breaking Bad" actors appear in episodes of "Castle"?
Dean Norris and Jonathan Banks appeared in Castle episodes
Dean Norris, who plays Walt's DEA brother-in-law Hank Schrader, and Jonathan Banks, who plays Gus' right-hand man Mike Ehrmantraut, are the "Breaking Bad" actors who show up on "Castle." "Castle," created by Andrew W. Marlowe, follows mystery novelist Richard Castle (Nathan Fillon) as he meets and becomes enamored with Detective Kate Beckett (Stana Katic), consequently using her as inspiration for the protagonist of his next novel series.
In 2009, the same year his run on "Breaking Bad" began, Banks played a character named Bruce Kirby in Season 1 of "Castle." Kirby is a corrupt ex-cop — not entirely unlike Mike on "Breaking Bad" — who is indirectly involved in the murder of a prominent politician.
Meanwhile, Norris made his "Castle" appearance in 2011 (which was right in the middle of his "Breaking Bad" run) as Captain Peterson of the New York Police Department's special operations division. Peterson tries to take charge of a bank robbery situation, only for the robber to insist on dealing solely with Beckett. Much like Banks' situation, Norris' character on "Castle" isn't too far removed from the type of character he is known for on "Breaking Bad" — they're both law enforcement officers, after all. 
If you want to see Norris or Banks playing a character other than their iconic "Breaking Bad" on-screen personas, all of "Castle" is available to stream on Hulu.