Who Plays Fatima Namazi On NCIS: Los Angeles?
When Special Agent Fatima Namazi was introduced to the program, fans of "NCIS: Los Angeles" likely never thought that the team was about to gain a brand-new member. Fatima was a member of the NCIS Office of Special Projects Team before joining her Los Angeles colleagues on the job as a member of the field team. The character recurred during the latter part of Season 10 before joining the cast in Season 11.
At first, Fatima often appeared on the program to help the team puzzle out particularly difficult cases. They first call on her expertise during "Smokescreen," a two-part Season 10 episode wherein Fatima helps the squad rout out a terrorist cell with her learned knowledge of how the cell operates. Since that first appearance, the character has continued dispensing her expertise and helping the team clear names or convict perps. She even turned down the chance to transfer to the NCIS' Washington D.C. offices, preferring to stay in Los Angeles with her newfound friends. Viewers soon find out some surprising things about her past — Fatima was even an actor when she was a teenager.
And speaking of actors, here's what you need to know about the actor who plays Fatima on "NCIS: Los Angeles." 
Medalion Rahimi plays Fatima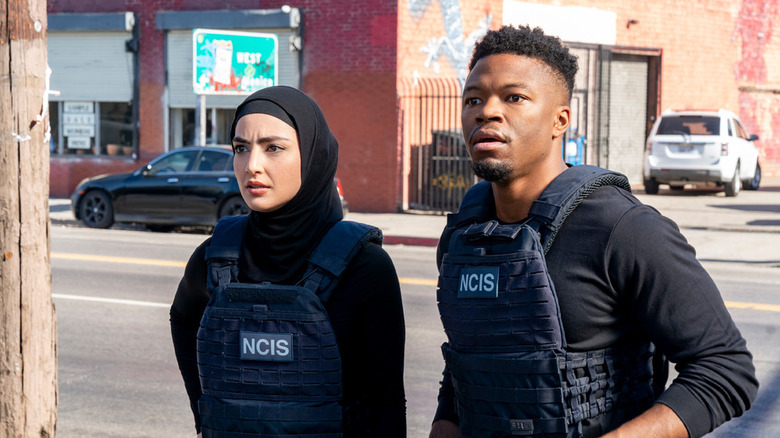 CBS
Per IMDb, that's Medalion Rahimi in the role of Fatima. Rahimi has screen credits going back to 2011 and has even appeared in "NCIS" and "NCIS: New Orleans," albeit as two entirely different characters.
If you're not familiar with Rhaimi from all things "NCIS," you likely recall her from her appearance in the short-lived ABC drama "Still Star-Crossed." The series takes place within the world of Shakespeare's "Romeo and Juliet," and is set after the deaths of both Veronan teenagers. It explores a peacemaking marriage between Rosaline Capulet (Lashana Lynch) and Benvolio Montague (Wade Briggs). Rhaimi portrayed Princess Isabella in the series, which only lasted for seven episodes. 
Rhaimi has also guested on "Criminal Minds," "New Girl," "Jane the Virgin," "Scandal," and "Awkward." She showed up three times in the ABC drama "The Catch" as Princess Zara Al-Salim. She was Naya in four episodes of The CW's "Outpost," and appeared in three episodes of Hulu's "Pam & Tommy" as Danielle. Filmwise, the actor showed up in Netflix's "XOXO" as Nikki, and the big screen release "Before I Fall" as Elodi.