Khonshu's New Look In Moon Knight Episode 6 Is A Very Dark Easter Egg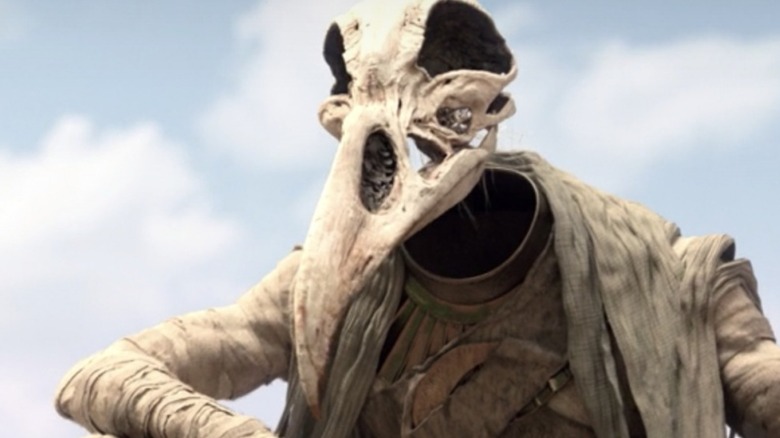 Marvel Studios/Disney+
The fight between good and evil is never easy and Marc Spector (Oscar Isaac) has learned that lesson the hard way throughout Disney+'s "Moon Knight." One of several personalities of the series' protagonist, Marc has the unlucky prospect of being an avatar to the ancient Egyptian deity Khonshu (voiced by F. Murray Abraham). The god of the moon, Khonshu enlists Marc's assistance with protecting travelers of the night. And his main adversary in the series is Arthur Harrow (Ethan Hawke), who is intent on reviving the vengeful god Ammit (Saba Mubarak).
Khonshu's intentions are well placed, but as most of the gods of the Ennead can attest, his methods are not always just. Khonshu specifically puts Marc into many compromising positions, including forcing him to revisit some of his most painful memories. Though Khonshu is technically on the more enlightened side, an Easter egg in the final episode hints that we may see some more villainous aspects of the god should "Moon Knight" come back for a Season 2.
Khonshu's white suit could be a nod to his characterization in the comics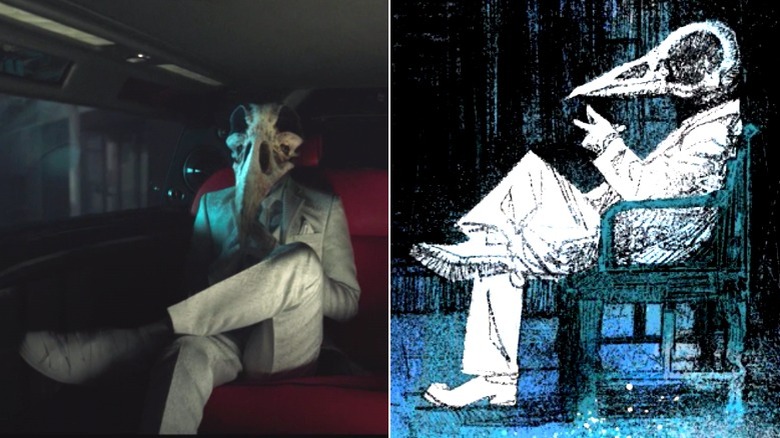 Disney+/Marvel Comics
Episode 6 of "Moon Knight" sees Khonshu dressed in a sharp white suit that is quite different from his typical garb. For many viewers, this may seem like just a visual choice but this suit may actually have a deeper meaning. Readers of Jeff Lemire's 2016 run of Marvel Comics' "Moon Knight" will likely recognize this suit as looking very similar to one Khonshu wears in those comics. The run itself is already full of darkness, with Marc waking up in a psychiatric facility and questioning if Moon Knight ever existed. But the series takes this a step further with the characterization of Khonshu, who first appears in a new white suit in Issue #1.
Gone is the traditional garb the deity is typically seen in. And it isn't just the suit that changes. Khonshu is less of a vengeful protector, turning more into a villainous character. His treatment of Marc is harsher and less forgiving in the first issue but segues into outright villainy in Issue #3. Khonshu confirms that he benefits from Marc's dissociative identity disorder because he is easier to control. In his struggle to escape the hospital, Marc loses one of his friends, Jean-Paul, but Khonshu does not allow Marc any reprieve and pushes his vessel to his breaking point. 
Though Khonshu is certainly a tough customer in the "Moon Knight" series, he doesn't cross the line to outright antagonism yet. But should the show continue, this finale costume choice could indicate where we might see the character go in a hypothetical Season 2.