What Happened On This Day In MCU History: May 4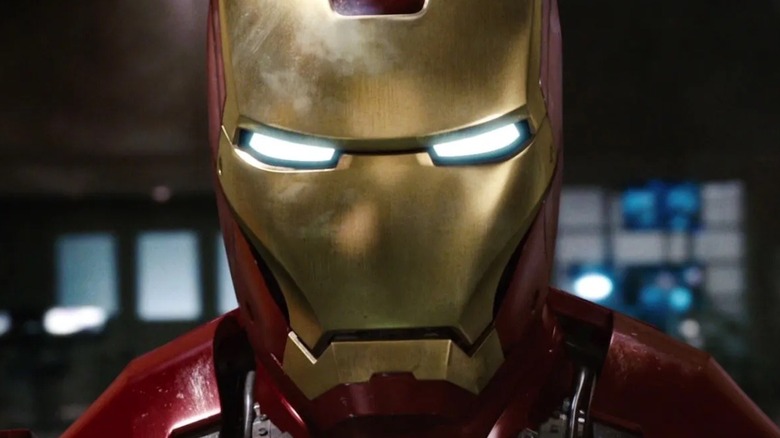 Disney/Marvel Studios
May is truly a wonderful time in the Marvel Cinematic Universe, and "Doctor Strange in the Multiverse of Madness" marks the ninth film from the MCU that was released in the month. The movie that started it all, "Iron Man," dropped on May 2, 2008, and started a wonderful trend of springtime movie premieres, which also often land at the end of April.
Needless to say, early May tends to bring a lot of MCU news, ranging from premiere dates to box office bombshells. There's also an occasional casting announcement and review drops for some of our favorite flicks. Since there are 14 years of MCU data to go back and sift through, we decided to break it all down day by day to see what newsworthy events happened when. Today is May the 4th, and while it might be a very special day for "Star Wars" fans, it's also a major date in the Marvel Cinematic Universe.
May 4 was major for Phase 1 of the MCU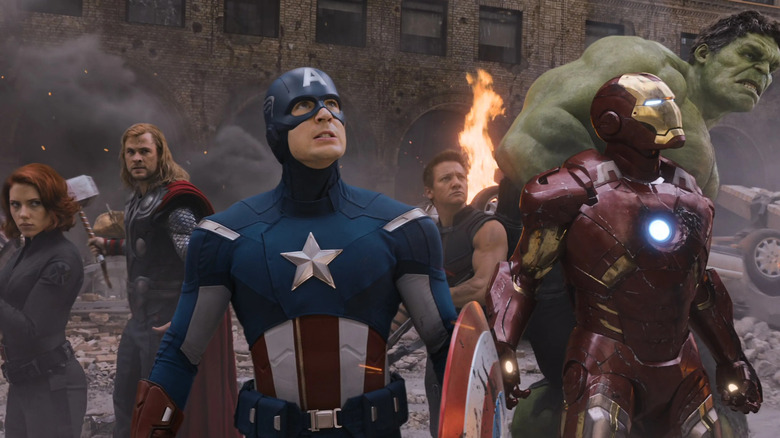 Disney/Marvel Studios
"Iron Man" had a killer weekend at the box office after landing in theaters on May 2, 2008. According to Box Office Mojo, the Robert Downey Jr. film brought in a whopping $26 million dollars on Sunday, May 4. Sunday's numbers brought the opening weekend to an impressive $102.1 million domestic total. Two years later, on May 4, 2010, it was announced that Hugo Weaving was cast to play Red Skull in "Captain America: The First Avenger." According to Collider, Weaving was rumored to be in talks that March, but it was officially confirmed by Marvel Studios on this very day 12 years ago.
In 2011, the reviews for "Thor" started to pour two days before it premiered to the public on May 6. There was a mixed response from critics, but the film ended up getting a 77% certified fresh rating on Rotten Tomatoes. Time said the Chris Hemsworth-led film had a wonky first and second act but admitted it finished rather well. 
Perhaps the best thing to ever happen on May 4 in the MCU was the release of 2012's "The Avengers." It was the MCU's very first team-up flick and solidified the universe as the juggernaut it is. This date also marked the first appearance of Thanos in the MCU and sparked a google frenzy of non-comic book readers trying to figure out who the purple dude from the post-credits scene was. It was also a big day for the box office, as "The Avengers" brought in an incredible $80.3 million dollars on its opening Friday. It currently holds the number 11 spot for best Friday domestic box office pull ever (per The Numbers).
Phases 3 and 4 saw big things on May 4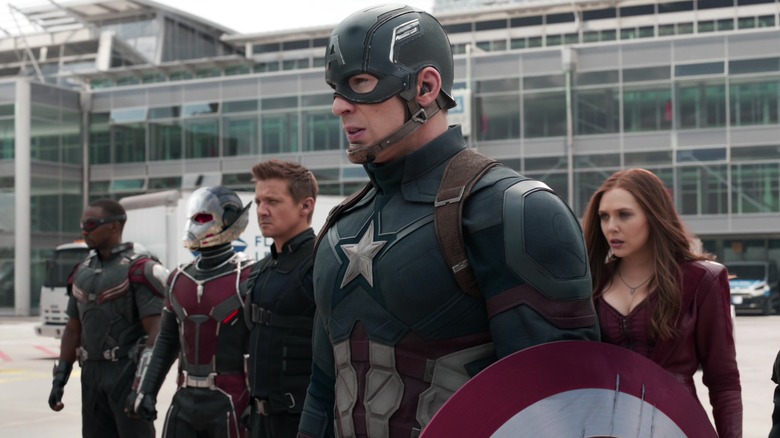 Disney/Marvel Studios
On May 4, 2016, the first reviews for "Captain America: Civil War" began to filter in. The film dropped two days later, on May 6, but fans got a taste of what the critics were saying earlier in the week. The response was overwhelmingly positive, with the Washington Post saying the movie deserved a spot on the Mount Rushmore of superhero flicks. The reviews brought "Captain America: Civil War" to a 90% certified fresh rating on Rotten Tomatoes.
On this day in 2017, we also got our first look at "Inhumans," according to Entertainment Weekly. What was originally going to be a feature film in the MCU was demoted to crappy television series on ABC, and it was definitely for the best. These first-look images were boring and did nothing to raise the non-existent hype for the failed project.
In 2018 and 2019, May 4 was big in the MCU in terms of box office success. With "Avengers: Infinity War" and "Avengers: Endgame" arriving on April 27, 2018, and April 26, 2019, respectively, May 4 landed in both movies' second weekend in theaters. "Avengers: Infinity War" brought in $31.4 million on Friday, May 4 (per Box Office Mojo), and "Avengers: Endgame" earned $61.5 million on Saturday, May 4 (per Box Office Mojo). It's also a very busy day in 2022, as "Doctor Strange in the Multiverse of Madness" fan screenings began in the United States, while the series finale episode of "Moon Knight" also dropped on Disney+. May 4 proves to be a very important day in the history of the MCU.