The Meadow Theory That Would Change Everything On The Sopranos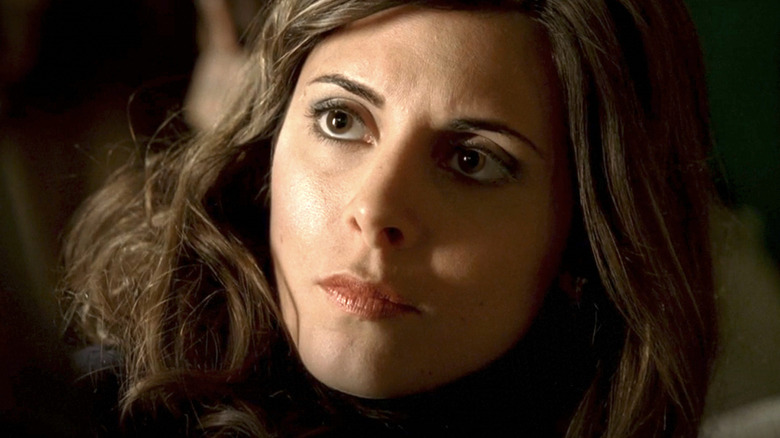 HBO
In HBO's hit series "The Sopranos," leading man Tony Soprano (James Gandolfini) rarely has a calm moment when it comes to running the New Jersey-based DiMeo crime family. But as a husband and father of two, his home life isn't exactly peaceful either.
Tony and his wife Carmela (Edie Falco) have a son named A.J. (Robert Iler) and daughter named Meadow (Jamie-Lynn Sigler). Regarding the latter, Tony and his daughter butt heads on numerous occasions. Upon enrolling at Columbia University, she begins dating her Black and Jewish peer, Noah Tannenbaum (Patrick Tully), and after Tony slings racial insults to Noah's face, Meadow ignores her dad for a long stretch of time.
Not only does Tony disapprove of Meadow's choice of men, but he also becomes angered when she decides to study law instead of medicine, a career path that he and Carmela always dream she'll follow. This is a particularly hard pill to swallow when it's revealed that Meadow's childhood friend Hunter Scangarelo (Michele DeCesare), who Carmela always sees as a bad influence, is majoring in pre-med after her expulsion from Reed College due to partying and drunk driving.
The years of clashing between Tony and Meadow, especially around the time of her drastic educational shift, have led to a mind-blowing fan theory that, if true, would change everything about the Soprano family.
Fans think Meadow might not be Tony's biological daughter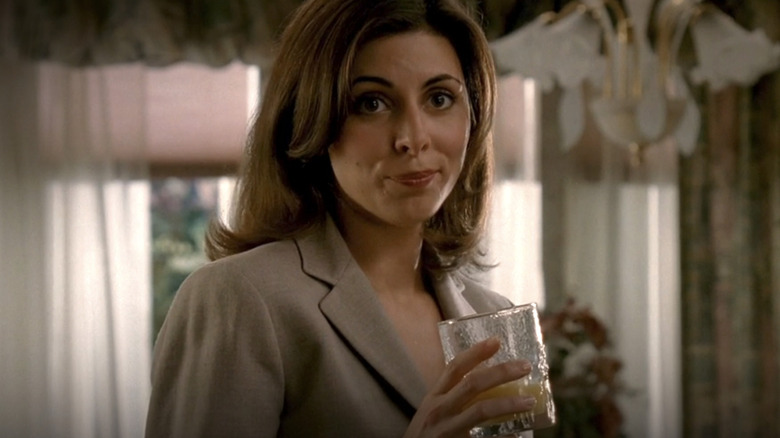 HBO
Fans on Reddit have a theory that Carmela was unfaithful to Tony, and as a result, Meadow might not be his biological daughter. Throughout "The Sopranos," Carmela forms feelings for several men, including Tony's associate Furio Giunta (Federico Castelluccio) and home decorator Vic Musto (Joe Penny). Though Vic is the only one she kisses, the question remains of whether or not she was intimate with someone else years prior.
"I think it's feasible that Carmela had an affair in her past, which might explain her heavy interest in Catholicism as a desire for redemption," said u/mystery_tramp. This user argued that Meadow has darker features than Tony and A.J. and also lacks the anger, depression, and panic attacks that plague the Soprano family. However, this fan hypothesized that Tony could still have a daughter, and that's Hunter. Given her fairer appearance and destructive personality, not to mention her drastic pivot to med school — the very thing Tony wants Meadow to accomplish — these could all be hints that Hunter is a more critical character than meets the eye.
While other fans appreciated the fun theory, they don't envision Carmela betraying Tony in this manner. "Carmela at one point in the show said she had never been with another man besides Tony. I want to believe that she wasn't lying," said u/gyang333. "It was so difficult for her when she realized she had feelings for Vic Musto and Furio." Many other fans also agreed that this would seem out of character for Carmela. 
Also, not every Soprano struggles with their mental health. Though Tony's sister Janice (Aida Turturro) is impacted by their verbally abusive mother Livia (Nancy Marchand), his other sister Barbara Giglione (Nicole Burdette, Danielle Di Vecchio) escapes the madness and lives a calm life. But given how complex and unexpected "The Sopranos" is, the theory certainly isn't impossible.