What Dennis Chun From Hawaii Five-0 Is Up To Now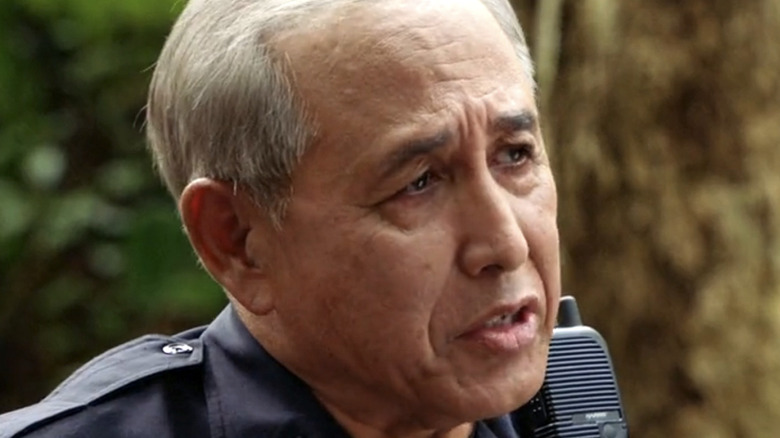 CBS
"Hawaii Five-0" is one of those shows that just refuses to leave the zeitgeist of the entertainment world. It started out as a Hawaii-based procedural crime drama that ran on CBS from 1968 to 1980. Back then, it starred Jack Lord, James MacArthur, Kam Fong, and Herman Wedemeyer. In 2010, it was brought back from the dead by the network with acting talents Alex O'Loughlin, Scott Caan, Daniel Dae Kim, Grace Park, and Dennis Chun as Sergeant Duke Lukela, a character audiences have come to know and love.
Chun is a prolific actor in his own right. The role of Sgt. Duke was special to him in large part due to his guest appearances in the original series in 1974 and 1975. He actually played three minor characters in three different episodes while hoping for his big break. Sadly, it didn't come back then, even though his father played series regular Chin Ho (via the Honolulu Pulse). 
But it paid off in 2010 when he got cast as Duke in the reboot. Chun departed the series in April of 2020, but that doesn't mean he's doing nothing. He's very active on Instagram, especially when it comes to promoting his latest acting projects, lending support to international causes, and shining a spotlight on talented female writers in the entertainment industry.
Let's take a closer look at what Chun has been up to since ending his stint in "Hawaii Five-0."
He's still acting and loving it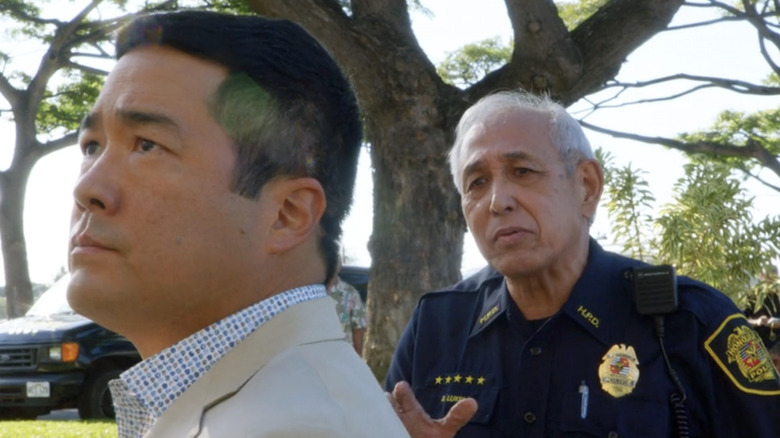 CBS
"Hawaii Five-0" isn't the only series Dennis Chun has a legacy role on. Back in the late '80s, he had a guest appearance in "Magnum, P.I." More recently, he carried over his "Hawaii Five-0" character Sgt. Duke Lukela from that 2010 procedural police drama reboot to the 2019 reboot of "Magnum P.I." While he hasn't appeared in the former since 2020, his most recent appearance in the latter is Season 4, Episode 16, "Evil Walks Softly," which aired in March of 2022. The storyline for his character in the episode certainly doesn't write him out in any way, so there's a good chance we might see him reprise the role again in the future.
Chun took to social media to share a behind-the-scenes photo of himself in uniform, so to speak, and to share his enthusiasm for being back on set. In the caption, he writes "Happy to bring back Duke for a short visit with the Magnum ohana this week Friday. Was a pleasure to work with Tim Kang ... a true professional and a very giving actor. Nice to bring back a little Five -0 aloha." The post has over 2,000 likes from fans who are likely happy to see him back in the saddle playing one of their favorite TV cop sergeants.
He's really excited about his most recent short film, Ready Forward
Dennis Chun recently starred in a short film called "Ready Forward," and he's extremely proud of the project. He costars alongside Amy Hill, Jason Quinn, Danielle Zalopany, Brandon Karrer, and Lehi Makisi Falepapalangi. The tagline is "Today is all we have," which doesn't tell us much, but it gives off some strong carpe diem vibes about how life is short and you have to enjoy it while you have it. It's written by Deborah Glazier and directed by Jim Jost, both of whom are fellow "Hawaii Five-0" alumni. Jost also did some behind-the-scenes work in "Magnum P.I." (via IMDb).
The film debuted at the Sedona International Film Festival a couple of months ago, which Chun posted about on his Instagram. The latest update is that the film was selected as a finalist at the 52nd Annual USA Film Festival Short Film Competition. The festival was held in late April, and unfortunately, the short didn't win. But Chun recently shared that the short will be in another upcoming festival, the 12th Annual Fort Myers International Film Festival, in late May. Whatever the future holds for Chun, "Ready Forward," and all of his upcoming projects, hopefully he will continue to do what he loves and entertain fans for many years to come.