The CIA Is Being Torn Apart In New American Assassin Poster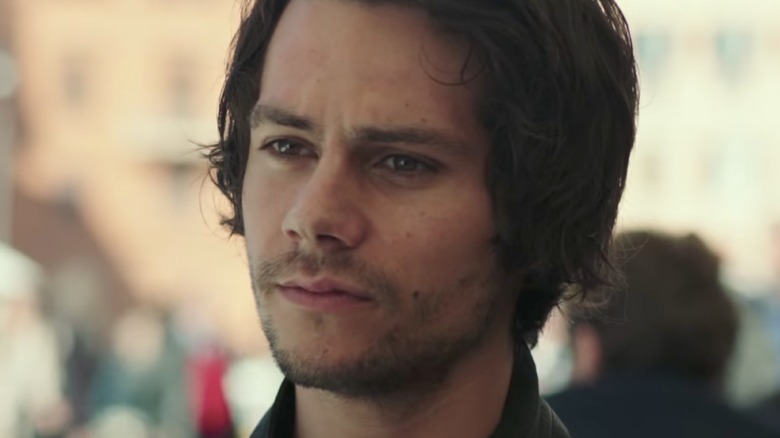 Dylan O'Brien is ripping apart the CIA in the newest poster for his upcoming thriller American Assassin. The movie, based on the best-selling book Consent to Kill by Vince Flynn, follows the former Teen Wolf star as Mitch Rapp, a man who becomes hellbent on revenge after his girlfriend dies in a terrorist attack.
As shown in the movie's trailers, Mitch's plan for revenge leads him to try to take out the terrorists himself. His plan is eventually interrupted when he is picked up by the CIA, who recruit him for their assassin training program. However, as the poster shows, Mitch may not be willing to play into their plans right away, with the image depicting him busting through a shield featuring their logo.
Mitch's training in the film is spearheaded by Michael Keaton's Stan, an expert warrior who trains Mitch using old and new school technologies. Mitch quickly takes to the training program, testing through the roof on speed and focus. However, Stan is still reluctant to let him out into the field right away, likely due to the fact that his former student, Ghost (Taylor Kitsch), has now turned on him and is looking to unleash nuclear devastation on the world. Mitch has just 48 hours to stop Ghost's plan in the action-packed thriller. 
Michael Cuesta (Homeland) directs American Assassin based off a script from Stephen Schiff (The Americans), Michael Finch (Hitman: Agent 47), Edward Zwick (Shakespeare in Love), and Marshall Herskovitz (Traffic). The movie is set for a Sept. 15 release; while we wait, see some of the other movies you have to look forward to this month.
An epic new poster for #AmericanAssassin courtesy of artist Oliver Barrett. pic.twitter.com/qkBccagap1

— American Assassin (@VinceFlynnFilm) September 8, 2017