Don Cheadle, Andrew Rannells Cast In Seth Rogen-Directed Series Ball Street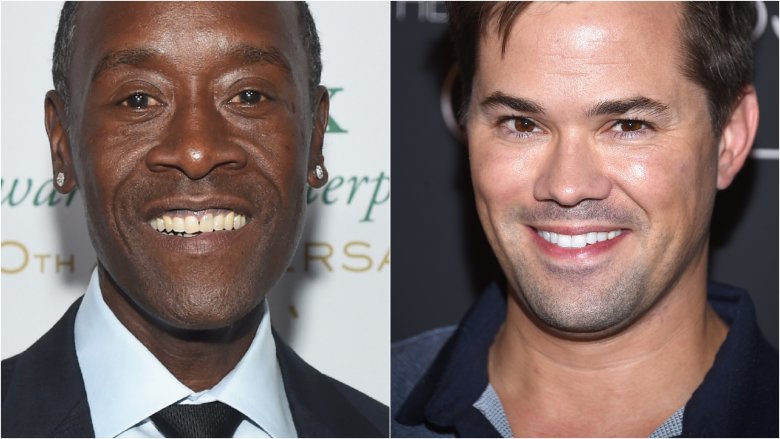 Getty Images
Two familiar faces are set to make Black Monday a little brighter. 
Variety announces that Don Cheadle and Andrew Rannells have been cast in the upcoming Showtime comedy pilot Ball Street, from the directing and executive producing pair of Rogen and Evan Goldberg. 
Created by David Caspe and Jordan Cahan, who are on board to executive produce and serve as showrunners, Ball Street will pull viewers back to a historic day: October 19, 1987, the day of the worst stock market crash in the history of Wall Street, a day known known as "Black Monday." If picked up to series, the story will focus on how a group of outcasts infiltrated the old-boys Wall Street club and wound up bringing down the world's largest financial system, and crashing "a Lamborghini limousine, "Don Henley's birthday party, and the glass ceiling."
Cheadle is set to play Rod "The Jammer" Jaminski, a self-made man on a path of self-destruction and the mastermind behind his firm that was once noted as "The L.A. Raiders of corporate raiders." Rannells joins him as Blair Shmerman, a recent Wharton graduate and stock trading prodigy whose soft heart and genuine nature will see him struggle to survive in the ruthless world of Wall Street.
Showtime president and CEO David Nevins said of the in-development series, "When the global economy incinerates itself, people always wonder why. Ball Street is a dream project rising from the ashes of that disaster. In Don Cheadle and Andrew Rannells, we have two of the most dynamic performers in the world today – the question is which one of them lit the match. With Seth, Evan, David and Jordan at the helm, we are primed for the launch of something memorable."
A co-production between Showtime and Sony Pictures Television Studios, the Ball Street pilot is set to begin filming in February 2018.
Cheadle landed a Golden Globe Award and four consecutive Emmy Award nominations for his performance in the Showtime series House of Lies, and has also been nominated for five Golden Globes for his supporting role in The Rat Pack. Cheadle picked up an Academy Award nomination for Hotel Rwanda as well. The actor most recently appeared as Miles Davis in Miles Ahead, which he also directed, co-wrote, and produced. For this work in that film, Cheadle won a Grammy Award. 
Rannells is best known for his role in HBO's Girls, starring alongside Lena Dunham's Hannah Horvath as Elijah Krantz. Elsewhere on the small screen, Rannells has appeared in The New Normal, The Knick, and How I Met Your Mother. His feature credits include The Intern, in which he starred opposite Robert De Niro and Anne Hathaway, and the forthcoming Paul Fieg film A Simple Favor. 
While we wait for additional details on Ball Street, find out the messed up story behind Cheadle's casting in one of his biggest movies.