This Is How Tom Selleck Really Felt About His Guest Spot On Friends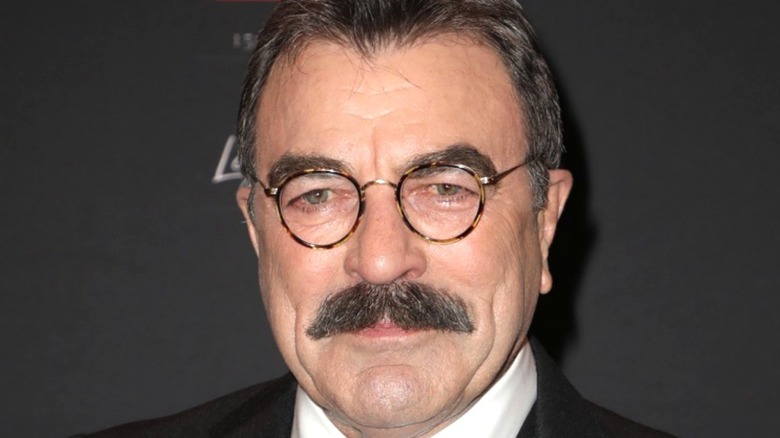 Alexander Tamargo/Getty
The popular NBC sitcom "Friends" had plenty of guest stars across its ten seasons. From George Clooney and Noah Wyle (best known then from "ER") to movie stars like Isabella Rosellini and Brad Pitt, the show wasn't shy about leveraging some star power from time to time. One of the most notable and frequent of these occasional guest spots was made by Tom Selleck, who appeared in a total of ten episodes of the series in the role of Dr. Richard Burke, handsome older love interest to Monica Geller (Courteney Cox).
Selleck made his first appearance on "Friends" during the show's 2nd season, but his character made frequent returns and remains something of a fan favorite. But how does Selleck himself feel about his time on the show? Is he proud of his place within the "Friends" universe or does he consider it a blight on his otherwise sterling body of work?
Tom Selleck spoke highly of his Friends tenure during an interview with Kelly Clarkson
Tom Selleck, of course, is now the star of "Blue Bloods," a police drama that couldn't be further from "Friends" on a tonal level. But during a recent interview on "The Kelly Clarkson Show," Selleck revealed that he learned from his experience on the sitcom, and that he considers coming onto a well-established show as a guest star to be a particularly difficult gig.
"The hardest thing is to guest on a show," said Selleck. "I try to relax the new actors [on 'Blue Bloods'], because that's really hard, to come on a show where everybody is up to speed." Selleck's viewpoint makes sense, given how famously close the "Friends" ensemble was with one another, so it only figures that even a famous interloper like him would have a tough time fitting in. "That group is just an incredible group of friends. They obviously became friends in life as well as on the show and it shows," said Selleck. Despite admitting that he was intimidated, he said that Courteney Cox and the rest of the cast made the experience a positive one overall. "We ended up doing about nine of them," the actor said, underestimating his episode count by one, adding: "I was only supposed to do three!"