The That '70s Show Reference You Likely Missed In Stranger Things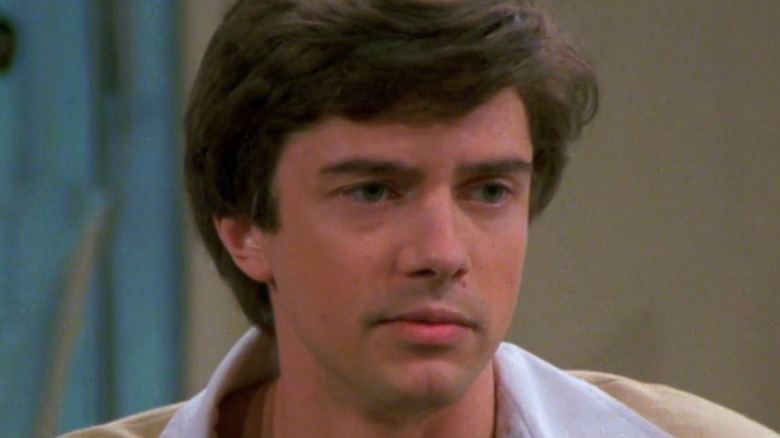 Fox
Netflix's massively popular sci-fi horror show "Stranger Things" is rife with countless '70s and '80s pop culture references. The first season of the show takes place in the small town of Hawkins, Indiana in 1983 surrounding the mysterious disappearance of 12-year-old Will Byers (Noah Schnapp). Another immensely beloved series is "That '70s Show" which originally aired on the Fox network from 1998 to 2006 (via IMDb). The successful comedy series follows a group of teenagers in late 1970s Wisconsin on their coming-of-age misadventures.
So, what do "Stranger Things" and "That '70s Show" have in common? Fans have spotted an eerie similarity (whether it's a coincidence or not) in one episode of "Stranger Things" Season 3 with Lucas (Caleb McLaughlin) and Max (Sadie Sink) — a similarity that links to two of the lead, romantically-involved characters Eric (Topher Grace) and Donna (Laura Prepon) in "That '70s Show." Is it an intentional homage or just a strange coincidence?
The characters in both shows wear identical outfits
An eagle-eyed fan on Reddit noted that Lucas and Max wear shirts identical to the ones that Eric and Donna wore in "That '70s Show." Did the "Stranger Things" costume designer put Lucas and Max in the previously-seen outfits on purpose? Probably, but fans are buzzing about the hypotheticals.
Reddit user u/ColonelEwart proposed, "Maybe Eric and Lucas don't have much in common, but to dress a boyfriend/girlfriend couple, especially with a redhead girl in the same clothes has to be more than just a coincidence?" Lucas and Eric both wear bright green t-shirts with a big yellow stripe placed through a white block on the tops of the sleeves, while Donna and Sadie wear v-neck, navy, long-sleeved sweaters with a rainbow-striped pattern on the front. Since the characters in "Stranger Things" are younger than Eric and Donna, it's likely the costume designer would have needed to find those exact shirts in smaller sizes.
As fans are well aware, the Duffers are known for the vast number of Easter eggs and references hidden in their show. It shouldn't be a surprise that this kind of connection was integrated into Season 3, as u/Ryanguy7890 commented, "'Stranger Things' is infamous for its very explicit homages. It's significantly more likely this was on purpose than accidental." Considering both shows take place virtually in the same time period, it's more than likely that similar wardrobe choices (and, this connection, in particular) were utilized intentionally. Indeed, stranger things have happened.