The Most Underrated Movies Of 2022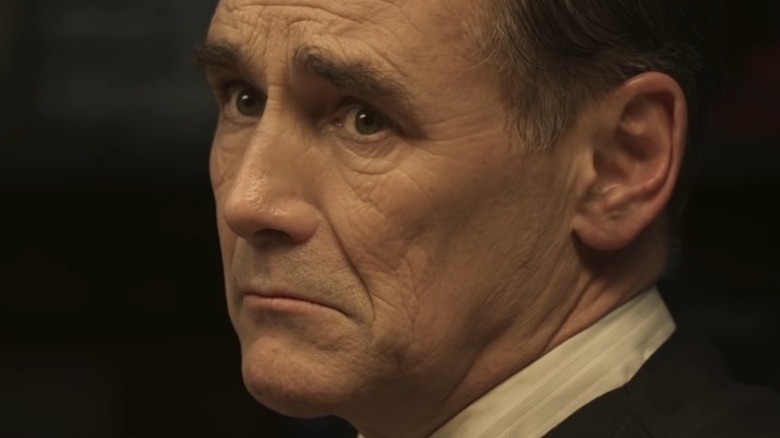 Focus Features
In the modern world, there are more options for movies than at any other point in history. It's an exciting byproduct of 21st-century existence, where the internet, digital theatrical film distribution, and other technological advances have opened up new avenues for films from all over the world to be seen by the general public. But this does have the adverse side effect of ensuring that there can be too many options. With so many motion pictures available at your fingertips, not only is something bound to slip past your gaze but something downright great can even get lost in the shuffle. The year 2022 was no different in this regard, with several exquisite features failing to become household names due to there being so much competition for people's eyeballs.
These underrated motion pictures range wildly in terms of genre, filmmaking style, country of origin, and so much more. Whether you want a small-scale crime thriller contained to one location, an expansive epic with a richly human heart, or groundbreaking documentaries, it's all right here. True, these projects didn't score the enormous box office hauls or massive marketing campaigns of titles like "The Batman." But even if you've never heard of them before, that doesn't mean you shouldn't give the most underrated movies of 2022 a watch. Think of them as cinematic surprises just waiting to be discovered.
Updated on January 3, 2023: If you're looking for the greatest under-the-radar movies of 2022, read on for the best of the best.
After Yang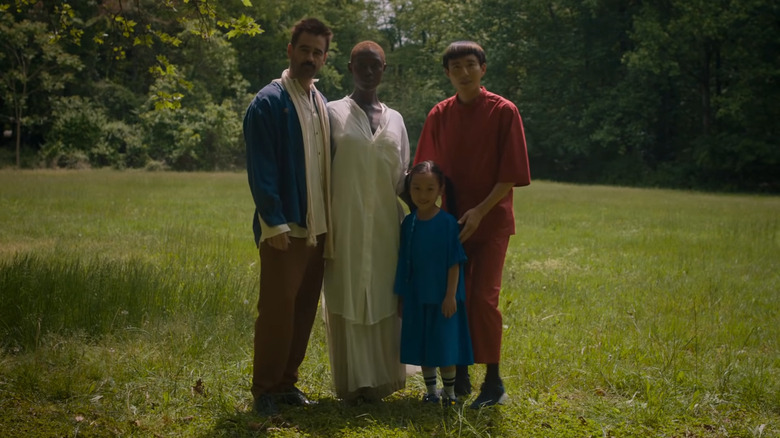 A24
There have been plenty of movies navigating the relationship between human families and robotic companions, ranging from "A.I. Artificial Intelligence" to "Bicentennial Man." However, none of them have been quite like "After Yang," the latest film from director Kogonada. This film chronicles a family, led by father Jake, figuring out what to do once their longtime robot Yang abruptly shuts down. While determining the next steps for this mechanical being that was a part of his family, Jake begins to uncover extraordinary things in Yang's memories that suggest he was even more complex and human than they could've imagined.
The contemplative style of filmmaking Kogonada applied to his 2017 film "Columbus" is alive and well in "After Yang." It proves to be a perfect fit for a story about coping with loss, but "After Yang" is far from a retread of a prior Kogonada directorial effort. The ingenious use of shifting aspect ratios alone gives "After Yang" a distinct visual identity, ditto the striking editing techniques (also courtesy of Kogonada) used in scenes depicting Yang's memories. Meanwhile, the quiet pieces of unique technology and architecture surrounding the characters suggest a broader near-future world without overwhelming the story. The filmmaking and melancholy vibes here are so captivating that they make this movie feel like the very first film to ever tackle the idea of distinctly human traits lurking inside a robotic being.
Aftersun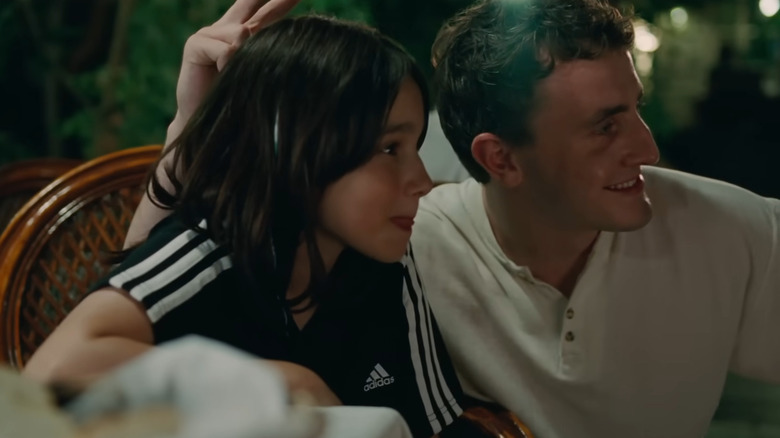 A24
Vacations are often an impactful event for bonding between family members. That's surely what Calum (Paul Mescal) hoped for when he took his daughter Sophie (Frankie Corio) on a trip to Turkey. However, everything that happens in their time in this country is utterly unpredictable, though in an understated manner. Writer/director Charlotte Wells resists the urge to pack "Aftersun" full of melodrama and explosiveness. There's quiet tension between father and daughter here, as well as similarly subdued instances of emotional connection between the characters. It's all so wonderfully realized, a feature-length testament that an expansive scope is not needed to make cinematic storytelling that keeps your eyes glued to the screen.
In an incredible directorial debut, Wells shows a gift for sneaking in such impressive visual flourishes into a naturalistic landscape, particularly in a recurring visual motif involving a darkened dance floor captured through fragmented pieces of editing. Her ability to draw out such remarkable performances from her two lead actors is also outstanding. Mescal is transfixing as a complicated dad who can draw out both your ire and sympathy within the same scene, while Corio proves equally adept at handling such emotionally complicated material. With these kinds of performances anchoring the entire production, it's no wonder that "Aftersun" emerges as such a remarkable accomplishment, a testament to complicated parent/child dynamics as quiet as it is compelling.
All the Beauty and the Bloodshed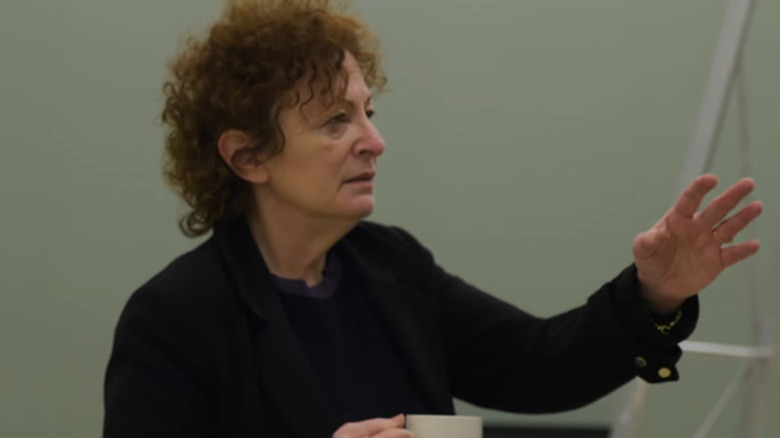 Neon
It's hard to figure out where to start when talking about "All the Beauty and the Bloodshed." Director Laura Poitras creates such an expansive portrait of photographer Nan Goldin within this documentary that it could've all collapsed on itself like a house of cards, an overstuffed stab at creating a cinematic tribute to a trailblazer. Instead, Poitras shows a total command of her craft in managing to make sure there's room at the table for every nook and cranny of Goldin's life within the runtime of "All the Beauty and the Bloodshed." This isn't an overly busy feature but rather an appropriately detailed examination of the life of an unforgettable artistic voice.
There are many ways to grasp the effectiveness of "All the Beauty and the Bloodshed," but the greatest testament to its filmmaking strengths is in how emotionally moving it is. Various anecdotes about Goldin enjoying herself and finding lifelong connections within the LGBTQIA+ community in the 1970s alone are bound to stir even the most jaded soul. Meanwhile, the intimate gaze of the camera as we hear Goldin recounting losing loved ones to the AIDS crisis and testimonies from people impacted by the opioid epidemic are unspeakably devastating. All of these various facets of Goldin's life are often punctuated by displays of her art and demonstrations of her unyielding personality. We need more people like her in our world, and we could always use more movies as well-made as "All the Beauty and the Bloodshed."
Apollo 10 1/2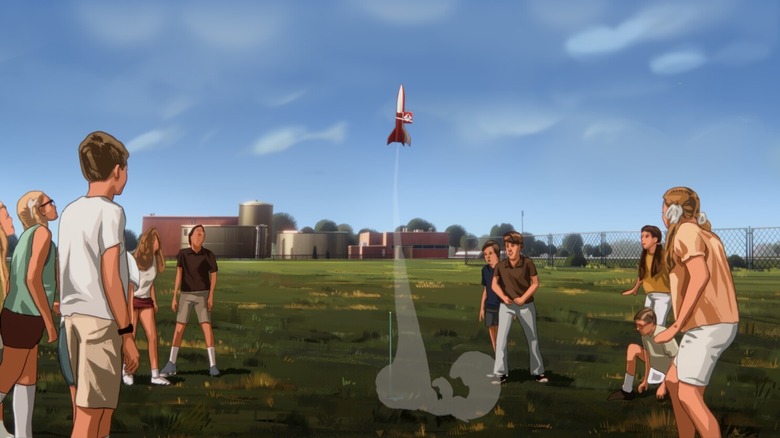 Netflix
Writer/director Richard Linklater returns to the world of rotoscope filmmaking with "Apollo 10 1/2: A Space Age Childhood." For this production, Linklater splits the story between the real and the fantastical. Part of the runtime is concerned with chronicling the exploits of young Stanley growing up in Houston, Texas, in the 1960s when the Space Race was everywhere. A quasi-autobiographical venture for Linklater, authenticity reverberates off these recollections of the highs and lows of yesteryear. However, "Apollo 10 1/2" also concerns itself with a heightened yarn about Stanley being called in by NASA for a top-secret mission that will involve this kid getting sent to the moon even before Neil Armstrong and Buzz Aldrin.
Fusing these disparate parts of "Apollo 10 1/2" turn out to be quite easy, especially since there's wall-to-wall narration from Jack Black (portraying the off-screen adult version of Stanley) to help bridge the gap between Stanley's home life and his voyage to the stars. Even better, Linklater injects amusingly specific details into Stanley's reminiscing about childhood elements like his uber-paranoid grandmother or how his mom could make one ham dinner last an entire week. All of it's told through nicely realized hand-drawn animated rotoscoping, a welcome return of an artform Linklater used so well on earlier projects like "A Scanner Darkly." With these qualities, it becomes quite easy to recommend "Apollo 10 1/2: A Space Age Childhood" as a trip worth taking.
Beba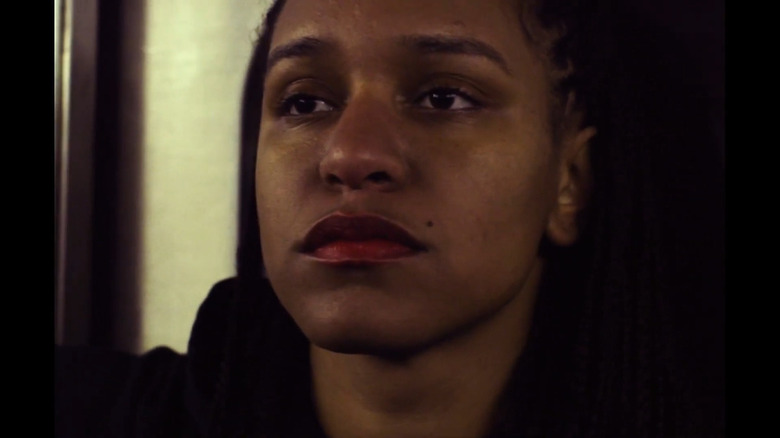 Neon
Rebeca Huntt holds nothing back for her directorial debut, the self-examining documentary "Beba." Within the walls of this narrative, Huntt explores her past, particularly regarding her fractured relationship with her family, to gather greater insight into why she's the person she is today. Our pasts are always informing our present, there's just no way to escape this reality. Huntt knows this better than anybody, and her vulnerable work in "Beba" thoughtfully reflects the various ways yesterday can seep its way into today.
The complicated relationship between the past and the present manifests in various fascinating ways throughout "Beba," including an especially powerful moment when Huntt's father stops talking in an interview after the questions about how he raised Huntt and her siblings hit a sensitive spot. Huntt's descriptions via narration of her complicated relationship with her brother, a figure who would totally isolate her unless they were bonding over music, just reek of authenticity over how messy and paradoxical sibling dynamics can be. "Beba" is a movie that's been years in the making thanks to how it draws from every facet of Huntt's life. All that build-up results in a documentary that provides such an intimate portrait of its central subject's psyche that you can never look away.
Bodies Bodies Bodies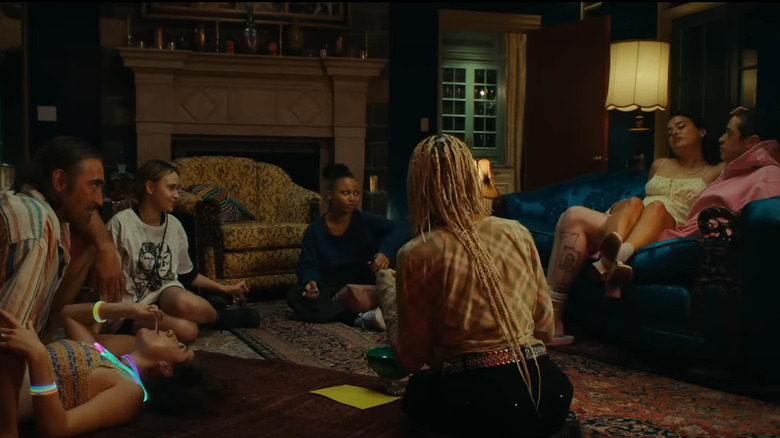 A24
Horror movies often focus on incredibly unnerving characters, like masked killers slaughtering the innocent or grotesque monsters with bloodthirsty tendencies. The horror/comedy "Bodies Bodies Bodies" focuses on an especially repulsive and terrifying strain of society: rich people. Wealthy youngster Sophie (Amandla Stenberg) and her working-class girlfriend Bee (Maria Bakalova) meet up with Sophie's extraordinarily well-off pals, like Alice (Rachel Sennott) and David (Pete Davidson), for a night of debauchery in a mansion when a hurricane hits. Now trapped inside without any power, the group proceeds to play a murder mystery game called "Bodies Bodies Bodies." When somebody turns up dead, though, the stakes go from being petty and trivial to petty and consequential as these self-obsessed 20-somethings struggle to figure out who the hidden killer is. 
Director Halina Reijn keeps the atmosphere of "Bodies Bodies Bodies" delicately and subtly balanced on being tense but also rife with dark comedy. The cinematography (often executed with only an iPhone flashlight as a source of light) is similarly thoughtful. Much more pronounced is the bevy of oversized performances scattered throughout the cast, with Sennott being the standout in a turn that's world's away from her work in "Shiva Baby" yet masterful in quality. A scathing condemnation of the most privileged and self-absorbed members of society, "Bodies Bodies Bodies" is a tonally complicated piece of cinema that slays.
Brian and Charles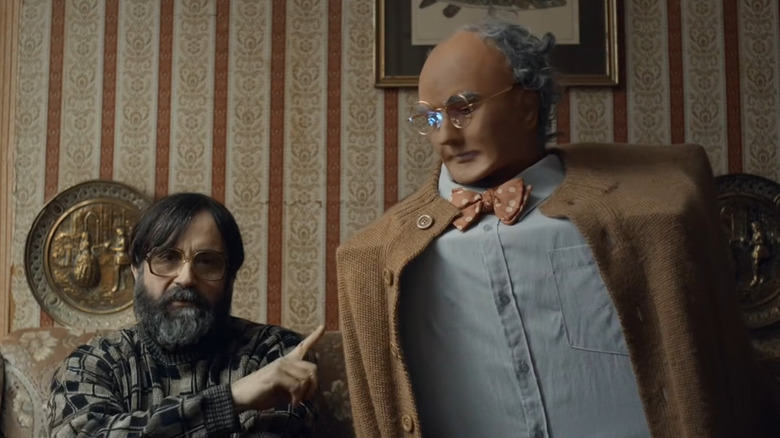 Focus Features
Brian (David Earl) loves being an inventor, even if none of the things he's crafted have proven to be all that useful or effective. But one night, inspiration strikes this plucky fellow, and he decides to build a robot. Using a collection of scrap parts, like a mannequin's head, Brian eventually builds a fully sentient robot named Charles (Chris Hayward). The duo proceeds to develop a friendship that serves as the primary focus of director Jim Archer's filmmaking in "Brian and Charles."
There's nothing in "Brian and Charles" that's all that revolutionary or game-changing, but there's also an abundance of pleasant material scattered throughout this feature's runtime. The atmosphere here is easygoing and breezy, with even a third act involving Charles getting kidnapped by some local bullies carrying a nonchalant aura. The laidback vibes are hard to resist, especially since there's such a sincere heart to "Brian and Charlies." It just wants to be a sweet movie about an unlikely friendship and what it means to care for someone. The aims of "Brian and Charles" may not be ambitious, but it's hard to complain when its heart is so irresistible.
Catherine Called Birdy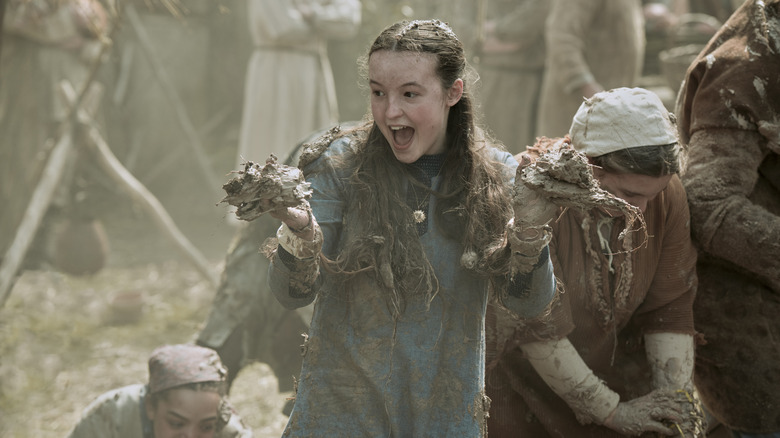 Amazon Studios
Adapted from the 1994 novel of the same name by Karen Cushman, writer/director Lena Dunham's "Catherine Called Birdy" tells the yarn of a 14-year-old known as Birdy (Bella Ramsey) who lives in a castle with her cash-strapped family in the 13th century. Birdy is spunky, contemptuous of authority, and an incredibly enjoyable protagonist to follow throughout the whole movie. This is partially because of how well Dunham's screenplay manages to make Birdy feel like she has a modern spirit without turning this whole project into a postmodern parody of itself. You still feel like Birdy exists in this period-era setting, even while some of her observations of gender norms in this historical backdrop make you giggle. Threading that fine needle ensures that viewers can get properly invested in the dramatic elements of "Catherine Called Birdy," including a moving finale hinging on Birdy's father, Lord Rollo (Andrew Scott).
The strong screenplay is brought to life by a superb cast, with Ramsey excelling as Birdy while supporting players like Isis Hainsworth and Lesley Sharp leave a sizeable impression in their work. Meanwhile, sharply realized aspects of the production like Carter Burwell's score and the radiant costume design further immerse you in this medieval setting. There's real polish found throughout "Catherine Called Birdy," an exceedingly charming film bound to be a future nostalgic favorite for this generation of teenagers.
Confess, Fletch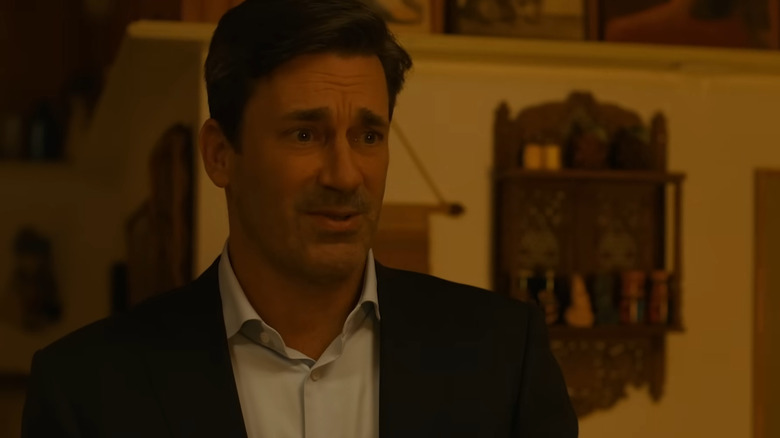 Miramax
The character of Fletch, previously played by Chevy Chase in the 1980s, is back, though no worries if you've never seen those original films or read the novels that birthed this character in the first place. "Confess, Fletch," which sees Jon Hamm taking over the titular role, is something that works perfectly well on its own merits. As long as you've got a funny bone that can be tickled, "Confess, Fletch" should work quite nicely in entertaining you for a few hours.
The ambitions of "Confess, Fletch" aren't massive, but that's also part of its charm. This is a lowkey movie where the quality of the gags sneaks up on you while an understated Hamm confidently and expertly delivers sublime pieces of comical dialogue. Best of all, director Greg Mottola executes a mystery plotline revolving around an unexpected murder and missing paintings that actually has some hefty suspense to it. The gags don't suffocate the twists, and "Confess, Fletch" never gets too bogged down in uncertainty to deliver steady laughs. It's a notable accomplishment that can be easy to overlook in a movie this breezy. However, such an accomplishment is well worth recognizing. After all, if anyone could pull off this kind of comedy filmmaking, "Confess, Fletch" wouldn't feel so special.
Costa Brava, Lebanon
Kino Lorber
"Costa Brava, Lebanon" concerns a pair of kids just getting to know the wider world and a mom and dad who are all too aware of the brutalities that exist in that wider world. This is the story of Soraya (Nadine Labaki) and Walid (Saleh Bakri), who've constructed a home in the mountains for their kids, teenager Tala (Nadia Charbel) and youngster Rim (Ceana Restom and Geana Restom). This domicile is a great distance away from Beirut, the capital city of Lebanon that's always filled with turmoil. But the outside world comes knocking on their door when construction on a landfill begins right next to their home. From here, writer/director Mounia Akl (who penned the screenplay with Clara Roquet) chronicles how the various members of the family respond to this intrusion on their existence, with some wanting to return to mainstream society while others stand more resolute than ever in favor of isolation.
Among the many gifts Akl delivers in "Costa Brava, Lebanon" is in making the main family seem like a real family. Whether it's the arguments they share or the impromptu dancing they all engage in together, they feel so ripped from reality that it becomes impossible not to get invested in their plight. The subtly detailed camerawork, which includes several great uses of depth of field to suggest the interior relationships between family members, accentuates the deeply human spirit of "Costa Brava, Lebanon" that's impossible to resist.
Cyrano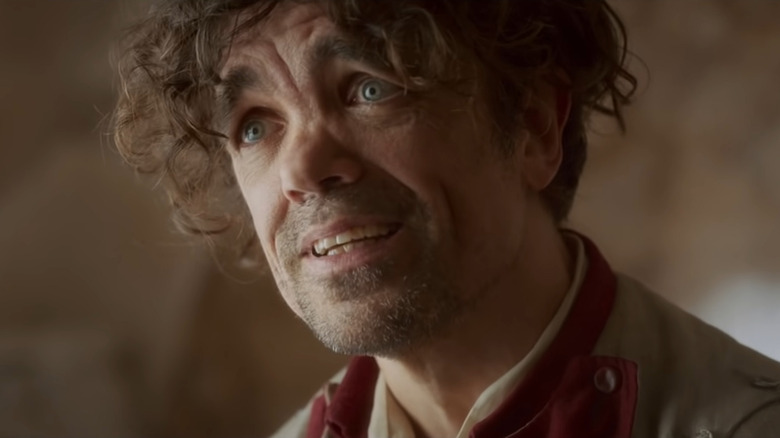 MGM
You've doubtlessly heard or seen the tale of Cyrano de Bergerac, which has been captivating audiences in various forms for well over a century. But you've never seen it told quite like director Joe Wright's "Cyrano," which brings the story to life as a musical headlined by Peter Dinklage in the titular role. The story of an expert swordsman who believes himself to be too hideous to be loved by the woman of his dreams, it's a tragic romantic yarn that bursts off the screen with palpable pathos. This is a movie that wears its sentimental belief in old-fashioned love on its sleeve, and it's all the better for such a cynicism-free execution.
The unabashedly straightforward approach to the romance is mirrored by the similarly confident execution of the music, with tunes springing out of the lips of cast members at any given opportunity. A random conversation can be punctuated by a melody, while reading a letter aloud can be an opportunity for lead actress Haley Bennett to engage in sensual crooning. "Cyrano" has no qualms about beating its own drum, which comes especially in handy with executing emotionally devastating sequences like the "Wherever I Fall" musical number. Some may find it more hokey than moving, but if you like old-fashioned romantic dramas that throw subtlety and caution to the wind, then "Cyrano" will deeply move you.
Director by Night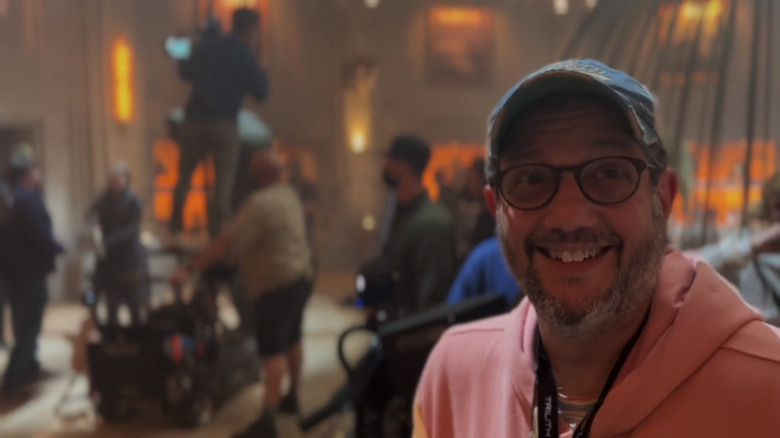 Marvel Studios
Under any other circumstances, dubbing any title that's even tangentially connected to the Marvel Cinematic Universe as "underrated" would be laughable. But "Director by Night" is not an ordinary production with ties to that mega-franchise. This documentary, directed by Oscar-winner Anthony Giacchino, is a dive into the making of the Marvel Studios TV special "Werewolf by Night," but it's far from just a promotional tool for the project. Instead, this is a very personal look into Michael Giacchino's process of making his directorial debut on "Werewolf by Night," the intimate details of pulling off this kind of production, and the Marvel filmmaker's longstanding love for directing crazy genre fare.
Anthony Giacchino gels all these disparate pieces together quite nicely, and as a result, viewers get to appreciate the unsung heroes who make these Marvel Studios projects work, such as the craft services person. But it's in the segments dedicated to Michael Giacchino's personal life that "Director by Night" really soars emotionally. This longtime composer helmed unabashedly goofy fantasy and action shorts as a kid and teenager, and by getting a glimpse at them within "Director by Night," one can see the artistic passions that would fuel Michael as an adult. Not only that, but the lasting bonds he formed with his other cast members are, much like "Director by Night" as a whole, how the practice of filmmaking can bring people together.
The Eternal Daughter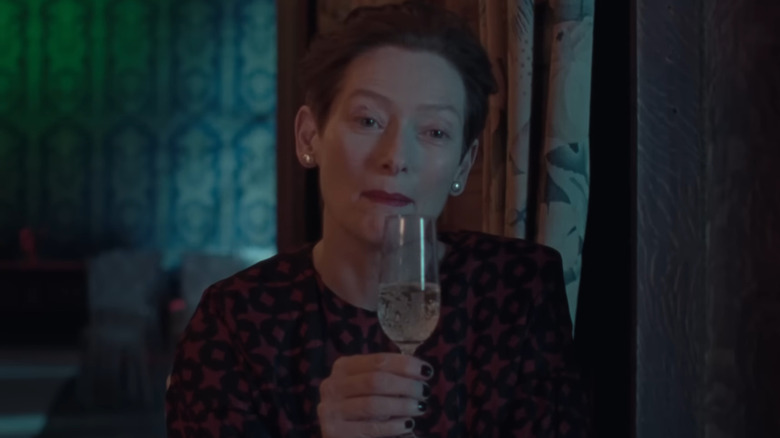 A24
In "The Eternal Daughter," Tilda Swinton pulls double duty as a middle-aged woman and her elderly mother, both of whom have come to stay at an isolated hotel in the fog-covered countryside. It sounds like the set-up for a "Conjuring" spin-off, but in reality, it's the backdrop for a new directorial effort from Joanna Hogg. The auteur behind modern classics like the two "Souvenir" films returns once again with a restrained but quietly eerie work that sees Hogg excelling with, among other feats, handling a story whose entire dramatic potential hinges on a woman pretending she's two separate human beings.
What could've been a farce instead becomes transfixing as Swinton convinces your mind that there are two completely different people on-screen while the similarities in the two performances come off as organic reflections of how children often inherit behavioral traits from their parents. Swinton's masterful work is encased in a film that uses empty space beautifully. The spacious hallways of this hotel just ache with loneliness, and the limited number of cast members provides a fitting reflection of how isolated human beings can become when navigating complicated familial relationships. "The Eternal Daughter" is a great slow-burn drama, one that looks like a standard horror film on the outside but is something much more tragic and specific on the inside.
The Fallout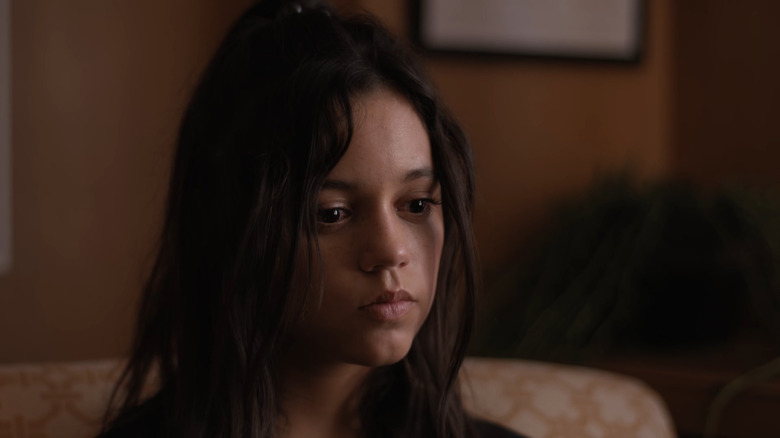 Warner Bros.
The horrors of school shootings — a terrifying event that's become a tragic part of everyday reality for American youths — are so overwhelming that it can be difficult to imagine how to even tackle this topic in the context of a movie. In contrast to the tone-deaf stab at relevancy in the "Shooting Star" episode of "Glee," "The Fallout" tackles the psychology of a teenager living in the wake of a school shooting with depth and specificity. That teenager would be Vada Cavell, whose trauma extends far beyond just the school shooting event itself. Just trying to go back to high school becomes an enormous trial, and her outlets for controlling her anxiety aren't always as healthy as they could be.
The remarkable thing about writer/director Megan Park's work on "The Fallout" is the sheer variety she lends each of the high schoolers depicted in this story. There's never one way to cope with trauma, and the same can be said for surviving a school shooting. Vada and her friends register as real human beings thanks to "The Fallout" taking the time to outline the specific varied ways they're each moving forward in their lives after unspeakable horrors. Meanwhile, the lead performance from Jenna Ortega is remarkable, especially in her subtly detailed depiction of Vada shutting out those around her. "The Fallout" is far from an easy watch, but it's an unflinching and emotionally astute piece of filmmaking.
Good Luck to You, Leo Grande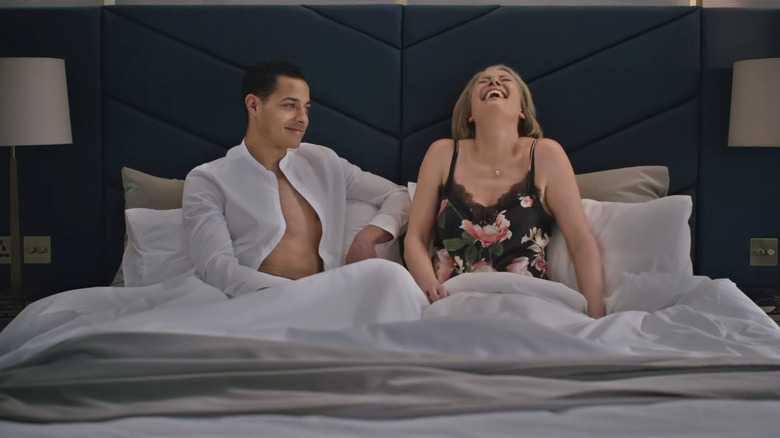 Searchlight Pictures
If you're going to watch anyone just talk in a hotel room for 90 minutes, it might as well be an instantly compelling performer like Emma Thompson. She takes on the role of Nancy Stokes in "Good Luck to You, Leo Grande," while Daryl McCormack plays the titular part of a man who's also a sex worker. Stokes hires him for an hour or two of passion shortly after her husband passes away. Stokes has lived a stifled life, and she wants to finally live it up and engage in all the sexual exploits that have been a mystery to her for decades.
What sounds like a simple arrangement becomes anything but as Stokes begins to open up more and more to Grande. Katy Brand's screenplay ensures that the dialogue between these two characters is as humorous as it is revealing. The boldly intimate scope of the project, which is largely confined to one hotel room, proves to be a boon to "Good Luck to You, Leo Grande" since it offers viewers a chance to understand the finer nuances of this duo without any distractions. Plus, it allows moviegoers the opportunity to appreciate how exceptional Thompson and McCormack are in their lead performances. "Good Luck to You, Leo Grande" is the newest reminder that you don't need an enormous story to make an engrossing movie.
Happening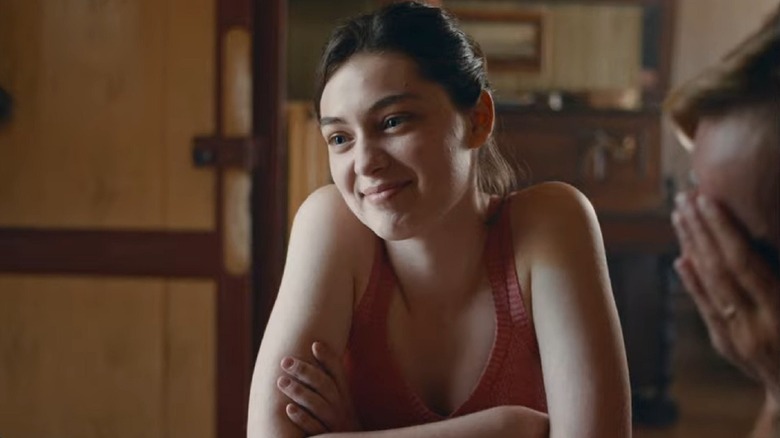 IFC Films
In only her second feature-length directorial effort, director Audrey Diwan delivers an extraordinary piece of cinema in the form of "Happening." This production tells the story of Anne (Anamaria Vartolomei), a young woman living in France in 1963. Her hefty ambitions for the future get upended when she learns she's pregnant. All Anne wants to do is get an abortion and move on with her future, but abortions are outlawed in France in this era. Now Anne has to sneak around, speaking in secrecy and using subtle glances to reveal her true feelings while keeping her crisis from everyone around her. It's an intense storyline that Diwan brings to life with subtle but impactful power.
Among the film's many strengths is Vartolomei's performance in the lead role. Handed a part largely eschewing overt dialogue, Vartolomei works wonders in conveying Anne's thought process via quieter means. Diwan's direction is also remarkable, with several tiny visual details — including the use of a more constrictive aspect ratio — that are tremendously effective in suggesting how confined Anne feels in her day-to-day life. All of those touches in her filmmaking add up to create a movie you can't shake off once it's over. "Happening" isn't just a sign of Diwan's powers as a director, it's also an exceptional ode to human beings endure in the face of inhumane laws.
A Hero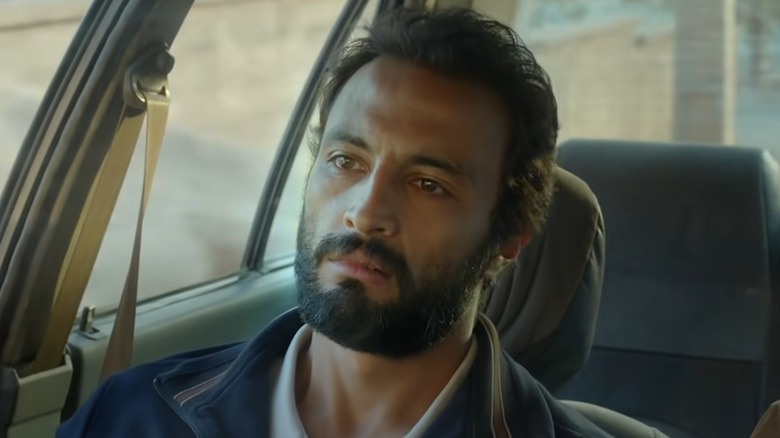 Amazon Studios
The people we lionize in society are all humans, they're just people like us. It can be easy to forget about that in everyday life, but Asghar Farhadi's "A Hero" — which played at Cannes in 2021 but hit Prime Video in 2022 — is a perfect reminder of this truth. The film tells the story of Rahim (Amir Jadidi), who was recently released from prison. As he begins to rebuild his life, he returns a bag of money to its rightful owner, making him a hero in the eyes of his neighbors and community. However, Rahim's past comes back to haunt him as dissenting voices begin to question the validity of his actions. Not only does this place his new reputation in danger, but it also begins to eat away at Rahim's ability to secure new employment and stake out a post-prison existence.
The same nuance and richly detailed characterizations that Farhadi lent to his 2011 masterpiece "A Separation" are once again found in "A Hero." These intricacies make the ensuing tragedy of the plotline all the more compelling to watch, as does the delicately thoughtful camerawork from Farhadi and cinematographer Ali Ghazi. The latter quality is especially unforgettable in a closing shot that finishes "A Hero" with a sense of unshakeable despair. Bizarrely overlooked for a Best International Feature Oscar nomination, "A Hero" is still well worth watching as another Asghar Farhadi gem.
Hit the Road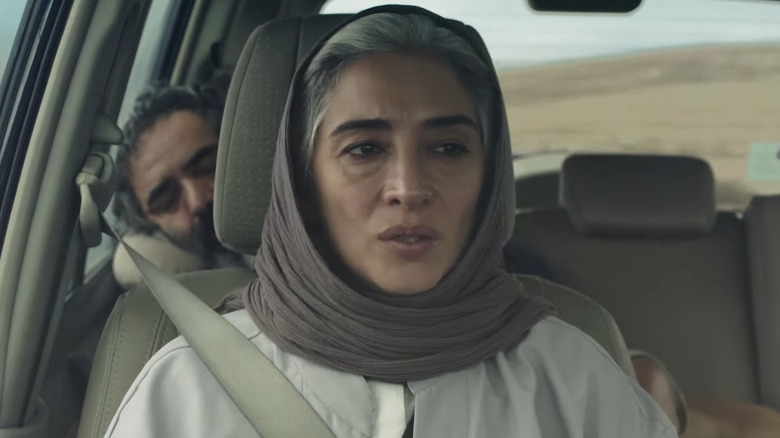 IFC Films
As director Panah Panahi's "Hit the Road" begins, it appears that there's nothing out of the ordinary here. We're going to just be watching a married couple and their two sons go on a road trip that will take them across Iran. Just a traditional family road trip, probably full of exciting roadside sights, traffic, and bickering. Slowly but surely, though, Panahi peels back the layers on this family and their excursion to reveal deeper darker truths. This is anything but a normal road trip, and it quickly becomes apparent that we're watching an exercise in quiet tragedy masquerading as familial normalcy.
The film's power as a piece of cinema is especially apparent in how each of the lead characters gets a unique and distinctive point of view. The intentionally cramped confines of the narrative allow us time to get to know everyone in this family while the restrained camerawork offers subtle glimpses into their interior worlds. Panahi's strengths as a filmmaker are further reinforced by how well he can incorporate bursts of dark humor into "Hit the Road" without undercutting its ominous tone. Above all else, Pantea Panahiha's performance as the unnamed mother of this family may be the ultimate reason to see "Hit the Road," especially her work in the film's final devastating sequence. Performances like that, just like movies as good as "Hit the Road," are far from commonplace.
Katrina Babies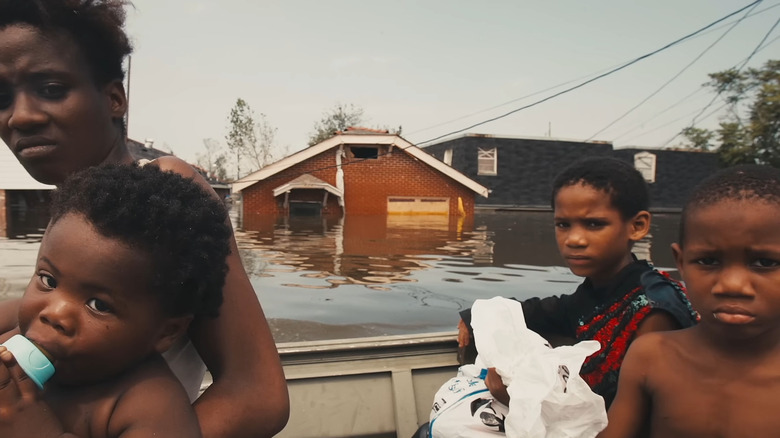 HBO
"Have you ever talked to anyone about this?" director Edward Buckles Jr. inquires to one of the interview subjects in "Katrina Babies" after she delivers an especially harrowing anecdote. When the woman says no, Buckles asks her why not. "Because nobody asked," she plainly states. That phenomenon of being ignored after experiencing unspeakable trauma is a common one throughout "Katrina Babies," which focuses on people who were kids when Hurricane Katrina hit New Orleans. Nearly two decades later, these youngsters have grown up into adults whose entire existences have been shaped in wildly varying ways by what they endured in the past. "Katrina Babies" offers them a chance to speak about their experiences and how their lives were changed by Hurricane Katrina and the U.S. government's response to the event.
The form of a documentary serves as a therapeutic exercise for the on-camera people in "Katrina Babies," as countless individuals finally get to be vulnerable about a subject that's touched every part of their lives. This even includes Edward Buckles Jr., who extends the gaze of the camera onto the person clutching it. Going this route quietly suggests how widespread the trauma related to Hurricane Katrina is, but the decision to sprinkle in moments of laughter, dancing, and joy throughout the runtime ensures that the lives chronicled in "Katrina Babies" are not solely defined by their anguish. An appropriately harrowing watch, "Katrina Babies" lays bare both institutional failures and emotional turmoil that so many people ignore.
Lingui, the Sacred Bonds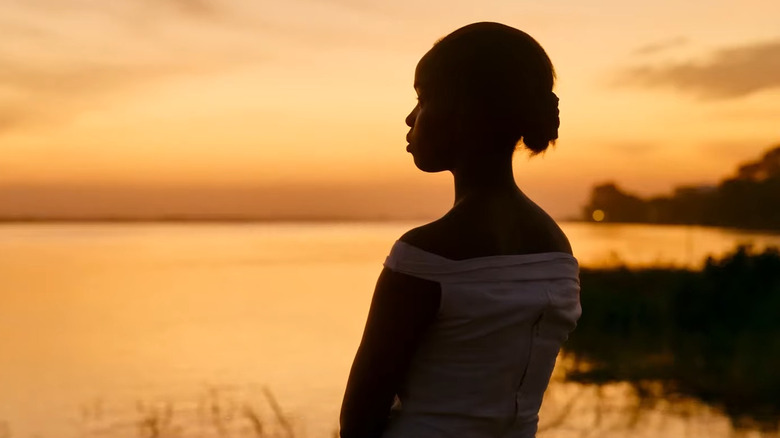 Mubi
All parents want their kids to have a better life than they had and, especially, to avoid the troubles they had to navigate growing up. Amina is no different, as she does everything she can to make sure her teenage daughter, Maria, has everything she needs for a successful life. However, things gets thrown out of orbit when Maria suddenly gets pregnant. This is the event that shifts the plot into high gear, as Amina and Maria now search for a way to secure an abortion, a procedure forbidden by the society they occupy. The urgency of this scenario gives "Lingui, the Sacred Bonds" a compelling sense of narrative propulsion, even while the film adheres to a quiet naturalistic style of pacing reminiscent of the works of Chantal Akerman or Yasujiro Ozu.
Director Mahamat-Saleh Haroun avoids the melodramatic pitfalls that can plague other movies dealing with the topic of abortion. Instead, his focus remains on more interesting storytelling material like how Amina and Maria cling to their autonomy and desires in the face of societally ingrained oppression. In the vein of other great modern films like "Never Rarely Sometimes Always," "Lingui, the Sacred Bonds" is technically a film about abortion that's also so much more than that. In this case, "Sacred Bonds" is primarily a movie centered on the complexities of mother/daughter relationships, as well as highlighting the hoops people have to jump through to have control over their bodies.
Mad God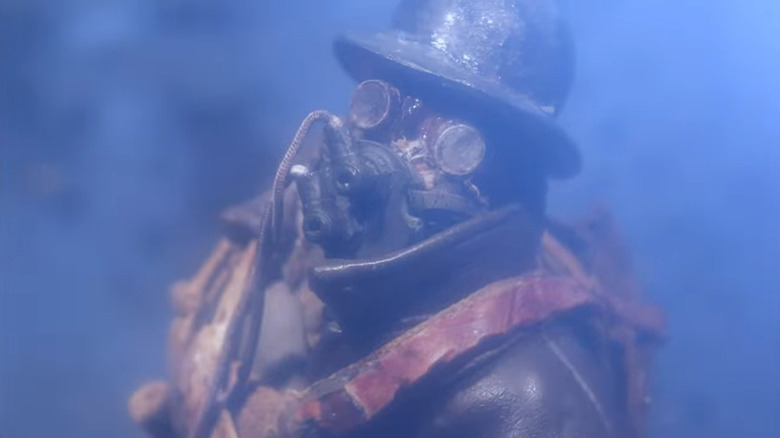 IFC Films/Shudder
In production for decades, "Mad God" is a labor of love from Phil Tippett, an icon of the stop-motion animation industry. It's a miracle this film ever managed to see the light of day considering that it took crowdsourcing to get the funds necessary to bring this warped vision to life. All of that time, effort, and money were spent on a feature that largely eschews plot in favor of delivering increasingly disturbing visions of a post-apocalyptic world where suffering is omnipresent. Doctors deprive people of their guts rather than save anyone while husks of human beings are created often solely to die in the abyss. "Mad God" isn't just dark, it's relentlessly bleak.
While such a tone won't be for everyone, those that can get on the wavelength of Tippett and company will be happier than a pig in slop with what "Mad God" delivers. Running just a hair under 80 minutes before the credits begin, "Mad God" manages to constantly deliver unpredictable and unnerving imagery brimming with imagination. The innate tangibility of the various textures, which only increases the disturbing nature of what we're witnessing, also provides a quiet but no less evocative case for the wonders that only stop-motion animation can provide. It's hard to comprehend an entirely computer-generated nightmare world like this one being nearly as impactful, just as it's difficult to imagine many other 2022 titles being as lastingly chilling as "Mad God."
Neptune Frost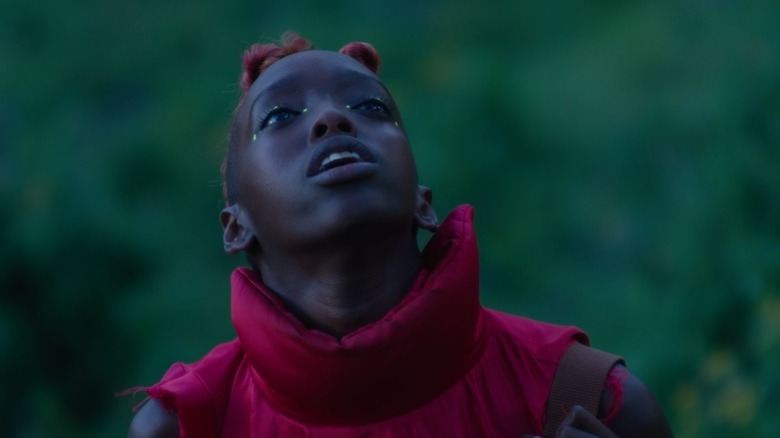 Kino Lorber
One of the first scenes in "Neptune Frost" depicts people chanting and banging on drums in the grim domain of a mine where a worker has just perished. These performers are an aberration in this environment, but that's the point. Within this sequence, "Neptune Frost" has established that music can appear anywhere. The same is true for things like the spirit of rebellion, empathy towards other human beings, and one's true identity. No matter how much oppressive societies try to stifle or even wipe out these forces, they will endure. Hinging on this concept, "Neptune Frost" reveals itself to be a stirring battle cry in cinematic form.
Directors Saul Williams and Anisia Uzeyman tell the tale of Neptune (Elvis Ngabo and Cheryl Isheja) joining a hacking initiative with visual audacity, particularly when it comes to costume and production design. What other movie features a key supporting character walking around in an outfit made entirely out of keys on a keyboard? Such elements reflect how this film focuses on a collection of human beings who can finally be themselves away from oppressive systemic forces. Insightful dialogue like Neptune, in reference to their gender, remarking "what blossomed as understanding was planted in years of confusion" further reinforces the movie's touching exploration of finally having the space to find yourself. There's a beating, captivating heart to "Neptune Frost" informing its ceaseless creativity and unwavering rebellion against fascism. Even the most jaded viewers won't be able to resist something this idiosyncratic and stirring.
On the Count of Three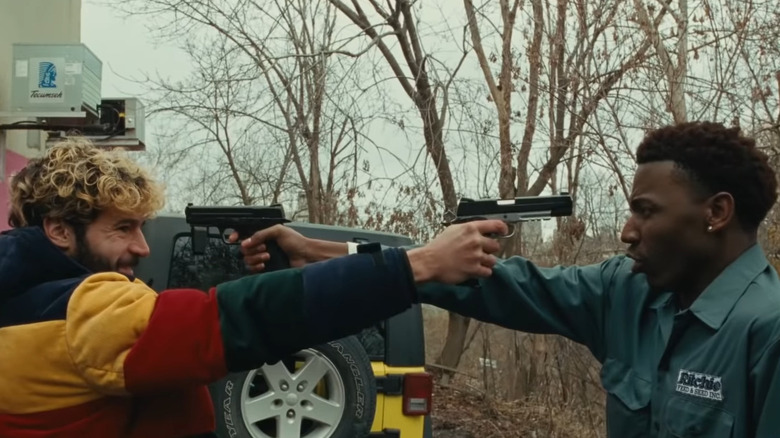 Orion Pictures
Jerrod Carmichael not only stars in "On the Count of Three," he also makes his directorial debut on a project predicated on a heavy topic: suicide. Specifically, the film is about lifelong best friends Val (Carmichael) and Kevin (Christopher Abbott) committing to a pact that they'll kill themselves by the end of the day. It's a brutal and heavy premise told with deftly executed dark humor. Much of this comes from how screenwriters Ari Katcher and Ryan Welch refuse to turn Val and Kevin into caricatures or objects the audience is supposed to solely mock. We're always in tune with the deep psychological trauma that's making them believe that suicide is a reasonable option to escape their tormented existences. 
The empathetic nature of "On the Count of Three" is especially apparent in the mesmerizing performance by Christopher Abbott as Kevin. A guy barely keeping his long-simmering pain under the surface, Abbott can break your heart with a facial expression, and both he and Carmichael have authentic lived-in chemistry with one another. "On the Count of Three" is not an easy watch, far from it. But for those who're able to watch it, they'll be gifted an impressive first foray into filmmaking from Carmichael, as well as one of the year's best performances from Abbott.
If you or anyone you know is having suicidal thoughts, please call the National Suicide Prevention Lifeline​ at​ 1-800-273-TALK (8255)​.
The Outfit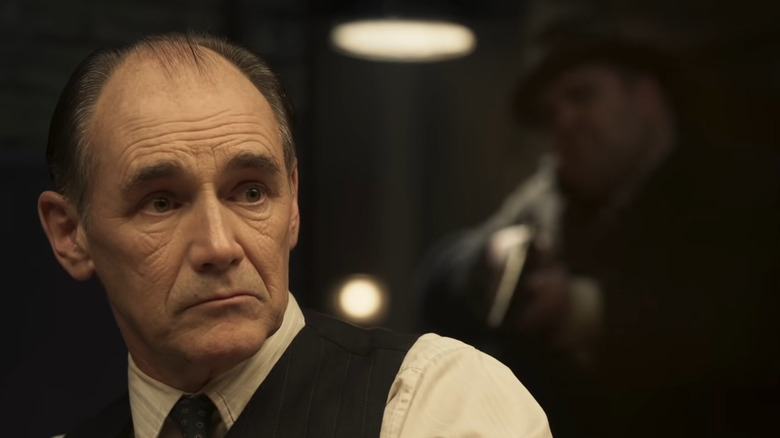 Focus Features
In the grand tradition of "Rope" or "Buried," "The Outfit" largely takes place in one location. In this case, that singular backdrop tells a story belonging to cutter Leonard Burling. He prides himself on making the finest clothes possible for his customers, as well as how he stays out of the way of the mobsters who use his place to hold money and letters. One late night, this shop becomes a hotbed of activity when gangster Richie Boyle is killed inside. Thus begins a night of increasingly dangerous activity that sees this seemingly mild-mannered expert in fashion using all his wits to stay alive. Writer/director Graham Moore does fine work utilizing this simple premise and a minimal amount of environments to create a crime thriller that, well, thrills.
Part of the charm here is Moore's willingness to have dark fun with his material, especially with enjoyably bombastic storytelling turns. Meanwhile, the R-rating allows for bursts of bloody mayhem or dialogue laden with coarse language to land with a proper amount of impact rather than getting sanded down to fit into the confines of a PG-13 rating. Plus, if you're going to be stuck with an actor in one location for lengthy periods of time, Mark Rylance is one of the better options out there. His lengthy experience in stage performances, where he had to keep viewers engaged with minimal resources, is put to great use in the spry yet contained crime thriller "The Outfit."
Pearl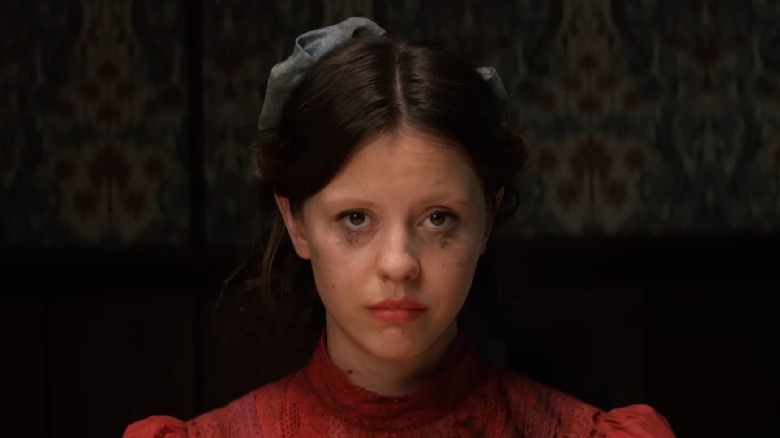 A24
Ti West didn't just deliver one great horror movie in 2022 — he managed to deliver two, with the second coming through the feature "Pearl." Shockingly, even compared to the sleazy run of "X," "Pearl" is West's best 2022 foray into horror storytelling. Just from a visual perspective alone, "Pearl" is a marvel, a meticulously detailed recreation of 1950s Technicolor extravaganzas. Even the rain pipes in this universe sparkle with bright hues of pink while a vivid blue sky provides a cheery backdrop to all the carnage that eventually unfolds in the plot.
Even beyond the visuals, "Pearl" also works incredibly well as a showcase for the incredible talents of Mia Goth. Playing the plucky small-town dreamer archetype at full throttle, Goth injects the titular lead of "Pearl" with enough distinguishing traits to still make her work as a stand-alone character. Goth captures your attention and puts your nerves on end even before she delivers a showstopping lengthy monologue all captured in one take. It's an incredible feat of acting that keeps you on the edge of your seat even without any blood flowing. Whether you're in the mood for chills, a throwback to the days of Douglas Sirk, or just want to bask in the glories of Mia Goth, "Pearl" is bound to satisfy your cinematic cravings.
Petite Maman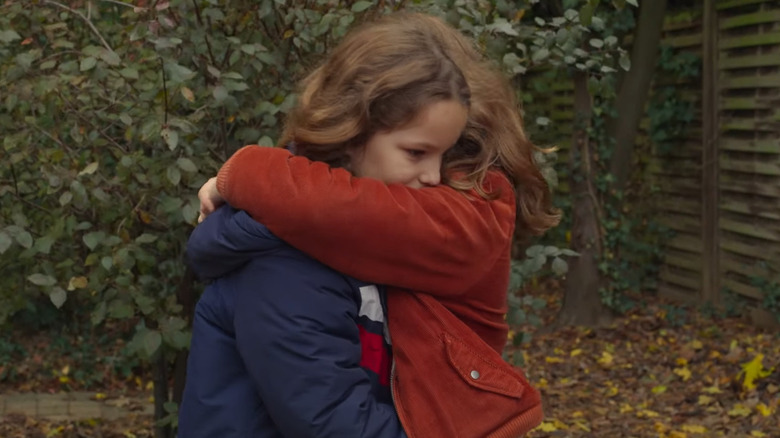 Neon
After the critically acclaimed LGBTQ+ period drama "Portrait of a Lady on Fire," director Celine Sciamma returns with "Petite Maman." The film tells the tale of Nelly (Joséphine Sanz), an 8-year-old who's helping to clean up the house of her recently deceased grandmother when she stumbles onto an 8-year-old version of her mom, Marion (Gabrielle Sanz). "Petite Maman" is a yarn told with a gentle hand and quietly powerful emotions. Sciamma gets a lot of pathos out of effective uses of silence, such as Nelly laying eyes on a younger version of her grandmother. You don't need lots of dialogue or a boisterous score to convey how impactful this meeting is for Nelly — the silence and the subtle details in Joséphine Sanz's performance say it all.
Much like Sciamma's other movies — including "Fire," as well as earlier works like "Girlhood" or "Water Lilies" — "Petite Maman" primarily focuses on incidental moments of connection between characters, throwaway interactions that will gradually become cherished memories. Scenes of Nelly and Marion acting out a detective play, for instance, are both adorable and so endearing — ditto them trying to cook something in a kitchen. Sciamma recognizes that these are the events that bond people, that we hold close to our hearts. It's that accurate insight into human beings that make her works like "Petite Maman" such emotionally rich experiences.
The Princess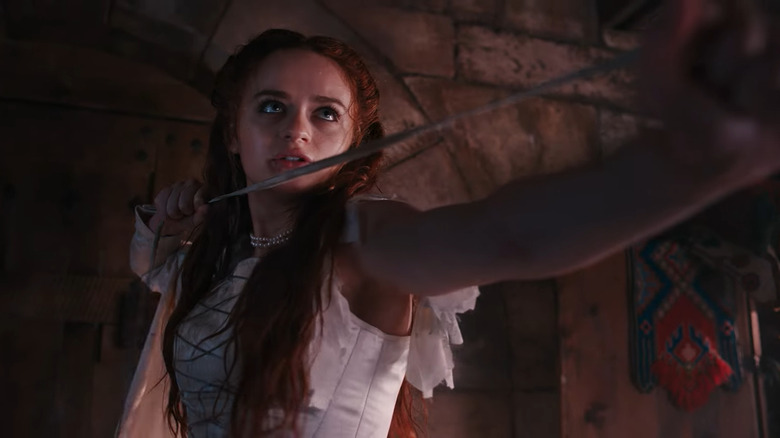 20th Century Studios
If you ever watched "The Kissing Booth" and felt that Joey King should've spent more of the runtime beating people up, then "The Princess" is the movie for you. King plays the titular Princess here, a young woman who awakens to find herself chained to a bed at the top of a tower while the wicked Julius (Dominic Cooper) plans to force her into marrying him so he can control her kingdom. Julius has an army by his side, but he didn't count on the Princess having spent her whole life training in all sorts of hand-to-hand combat. From here, director Le-Van Kiet and writers Ben Lustig and Jake Thornton keep things simple, as the rest of the movie is just the Princess fighting her way to the bottom of the tower in pursuit of her imprisoned family.
King has been in a wide array of movies in her career, but "The Princess" gives her a rare opportunity to be a full-fledged action hero. She turns out to be well-equipped for the task and proves a believable force in the bloody action sequences. The streamlined narrative also ensures that the runtime is heavy on brawls and not extraneous subplots, while the presence of Veronica Ngo in a supporting role is incredibly welcome. It may not hold a ton of surprises, but "The Princess" should satisfy action fans and those who've been curious to see Joey King further expand her range as a performer.
Resurrection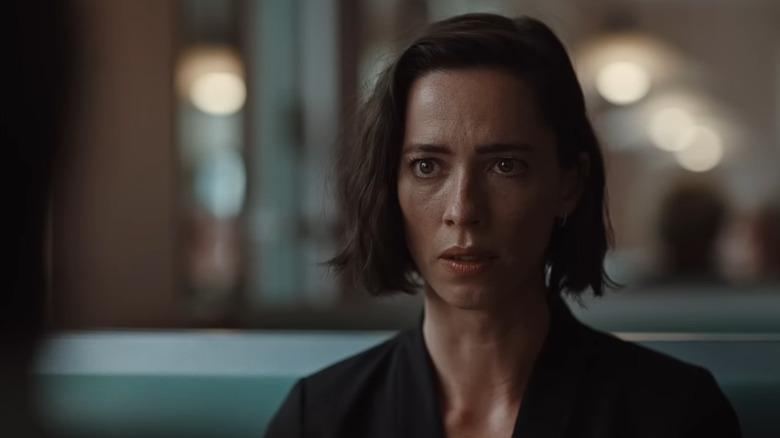 IFC Films
Sometimes, all it takes to make a movie a must-see event is one unforgettable sequence. For "Resurrection," that scene comes midway through its runtime and sees Margaret (Rebecca Hall) staying late at work shortly after abusive ex-lover David (Tim Roth) has re-entered her life. An assistant pokes her head into Margaret's office and asks her a mundane question that eventually leads to Margaret recounting the horrors she experienced at the hands of David. This lengthy anecdote is captured by director Andrew Semans in a single unbroken take, and as Hall slowly peels back the armor Margaret has put up around her, it's a marvel to watch unfold, especially in terms of how Hall gradually ratchets up Margaret's overt demonstrations of vulnerability.
One is so captivated by this sequence that you're bound to forget there haven't been any cuts to other characters or different camera angles — your focus is just on the deeply compelling performance of Rebecca Hall. "Resurrection" deserves applause just for that outstanding sequence alone, but there's plenty more that this movie offers beyond this monologue. Most notably, the ever-increasing absurdity of the film, culminating in a hotel room climax that's bound to either repel or captivate viewers, is tremendously well-played while Semans consistently keeps viewers on their toes regarding what's real and what isn't. Needless to say, "Resurrection" is well worth a watch for fans of brutally dark psychological thrillers, even if it's just for that remarkable one-take sequence.
Riotsville, U.S.A.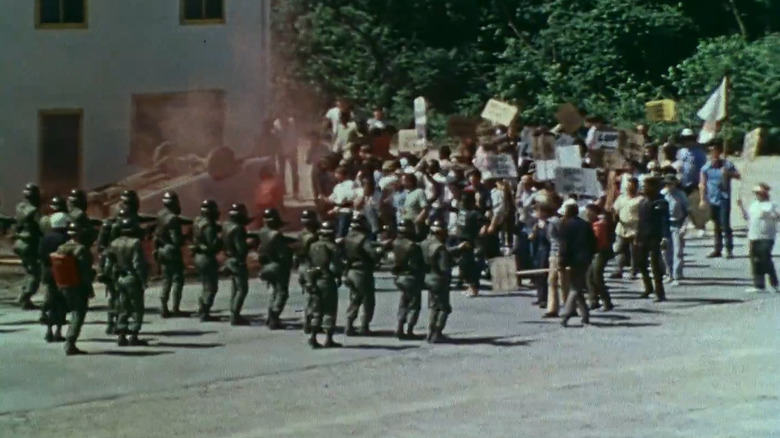 Field of Vision
In the 1960s, the ongoing presence of riots in American society led the U.S. government to create a fake town called Riotsville, U.S.A., where cops and soldiers could prepare tactics to take down those breaking the law in the eyes of the government. As the title would suggest, this is where the story of the documentary "Riotsville, U.S.A." begins, but it's far from where it ends. Director Sierra Pettengill proceeds to explore how brutal tactics to subdue citizens — all based on racial discrimination — were employed, with such procedures being told through archival footage. This manifests in everything from training videos to news coverage, with Pettengill looking to expose new layers in previously existing material.
Among the many accomplishments of this approach is highlighting the horrifying reality that the oppression of marginalized classes has been hiding in plain sight. You don't have to dig deep to see examples of Black people getting their voices silenced — just the ways news programs talk about Black protestors will do. Similarly, videos of training simulations in Riotsville, U.S.A., all meant to show the prowess of American soldiers, provide a chilling demonstration of how powerful American institutions normalize the dehumanizing of people of color. The harrowing atmosphere of "Riotsville, U.S.A." is punctuated by a chilling score by Jace Clayton. Through this ominous aesthetic, "Riotsville, U.S.A." powerfully presents how the horrors of the 1960s reverberate well into the modern world.
RRR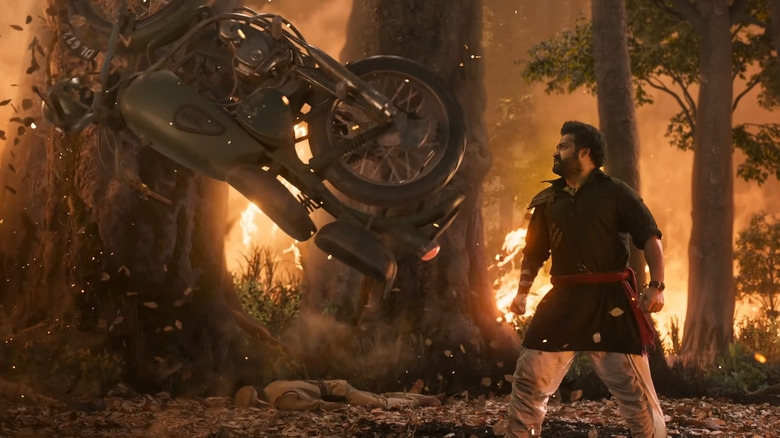 Sarigama Cinemas
Some movies only offer excess spectacle but no heart, others merely schmaltz but no scope. "RRR," an epic blockbuster hailing from director S. S. Rajamouli, wisely decides to deliver both of these ingredients at once. This story concerns two men, Komaram Bheem and Alluri Sitarama Raju, in Delhi in 1920, when the city was occupied by colonial forces. The duo sparks up a deeply passionate friendship without realizing the other's true identity. Bheem is on a mission to rescue a young girl who was kidnapped from his village while Raju is a cop who demonstrates deep loyalty to brutally cruel figures like Governor Scott Buxton.
To say any more about the plot would be to spoil the fun of "RRR," which delivers one riotously over-the-top action scene after another. Any pretense towards being "grounded" has been tossed to the wind in favor of delightfully maximalist chaos. At the same time, there's a genuineness to how Rajamouli depicts the friendship between Bheem and Raju that makes it impossible not to get wrapped up in their bond. Depictions of this duo and other principal characters standing strong and fighting back against cruel colonial forces also stirs the soul. There's a beating heart to "RRR" that lends deep humanity to a movie that also features a man throwing a motorcycle at evildoers. Toss in a bevy of remarkably catchy tunes like "Naatu Naatu," and "RRR" becomes a cinematic delight one can't miss.
Saloum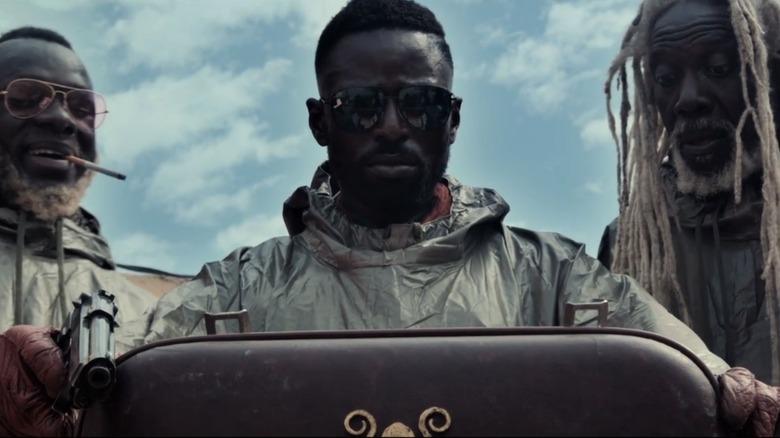 IFC Midnight/Shudder
The Bangui Hyenas were already having a lot of trouble early on in the movie "Saloum," even before their plane got shot down. Now stuck on the ground, this group of mercenaries is forced to stay put in a small community located on the Saloum River. There were already enough problems concealing their secret identities and having unexpected run-ins with brutal figures from their past, but then something supernatural gets unleashed and begins picking off everybody in the nearby vicinity one by one. Now, it's a fight for survival as a bunch of men who've become legends for seeing it all must confront an unprecedented and unspeakably deadly supernatural force.
Making a movie like "Saloum" that begins with both feet firmly planted in reality before switching over to more heightened genre material is always a difficult bet. Done wrong, you can undercut both the grounded and stylized elements and end up pleasing nobody. Luckily, writer/director Jean Luc Herbulot (who penned the screenplay with Pamela Diop) manages to make the mixture work by maintaining a consistent sense of unnerving suspense throughout the whole story. Whether our lead characters are navigating a tense dinner or fighting off a fantastical evil entity, Herbulot's filmmaking has a consistently unsettling atmosphere. This provides a sense of tonal continuity throughout "Saloum's" ambitious narrative while the superb performances from the cast provide another steady element audiences can always rely on.
See How They Run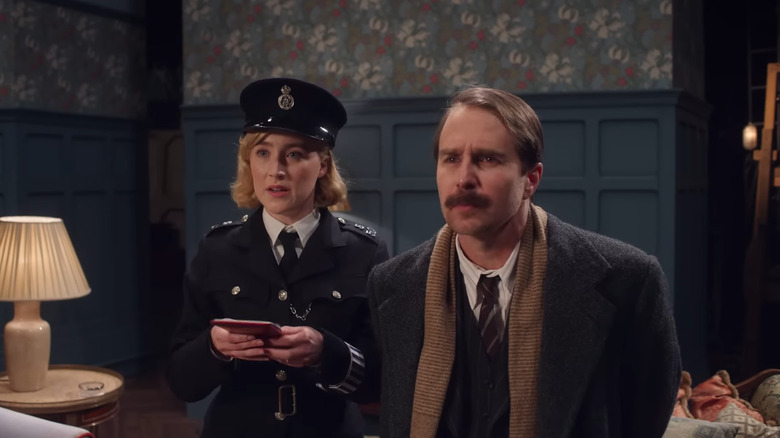 Searchlight Pictures
American filmmaker Leo Köpernick (Adrien Brody) is dead. That's how the murder mystery "See How They Run" begins, with Köpernick biting the dust and Inspector Stoppard (Sam Rockwell) and plucky chatterbox Constable Stalker (Saoirse Ronan) being tasked with bringing the murderer to justice. Köpernick had no shortage of enemies, especially when it came to people involved in the hit play "The Mousetrap." Parsing out the various clues and potential leads over this case won't be easy for Stoppard and Stalker, but it does provide quite enjoyable entertainment for moviegoers. A feature from director Tom George, "See How They Run" may not be the next "Knives Out," but it still provides everything you'd want from a murder mystery.
Beyond just delivering the expected hallmarks of this subgenre, "See How They Run's" unique highlights include an exceptionally hysterical performance from Ronan. Playing an excitable but well-meaning enforcer of the law, Ronan gets the best lines and most humorous moments. The decadent production design is also a constant treat while the third act manages to keep you on the edge of your seat regarding the welfare of everyone involved in this story. Leo Köpernick may be dead, but "See How They Run" is very much alive with a vibrant take on the murder mystery genre.
Sirens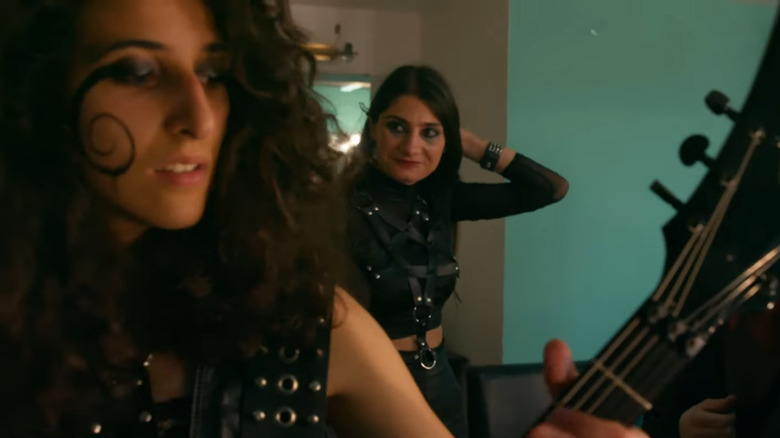 Gravitas Ventures
You may not know the metal band Slave to Sirens, but once you watch "Sirens," you won't forget them anytime soon. The only all-women metal band in Lebanon, this group and its members are the centerpiece of director Rita Baghdadi's documentary, which sees this gaggle of musicians trying its hardest to keep on rocking in the face of middling attendance at their concerts, societal prejudice against women, and even strife between band members. All these issues nicely render the people that make up Slave to Sirens as discernibly human. They may be trailblazers with exquisite fashion sensibilities, but they're just as prone to everyday foibles as anyone else.
Through emphasizing these vulnerabilities, "Sirens" quietly but powerfully suggests that any person can upend the idea of what's "normal" or possible in a patriarchal society. Even better, such concepts are told through a structure that effectively oscillates between segments chronicling the musicians working together and their separate home lives. These disparate parts of "Sirens" coexist nicely, especially through the editing courtesy of Grace Zahrah. Meanwhile, the recurring presence of enjoyable earworms from the Slave to Sirens band will also get your toes tapping and your head bopping. All of these qualities come together to solidify this film as documentary you can't help but rock out to.
The Stranger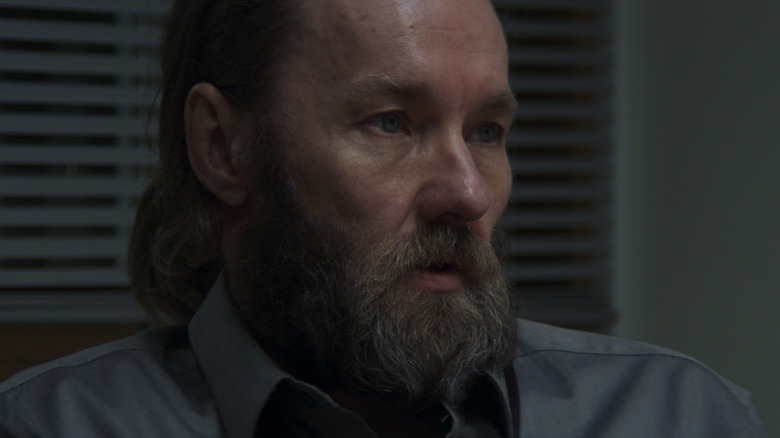 Netflix
"The Stranger" begins with a sense of unease emanating from how little the audience knows about any of the main players on-screen. We're thrust directly into the life of Henry Peter Teague (Sean Harris), a solitary and soft-spoken man looking for work, who eventually hooks up with a criminal by the name of Mark Frame (Joel Edgerton). There's already something clearly awry with Teague as "The Stranger" begins, but that aura of dread becomes palpable once it's revealed that Teague is suspected of murdering a child years earlier. Frame is not just another master crook but an undercover police officer trying to develop a close enough rapport with Teague to snag a confession out of him.
The tense atmosphere of "The Stranger" is impressively maintained throughout the whole movie through a limited cast of characters and number of locations. Restraint is the friend of writer/director Thomas M. Wright, and it's an ally that serves his story incredibly well. It's much more frightening to have Teague kept detached from the viewer, with neither Frame nor the audience ever being fully certain of what he's capable of. The quiet chills that "The Stranger" sends up your spine won't be easy to forget and neither are the lead performances from Edgerton and Harris. They're delivering remarkable work that encapsulates the quiet but powerful nature of "The Stranger" as a motion picture.
Vengeance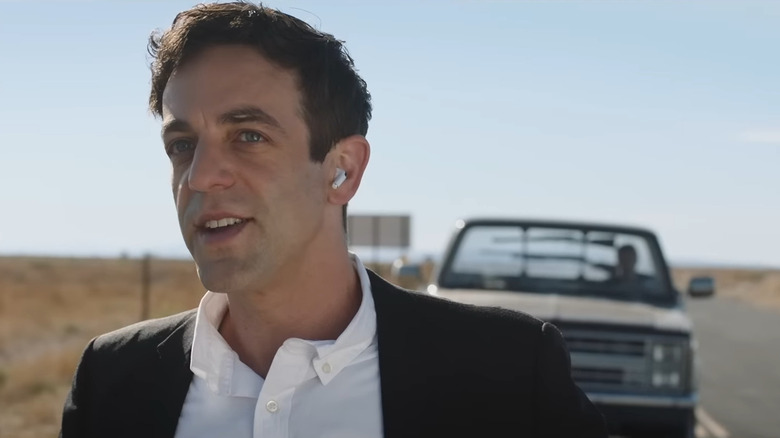 Focus Features
"Vengeance" protagonist Ben Manalowitz (B.J. Novak, who also wrote and directed the movie) isn't much for caring about things. The movie opens with an explicit demonstration of this by showing him and a character played by John Mayer talking about the logical value of living a life devoid of strict emotional attachments. But Ben's life is thrown a curveball when he learns that a lady he once hooked up with named Abby Shaw (Lio Tipton) has suddenly passed away. He's called by her family members in Texas, who believe Ben was her boyfriend, to her funeral, where he learns of a conspiracy that Abby was murdered.
Ben's ensuing investigation of the truth as part of his new podcast makes up the crux of "Vengeance," which initially seems like it'll go for easy jokes with a lifelong city boy trying to navigate the culture of the Lone Star State. However, Novak's script eventually picks up stream by focusing on more specific and distinctive material, such as revealing extra hidden layers of the various denizens of Abby's hometown. Jokes related to Texas — like everyone being enamored with Whataburger but not being able to give a concrete reason why — will ring incredibly true for any Texans in the audience. While "Vengeance" employs decidedly modern material like podcasts, its greatest assets, like solid comedy and a compelling murder mystery, are incredibly timeless.
Who We Are: A Chronicle of Racism in America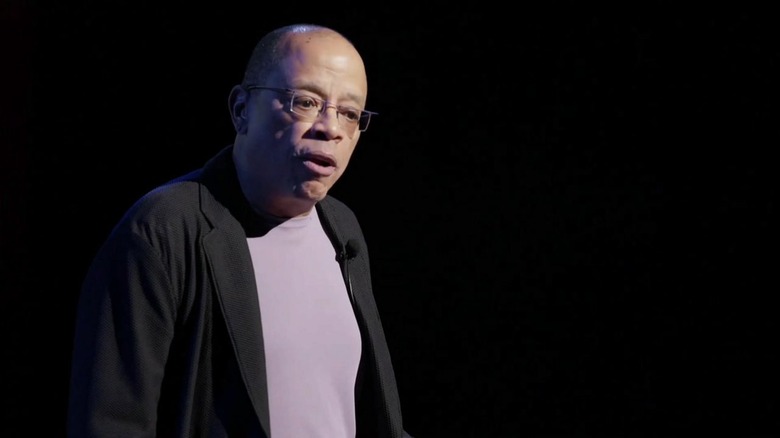 Sony Pictures Classics
The way racism is ingrained into the fabric of America and its institutions is such an overwhelming part of reality that it can be difficult to know how to even approach it. The documentary "Who We Are: A Chronicle of Racism in America," hailing from directors Emily and Sarah Kunstler, provides an expansive look at the past and present of racism's impact on the U.S. This is told through the words of ACLU deputy legal director Jeffery Robinson, with the film split between watching him give a talk about the history of America's racism to a packed crowd and segments depicting Robinson talking to various everyday American citizens about this urgently relevant topic.
"Who We Are: A Chronicle of Racism in America" is a heavy watch, as it should be. The filmmakers and Robinson thankfully don't distill the horrors of bigotry to just flat readings of statistics. There's a passionate fervor in Robinson's public speaking skills as he dives into the nuances of how racism has informed key parts of America's foundation. Meanwhile, his interviews — like one with a woman who led a protest to tear down a pro-Confederacy statue — remind viewers of the human costs of systemic racism being normalized. The overwhelming reality of intolerance in America is superbly reflected within the lens of "Who We are: A Chronicle of Racism in America."
X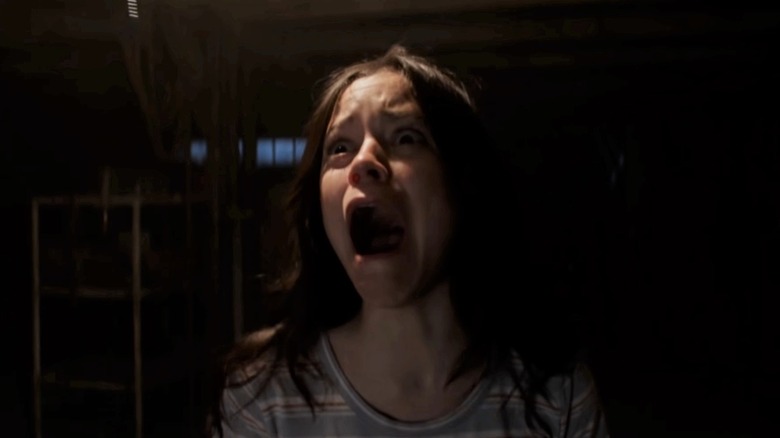 A24
A24's horror fare has often gone in artsy directions, with an emphasis on long stretches of silence, meditative wide shots, and abstract imagery. "X," a title from the studio thrust into theaters in March 2022, goes down a different lane, with its horror influences being more in the vein of "The Texas Chainsaw Massacre," all while the 1970s porno scene looms large over the production. That doesn't mean this A24 horror flick isn't well-crafted — it's just a different beast compared to "Hereditary" or "The Witch." Like many other A24 horror films, though, "X" proves to be a compelling watch. 
As for the plot, the film follows a group of young filmmakers as they show up at a Texas ranch to make a very adult movie. Needless to say, things do not go according to plan. Writer/director Ti West isn't reinventing the mold here, but he doesn't need to. This is a film that conveys a giddy glee in playing with the grisly storytelling hallmarks of the slasher movie genre and getting audiences all riled up with anticipation by overtly teeing up gruesome ways for characters to perish (a movie like this doesn't just introduce a swamp full of gators for no reason).
In between all that fun, there's even an occasionally poignant undercurrent to "X" about mortality and who gets to be deemed "desirable" in modern society. These themes lend heft to the proceedings, but if you just want to watch "X" for the gore and titillation, there's plenty of that to satisfy. "X" is a departure from the standards of many other scary A24 titles, but following its own creative path serves it mighty well.