Veep To End After Season 7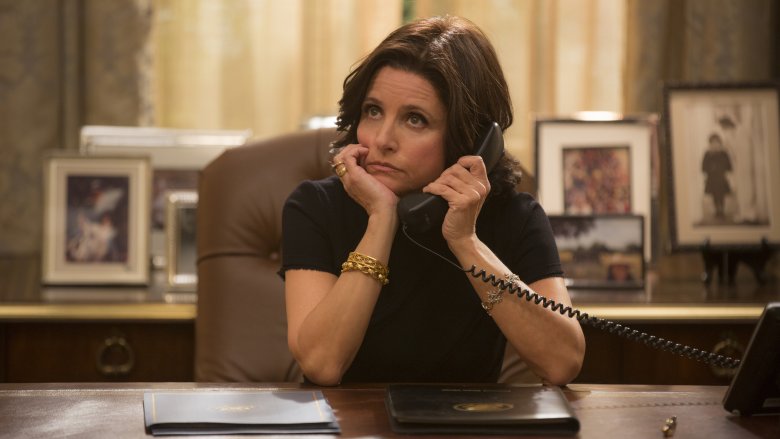 HBO's Veep is leaving office one year short of two four-year terms. 
The profane political satire, which stars Julia Louis-Dreyfus as American politician Selina Meyer, is coming to a permanent close at the end of its upcoming seventh season in 2018, according to a story by The Hollywood Reporter. 
Veep has won two Emmy awards for Outstanding Comedy Series throughout its tenure on the network, with both Louis-Dreyfus and cast member Tony Hale winning trophies for their performances on the show. The cast also includes Anna Chlumsky, Matt Walsh, Reid Scott, Timothy Simons, Kevin Dunn, Gary Cole and Sam Richardson.
The series will conclude with one last run of 10 episodes, coming to a planned conclusion after seven years of backstabbing and cruel insider sniping, which has seen Selina Meyer both gaining and losing the presidency. The decision to end the show comes from its producers.
"We don't want to repeat ourselves or wear out our welcome," said Louis-Dreyfus. "The story has a finality to it that feels end-of-series."
"It's bittersweet but it's right," added showrunner David Mandel.
Louis-Dreyfus emphasized that the decision to end the series did not come lightly. "I struggled with it," she said. "And then it just hit me. It's hard to say goodbye to such a good thing. We struggled with this at Seinfeld as well."
HBO President of Programming Casey Bloys expressed remorse that the show was ending, but respected the wishes of the producers in bringing the series to a natural close. "I developed the show and I love everybody in the cast," he said. 
In an additional statement, Bloys heaped praise on lead actress Louis-Dreyfus, who has been showered with awards over the years for her role as Selina Meyer, including five consecutive Emmy wins in the category of Outstanding Lead Actress in a Comedy. Louis-Dreyfus, he said, "infused Selina with a dynamic presence and a vibrant wit which will ensure her a place in the history of television's most iconic comedic characters. We look forward to producing the seventh and final season."
Veep was created by Armando Iannucci, who ran the show for four seasons before departing. Aside from Veep, the writer/director is best known for the movie In The Loop, the TV series The Thick of It, and the upcoming feature film The Death of Stalin. 
Veep returns for its seventh and final season in 2018. If the show's history is anything to go by, it is likely to premiere sometime in April. Check out the trailer for Iannucci's latest movie here, and if you can't get enough of Louis-Dreyfus' comedy, check out our feature on Seinfeld bloopers that are funnier than the actual show.