Julie Ann Emery Reveals Why Returning To Better Call Saul Terrified Her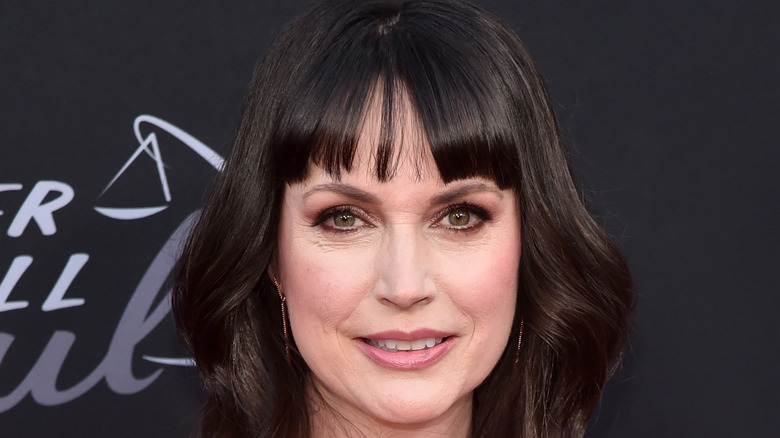 Alberto E. Rodriguez/Getty Images
Craig (Jeremy Shamos) and Betsy Kettleman (Julie Ann Emery) play unlikely but significant roles in the first season of "Better Call Saul." The married couple at the center of an embezzlement scheme first appears in the pilot episode of the series ("Uno"). The two bumbling white-collar criminals do their best to evade justice, quickly becoming familiar with Jimmy McGill (aka Saul Goodman) (Bob Odenkirk) and Kim Wexler (Rhea Seehorn) as they catapult between the two lawyers in misguided attempts to stay out of prison. After attempting to blackmail Jimmy, the two eventually accept defeat, and Craig is sentenced to 16 months in prison.
Surprisingly, the Kettlemans return to "Better Call Saul" in Season 6, Episode 2 ("Carrot and Stick"). Saul and Kim, now interested in scamming the scammers, turn to the Kettlemans to convince them that Howard Hamlin (Patrick Fabian) was actively using cocaine while working as their lawyer, as part of a larger scheme to ruin Howard's reputation. Although it takes them some time, the Kettlemans eventually recognize the con Saul and Kim are playing and threaten to expose them. However, in response, Kim threatens to reveal the details of their current criminal activity at their new tax service business, something which would inevitably result in even more criminal charges for the couple
Of course, while the Kettlemans certainly work together as one cohesive unit, few "Better Call Saul" fans would dispute that Betsy is the obvious brains and brawn of the family business. To learn more about what it takes to become the swindling housewife, The Hollywood Reporter talked with the actress behind the role.
Betsy Kettleman isn't an easy role to play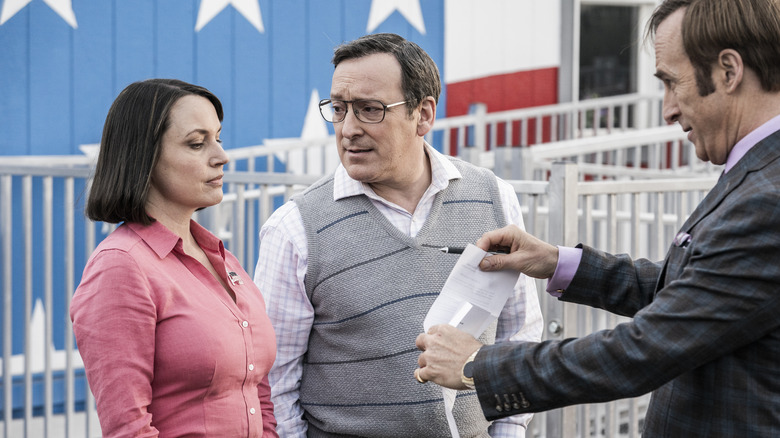 Greg Lewis/AMC/Sony Pictures Television
In a recent interview with The Hollywood Reporter, actress Julie Ann Emery delved into a variety of details about the Kettleman family and the work it takes to bring these colorful characters to life. In addition to detailing Betsy and Craig's appearances in "No Picnic" (via Brand Film Awards New York) and "American Greed" (via CNBC), Emery explained what it takes to play the deliciously conniving character.
Noting that the "pocket" to play within is very small, Emery explained the difficulties associated with playing a character like Betsy. "I find Betsy terrifying to play as an actor because the pocket for her is about six inches wide," Emery said. "If you go outside that pocket, it's just bad acting, and nobody wants to be bad in the Breaking Bad–Better Call Saul universe because everyone is brilliant in it." 
Emery also said she always imagined Betsy and Craig were still up to no good, so the pitch for Season 6 wasn't exactly shocking when "Better Call Saul" co-creator Peter Gould reached out to her and Jeremy Shamos. "I always thought that they were still doing some sort of grift and that they felt entitled," Emery said. "So it did not surprise me at all that they were still doing something slightly off-center."
Interestingly, Emery also noted that her on-screen partner plays a very important role in her transformation into the character. Emery reported that she works more collaboratively with Shamos than she has with any other actor in any on-screen role. "I never feel I have her until I'm with Jeremy," Emery said. "And I think Jeremy has a similar experience."