Why Mel Gibson Wishes He Never Got Into Acting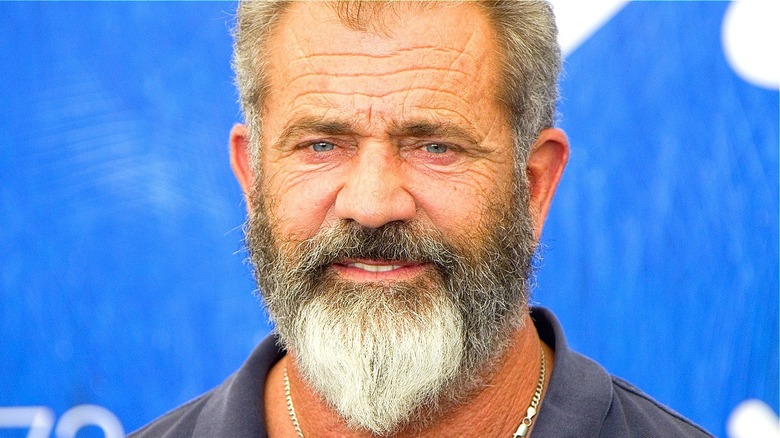 BAKOUNINE/Shutterstock
When people think of Mel Gibson, they most likely imagine him in "Braveheart" fervorously shouting to his fellow Scotsmen, "They may take our lives, but they'll never take our freedom!" Indeed, the 1995 Scottish epic war drama directed by Gibson was the shining star at the 1996 Academy Awards (the film took home five Oscars, including best picture). Not only was "Braveheart" an overwhelming critical success, but it was also one of Gibson's many claims to fame.
Besides the massive recognition and achievement, fame is an unavoidable facet of acting that Gibson has not been too fond of throughout his lucrative career. On the other hand, it has afforded him the opportunity to both direct and produce movies, some of which he also stars in, including 1992's "Forever Young," 1993's "The Man Without a Face," and 2003's "The Singing Detective." So why did Mel Gibson wish he never got into acting?
Reflections on a rocky past
In his heyday, Mel Gibson was known for being a huge action star of the 1990s. After "Braveheart," his most notable role was playing Martin Riggs in the "Lethal Weapon" franchise. The role that launched Gibson's acting trajectory, however, was Max Rockatansky in George Miller's 1979 apocalyptic thriller movie "Mad Max," released when Gibson was a mere 23 years old. Gibson acknowledges that his foray into acting happened spontaneously and that it may have not been the best decision considering he walked into that open door "without [the] benefit of experience or any kind of maturity" (via Deadline).
The fast-track lifestyle that accompanies being a famous actor led Gibson into a long, grueling battle with alcohol addiction and unwanted attention from the press (via The Guardian). He was arrested for drunk driving in 2006 and made tabloid headlines once again when tapes of a profane argument between him and his ex-girlfriend were leaked a few years later (via People).
Although Gibson can't undo his mistakes, he can learn from them. Per IndieWire, some salient words of advice he would give to his younger self are to "take advantage of all the gifts the the [sic] world has to offer" and "shut the f*** up." Easy there, Mel!
If you or anyone you know is struggling with addiction issues, help is available. Visit the Substance Abuse and Mental Health Services Administration website or contact SAMHSA's National Helpline at 1-800-662-HELP (4357).