Who Plays Courtney In Netflix's 13 Reasons Why?
A major teen series of recent years is Netflix's "13 Reasons Why," which ran for four seasons from 2017 to 2020. Based on the 2007 novel of the same name by Jay Asher, the series follows Clay Jensen (Dylan Minnette) and a group of other high school students after they receive a set of seven cassette tapes from one of their classmates, Hannah Baker (Katherine Langford), after she dies. Each side of the seven tapes (save one) addresses a different person who has a negative effect on Hannah's life. The series features an ensemble cast, as is evident by the number of recordings Hannah makes. 
One of the students on the list is Courtney Crimsen, played by Michele Selene Ang. One night, Courtney kisses Hannah, who responds by politely telling her that she isn't interested in girls. But unbeknownst to them, the kiss is photographed by Tyler (Devin Druid), who is spying on them. When the photo circulates around school, Courtney spreads a rumor that the girls in the photo are Hannah and an out lesbian student in order to hide her own sexuality (Courtney cannot be easily discerned from the photo). After Hannah's death, Courtney realizes her mistake and overcomes her fear of coming out, growing as a person. 
For those curious, here's more about the actor who plays Courtney, Michele Selene Ang.
Ang is a newcomer to Hollywood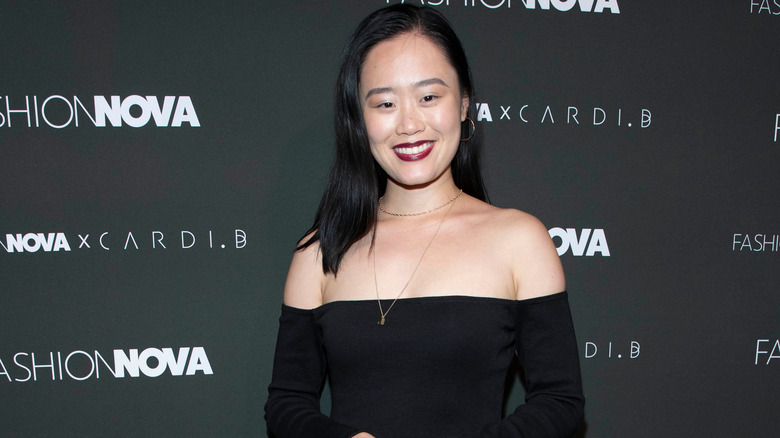 Eugene Powers/Shutterstock
Prior to being cast in "13 Reasons Why," Ang was a total newcomer to the industry, and the teen drama became her first role. From 2017 to 2020, she remained a recurring character in the series through the first three seasons, before returning in a guest capacity for the fourth.
In an interview with LWOS Life, Ang recounts the experience of landing the role of Courtney. Ang said, "Going into the callback, I remember so vividly, because in most casting offices they have framed posters of movies that they've worked on, and I was looking around this small cozy office and I vowed to myself, 'I am going to do this, no matter how hard it is, no matter how long it takes.' And I went and I did it. And then I got that particular call from LA and a woman from Paramount told me that I got it and I was to fly out the next day."
A year after her run in "13 Reasons Why" started, Ang had a guest role in an episode of the CBS procedural drama "Elementary." In the sixth season of the drama, she plays a character named Kelsey Chapman. Kelsey is a young pregnant woman, looking to give her baby up for adoption, and one of the main characters, Joan Watson (played by Lucy Liu), is a potential adopter. Since then, Ang has participated in just one other project: a short film titled "Monster," written and directed by Olivia 'Livvia' Somerlyn, who also co-stars alongside Ang (via IMDb).