The Bones Star Who Appeared On Angel With David Boreanaz
David Boreanaz is known to many for his work on the Fox police procedural "Bones." In the show, Boreanaz played Seeley Booth, an FBI agent who often solicits the help of forensic anthropologist Dr. Temperance Brennan (aka Bones), a character played by Emily Deschanel. Bones and her team of forensic investigators at the Jeffersonian routinely aid Special Agent Booth with cases where the remains need a more specialized eye than the FBI's forensic team can provide.
Prior to his work on "Bones," Boreanaz rose to prominence on television through his work on the WB's "Buffy the Vampire Slayer." In the series, he played Angel, a vampire who develops a complex relationship with the titular Buffy, played by Sarah Michelle Gellar. Because of his character's immense popularity, Boreanaz later reprised his role as Angel in his own self-titled spinoff, in which the character moves to Los Angeles to help people dealing with supernatural issues.
Although Boreanaz was easily the biggest star to work on both "Bones" and "Angel," he was not alone. According to IMDb, the two series share nearly 200 cast and crew members. Of course, as is typical in Hollywood, some of these roles are more memorable than others. Most notably, one of the biggest characters in "Bones" also appeared in a handful of episodes of "Angel."
T.J. Thyne appeared on Angel before becoming a major character on Bones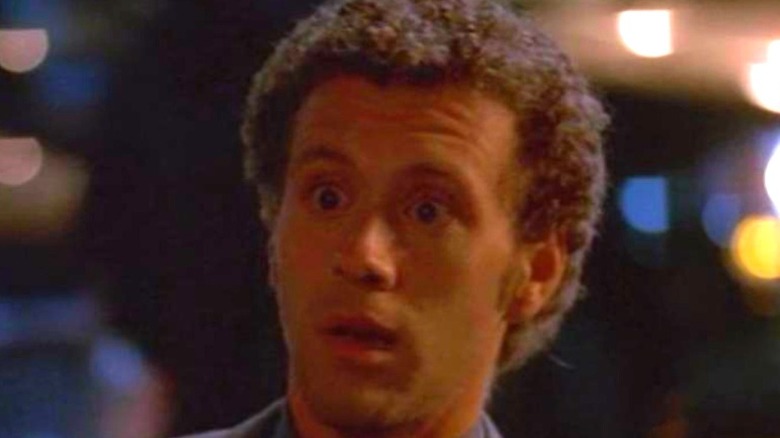 20th Television/The WB
In "Bones," Dr. Jack Hodgins (T.J. Thyne), an entomologist and mineralogist, is among the most important members of Dr. Brennan's team at the Jeffersonian. Like Emily Deschanel, David Boreanaz, and Michaela Conlin, Thyne is credited with appearing in every episode of the series. However, the pilot episode of "Bones" was actually not the first time Thyne shared the small screen with Boreanaz.
Long before Thyne picked up a scalpel on "Bones," he guest-starred on three episodes of "Angel." He first appeared in the supernatural series in Season 5, Episode 1 ("Conviction"). In the opening minutes of this episode, he is introduced as an unnamed lawyer working for Wolfram & Hart. In his first scene, Thyne's lawyer character lightly scolds Angel for attempting to depart the scene immediately after saving a woman from a vampire in a dark alley. 
Thyne's lawyer character later returns in Season 5, Episode 5 ("Life Of The Party"), appearing at a party at the law firm. While sipping a glass of wine, he complains to a co-worker that the party is lame, glibly inquiring about the lack of ritual sacrifice. Overhearing the conversation, Lorne (Andy Hallett) immediately insists that he and his co-worker mingle with other partygoers.
Thyne made his final "Angel" appearance in Season 5, Episode 12 ("You're Welcome"), the 100th episode of the series. In this episode, Wolfram & Hart is nearly destroyed, and Angel questions whether he wants to keep working for the group. In his last scene, Thyne's character walks through the law firm's lobby with a supernatural being on a leash.
Notably, Thyne himself appears to enjoy it when fans remember his time in "Angel." In 2015, Thyne responded with feigned shock to a tweet from a fan who pointed out his brief role in the series.