The Best Brooklyn Nine-Nine Season 1 Episode According To IMDb
Police procedural television shows are usually rather serious matters with only the occasional funny moment tossed in, but "Brooklyn Nine-Nine" goes the other way entirely and has way more jokes than actual police work. Starring Andy Samberg, Terry Crews, Stephanie Beatriz, Joe Lo Truglio, and Melissa Fumero, "Brooklyn Nine-Nine" wrapped up last year after Season 8 and has been well-loved by both fans and critics alike, with the comedy earning a 95% critic score and an 87% audience score on Rotten Tomatoes across all seasons.
Season 1 of "Brooklyn Nine-Nine" helps to establish the characters and the general hijinks fans have come to expect from the show. Some highlights from Season 1 are a few humorously complicated arrests, several bets involving romantic dates or a Medal of Honor, being shadowed by one's boss or a crime writer, and long-shot attempts at trying to solve an old case. These events are augmented by a hilarious cast and unchecked tomfoolery — but which episode of "Brooklyn Nine-Nine" from Season 1 is the best? Fans on IMDb were quick to give their opinions via scores and reviews.
According to IMDb, the finale is the best episode in Season 1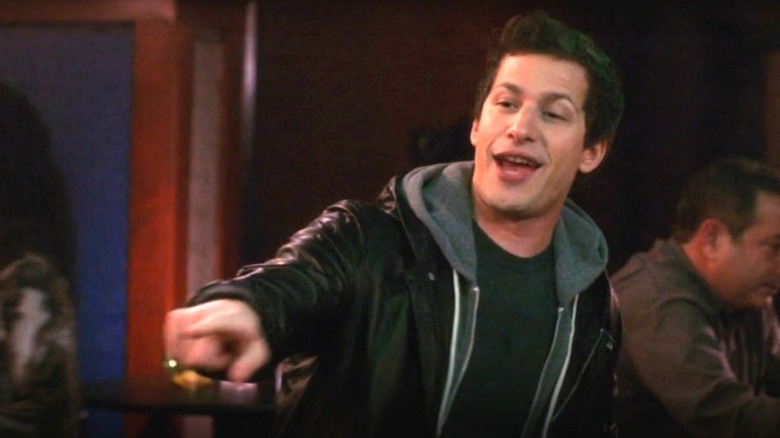 Fox/NBC
Ratings on the Internet Movie Database are generated by user submissions and rank on a scale up to 10. Although many of the episodes from the first season of "Brooklyn Nine-Nine" are highly rated, the one that stands out the most is the final episode of the season, titled "Charges and Specs." This episode is rated an 8.8 and has a staggering amount of user submissions with over 3,600 votes — and 37.3% of the votes gave the episode a perfect 10 (via IMDb).
"Charges and Specs" starts off with Jake Peralta (Andy Samberg) getting drunk in a bar and buying everybody rounds. When asked about his behavior, he replies that he just got fired from the NYPD. The episode then time jumps to the week before, where Jake has a hunch about a community leader he thinks is corrupt. He is told to leave it alone, but he disregards his orders and investigates the aforementioned community leader. It turns out that his hunch is right. He also later takes another leap and expresses his romantic feelings for a co-worker.
IMDb user ali54604 posted a review with the title "Best Acting Ever," and elaborated, "And i just wanna say that Jake Peralta is the best immature detective and Andy Samberg is the perfect man to play him. The acting i was referring to is Andy's. Absolutely Top-notch. I don't laugh out loud. I smile, i chuckle, i giggle but never LOL. But when i was watching this show, man oh man did i [laugh]. I don't like to give spoilers so let's just say that the Finale wraps up season 1 perfectly." Ultimately, the combination of humor and character development proved to be an absolute hit with fans, judging by the reviews in agreement and the sheer quantity of users ranking it with a 9 or 10 out of 10.