Who Plays Aelswith In The Last Kingdom?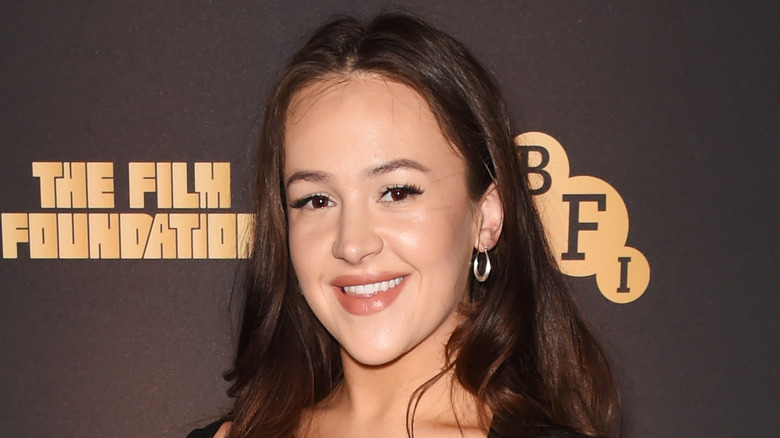 David M. Benett/Getty Images
"The Last Kingdom" is the Netflix series that concluded in March 2022 after five seasons. Originally a BBC series, and based on Bernard Cornwell's "The Saxon Stories," the series is set in late 9th and early 10th century England. It tells the story of the viking invasions of Saxon-era England, and the kingdom of Wessex's resistance to viking occupation. With all of its political intrigue and brutal backstabbing, "The Last Kingdom" feels like "Game of Thrones" without the dragons.
One of "The Last Kingdom's" breakout characters is Aelswith. At the start of the series, she's married to King Alfred (David Dawson), and she's a formidable power broker in Wessex. After Alfred's death in Season 3, Aelswith is infuriated when she's denied the crown. Instead it goes to her son Edward (Timothy Innes), but Aelswith continues to be an influential, and ruthless, member of the court.
Originally a supporting character in Cornwell's novels, Aelswith was elevated to a major role in the TV series. That's largely due to the performance of the actress who plays her. Here's everything you ever wanted to know about her.
Aelswith is played by English-American actress Eliza Butterworth
Eliza Butterworth was cast as Aelswith in 2014, when she was 21 years old. Butterworth was a recurring cast member in the first season and elevated to the main cast for Season 2-5. Roughly every season in "The Last Kingdom" ages up Aelswith by about a decade. Eventually, Butterworth found herself playing the mother to two children, Aethelflaed (Millie Brady) and Edward, played by two actors who were the same age as her.
As a character, Aelswith can be fierce, manipulative and brutal. Butterworth says that she and Aelswith couldn't be more different, personality-wise. "She's so starkly different to me. She's like the opposite end of the spectrum," Butterworth told Square Mile. "The parts of her that come out are the parts that are so deeply embedded in me that no-one will ever see them."
Since landing her role on "The Last Kingdom," Butterworth has also appeared in the 2021 BBC/CBC series "The North Water," about an ill-fated whaling expedition, and the 2020 comedy "Say Your Prayers." Up next, Butterworth will be co-starring in the Sky Max series "A Town Called Malice," about a notorious 1980's London crime family.